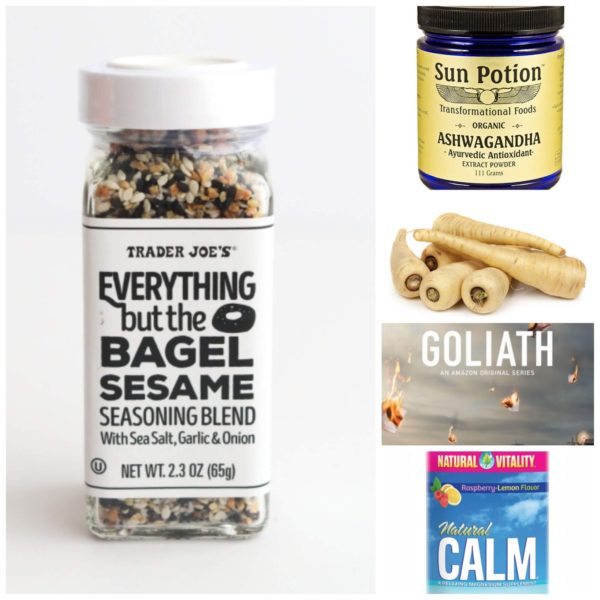 It's still Friday, right??  Better late, than never!  Nothing causes more panic than when you get an email from your host saying your website has been shut down because it almost crashed the server and other websites!  Sorry that the site was down for most of the day yesterday.  I wish the cause of the almost-crash was that millions of people rushed to my blog for my latest recipes, but alas it was a technical glitch.  Thank you for being patient.
This was a super busy week for me with 5 classes and a transition to the new March menu.  Spring has sprung!  Here are some of the fabulous things I have been talking about in class lately.  Have a great weekend!
TJ's Everything but the Bagel Sesame Seasoning Blend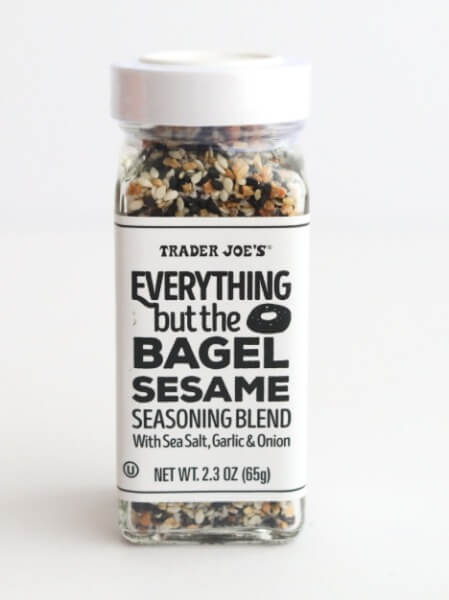 Trader Joe's has done it again! This new "everything but the bagel seasoning blend" has been my obsession (and my husband's) lately and I have been loving putting it on everything from eggs to avocado toast to grain bowls.  It is a delicious and addictive blend of sesame seeds, poppy seeds, garlic powder, onion powder, and the flakiest crunchiest sea salt ever.  Note, no preservatives or weird stuff, plus it's in glass and not plastic.  They just get me.
Long gone are the days of eating an everything bagel the size of my head slathered with a thick layer of cream cheese—so this really does the trick in giving you that classic, everything bagel seasoning. This is a new product for Trader Joe's as they have only had it for a couple of weeks, but can't wait to experiment more with it! I think it would be terrific on so many different things, from popcorn to roasted veggies to tuna salad! And at $1.99, can you really pass this up? Check your local Trader Joe's to see if they have it in stock!
"Goliath": a TV series on Amazon Prime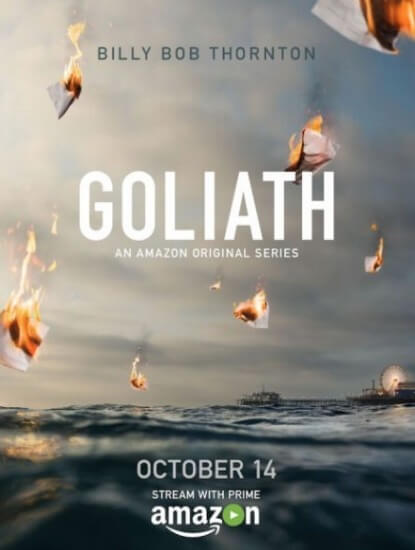 What doesn't Amazon provide?  I have joked that we'll soon be able to adopt children on Amazon, and I'm not sure I'm far off.  I am not one to watch very much TV, mostly because I don't have a lot of free time.  My husband will tell you it's because I usually fall asleep within 7 1/2 minutes of sitting down on the couch.  So if I am going to take the time to watch TV, it better be good. When my friend Andrea told me about a new show she was nuts about, my interest was piqued.  After watching one episode of "Goliath," I was HOOKED.  So hooked, I binge-watched the entire season of 8 episodes over the next two days.
Without giving anything away, it's a legal drama with a washed-up attorney played by Billy Bob Thornton who goes up against a mega-firm.  The cast is unbelievable and the writing is superb.    Take advantage of your Prime membership and watch it this weekend.  Here's a recipe for my stove-top popcorn.
Natural Vitality Natural Calm Magnesium Stress Drink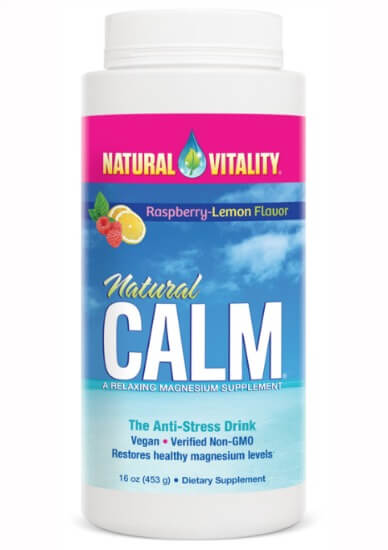 I think that most Americans can agree that even if they are in healthy, tip-top shape, the missing link seems to be managing stress.  Stress is often inevitable if you listen to the news, have children, or generally come into contact with other human beings.  All joking aside, any kind of stress, even moderate, causes the cortisol levels in our body to rise, and can lead to a number of health issues that we most definitely want to avoid.
There are certain nutrients that occur naturally in our body to combat the cortisol, and magnesium is one that does the most heavy-duty work of them all. Therefore, increasing our magnesium intake can lower our cortisol levels, reduce stress, and allow us to feel more calm and at ease. While it is always best in my opinion to get as many nutrients as we can from the food that we eat, if you struggle with getting in all of those vegetables, this may be something you want to consider. The magnesium in Natural Calm is a highly absorbable, water-soluble form and therefore will be absorbed by the body efficiently. It comes in powder form that is easy to stir into water and drink on its on or add to a smoothie. I think the taste is perfectly innocuous, although I have only tried the Original and Raspberry-Lemon.  I have personally used Calm and recommended it to many people who seem to report better sleep and a general calming effect.  There's also a Kids' version which I have heard recommended for children with ADD.  As you know, I am not a doctor, so ask your physician and read the reviews for yourself to see if this is something that might be a beneficial addition to your routine.  You can purchase Calm at many health food stores, on amazon, or on thrivemarket.com.
Ashwagandha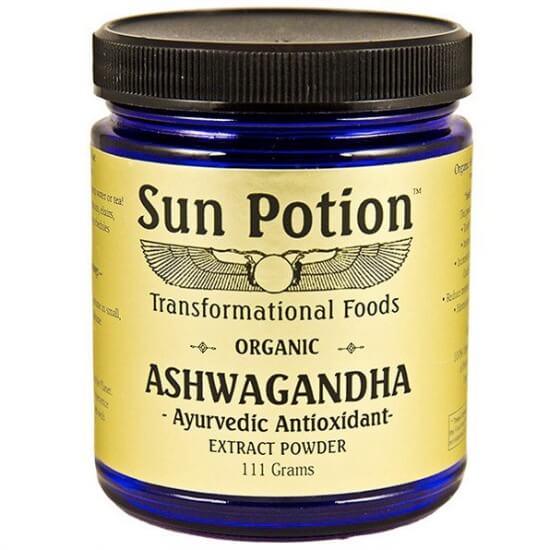 You may have seen me highlight the Reishi Mushroom Elixir that I have been drinking every morning in one of my recent Friday Favorite posts. I don't drink coffee, but this is like a cup of joe to me.  Along with the Reishi powder, I have also been adding ½ teaspoon of Ashwagandha powder. Ashwa-what? I know it is kind of a mouthful, but Ashwagandha, also known as Indian ginseng, is in good company amongst a group of plants known as adaptogens. Adaptogens are used for their healing abilities and stress-lowering qualities that restore and protect the body. They are referred to as adaptogens because once they enter your body, they adapt to what is specifically needed in your body. Once they have done their job, they are excreted or absorbed by the body (unlike more conventional drugs, that hang around in our systems and can cause unwanted damage). Ashwagandha helps boost the immune system and helps lower cortisol levels, and can help with anxiety, depression, and sleep issues.
I have been adding 1/2 teaspoon of Sun Potion ashwaghanda to my reishi lattes and I love it.  It is also compatible in a chocolate smoothie since there is a little bitterness present in it.  Start with a little so the taste doesn't take over.  You can also go to the Sun Potion website and see other suggestions for how to use it.  It is available on thrivemarket.com and amazon, as well as many health food stores.
Seasonal produce: Parsnips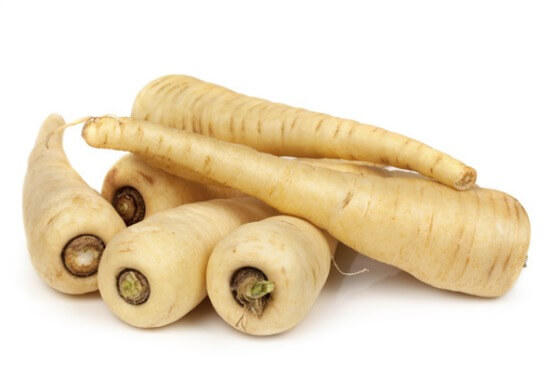 Parsnips are not a very commonly eaten vegetable, but I'm not quite sure why. They are related to carrots and have a similar flavor to carrots, but a little sweeter and more intensely flavored. I love roasted parsnips and used them in a roasted winter vegetable salad in my February classes that people went nuts for.  I also love them in the pan with a whole roasted chicken and as oven-baked fries. Parsnips are prepared just the same as carrots- peeled and then cut into matchsticks or rounds or diced. Some people like to cut parsnips around their center core, because it can be a bit tougher than the rest of the vegetable, but it does not bother me one bit and I prefer to use the whole stick. Parsnips are not only delicious but are beneficial to your health, too. Just as eating colors such as orange and purple is important because of those phytonutrients, white is considered its own color and has its own group of powerful phytonutrients. Parsnips also contain potassium, folate, and lots of soluble fiber. Along with roasting, parsnips can be eaten raw or are more commonly steamed and pureed to resemble mashed potatoes! Check out some recipes using parsnips from around the web!
Root Vegetable Salad with Coucous and Lemon-Tahini Dressing from Naturally Ella
Parsnip Puree with Olive Oil and Sage from Serious Eats
Parsnip Hummus from Gourmande in the Kitchen
Roasted Garlic, Parsnip, and White Bean Soup from Yummy Beet
Click here to see all my past Friday Favorites.