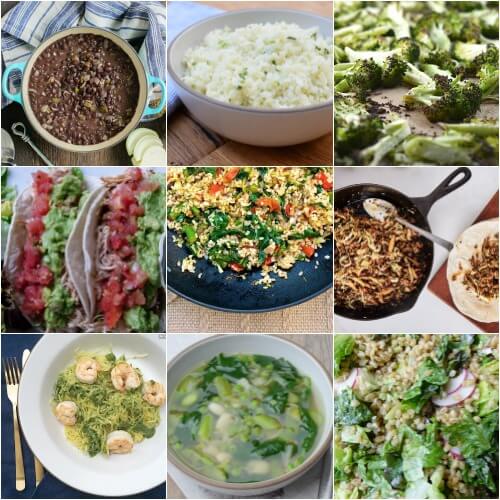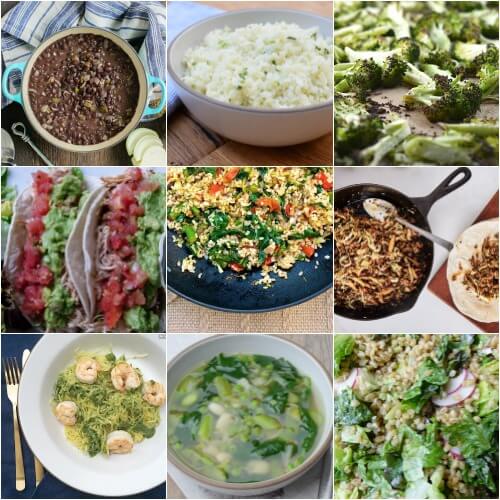 I had a busy week last week with lots of classes plus an Easter Brunch shoot with my friend Jenni Kayne and The Chalkboard Mag.  Recipes coming to both of those sites around April 10th.  This week is the last week of my March menu, plus I have a shoot with my friend Molly Sims and I'm going to do some videos at the end of the week.  Let me know ASAP if you have any requests!
I've got to be super organized for meals this week.  Here's your dinner planner for the week:
Meatless Monday: Cuban black beans, rice or cauli-rice, roasted broccoli (make extra rice or riced cauliflower for Wednesday's not fried rice)
Tuesday: Slow cooker chicken tacos (make extra for Wednesday's Not-fried rice), tortillas, cilantro-lime slaw (save 6 cups of cabbage for Thursday), salsa, guacamole
Wednesday: Not–Fried Rice – Mexican version (based on this recipe but sub cilantro for basil), with leftover rice and chicken taco meat, kale or cabbage, bell peppers, onions and whatever veggies you want to get rid of
Thursday: Hot Sausage and Cabbage stir-fry with Chives from Bon Appetit (I'll use regular turkey sausage and serve with lettuce cups), sesame spinach salad
Friday: Spaghetti squash with pesto and shrimp, arugula salad with everyday salad dressing #1 (Click here to cook spaghetti squash; click here for a basil-parsley pesto recipe; click here for a kale pesto recipe) I'll saute the shrimp in a skillet with olive oil, garlic and crushed red pepper, which takes a few minutes on each side.
Saturday lunch: Spring green minestrone (this is the quickest soup!); if you have extra pesto from Friday, add some here.
Sunday: Wheat berry salad with radish, asparagus and lemon-tahini dressing, grilled chicken (You can sub quinoa or riced cauliflower for the wheat berries; you can sub rotisserie chicken for the grilled.)
Here's what you can do ahead if you need to:
Sunday
Soak black beans
Rice cauliflower, if using
Prep (wash, dry, cut) broccoli
Make pesto
Tuesday
Thinly slice cabbage for tonight and Thursday
Make stock for Saturday's soup (here's a recipe for veggie stock)
Saturday
Make wheat berries (try soaking them all day before cooking)
Make lemon-tahini dressing
Wash salad greens
Here's a link to all my previous dinner planners.
You can pre-order my cookbook on Amazon (the best $14 you'll ever spend!) or signed copies from my local bookstore, Pages. The book will be available on June 13th!