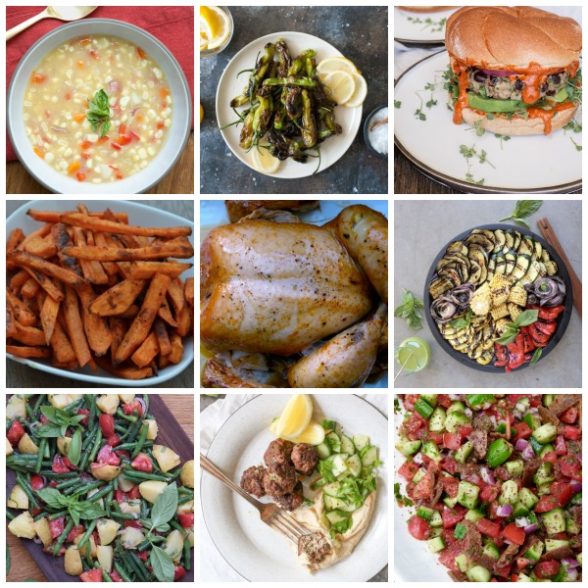 I have landed on Long Island for the next three weeks with little trips into NYC and Westchester for some book-related meetings, signings and cooking demos. Check my Events page for updates, including a new one in Armonk, NY at DeCicco & Sons Market on Thursday, July 27th.  But tonight, I'm off to my ##th high school reunion in my hometown.  I haven't seen most of these people since the last one 10 years ago and some not since graduation (and as you can see, I'm not giving up that number. Ha!)
Here's your dinner planner for the week:
Monday: Corn and vegetable chowder, avocado toast
Tuesday: Grilled salmon with maple-soy glaze from my cookbook, blistered shishito peppers, black rice
Wednesday: Black bean and beet burgers, sweet potato fries
Thursday: Slow cooker chicken, grilled vegetables with lemon-basil dressing
Friday: Italian potato salad, sautéed shrimp
Saturday: Grilled vegetable frittata (chop up the extra grilled vegetables from Thursday night. If you didn't grill any onions, saute an onion and 2 garlic cloves.  Add to 8 whisked eggs with 1 teaspoon salt, pepper, and add a handful of cheese if you have any on hand/if you want. Dollops of Kite Hill almond milk cream cheese works well, too.  Pour into a greased 9-10″ pie plate and bake at 375 for 40-50 minutes, until set)
Sunday: Persian style dill rice from Jessica Murnane's One Part Plant (recipe below), Easy Lamb Kofta from Haven's Kitchen Cooking School Cookbook, fattoush salad
Do Ahead:
Sunday
Cut corn from the cobs and refrigerate the kernels and cobs separately (you could also go ahead and make your corn cob stock, too!)
Make black rice
Tuesday
Make black bean and beet burgers a day ahead of time and refrigerate covered
Cut sweet potatoes into fries and make spice mix
Prep veggies for grilling
Wednesday
Make lemon-basil dressing
Wash dill for Persian rice
Saturday
Make lamb kofta mixture and refrigerate until ready to sear
Make dressing for fattoush salad
Prep cucumber for fattoush salad

Persian-Style Dill Rice
Author:
Jessica Murnane, One Part Plant Cookbook
Ingredients
1 cup white basmati rice, rinsed under cool water
1 cup veggie broth
¼ cup water
1 teaspoon olive oil
sea salt
1 cup fresh or thawed frozen lima beans (I used frozen)
½-1 cup chopped fresh dill
¼ cup fresh lemon juice, or more if needed
Instructions
Combine the rice, broth, water, oil, and a big pinch of salt in a medium saucepan. Let the mixture soak for 20 minutes.
Bring the rice to a boil and then reduce the heat to maintain a simmer. Add the lima beans and cover. Simmer for 12 to 15 minutes, until the rice is cooked through and no water remains. Remove it from the heat and keep it covered for 5 minutes.
Stir in the dill and lemon juice. Add salt to taste and more lemon juice if needed
Notes
Jessica writes, "I like A LOT of <g class="gr_ gr_52 gr-alert gr_gramm gr_inline_cards gr_disable_anim_appear Grammar multiReplace" id="52" data-gr-id="52">dill</g>, so I use the full cup. If you're not sure, start with ½ cup and see what you think."
Here's a
link
to all my previous dinner planners.
If you are enjoying my book, I would love it if you could leave a review on Amazon (you don't need to have purchased it on amazon to review it.)  Thank you!