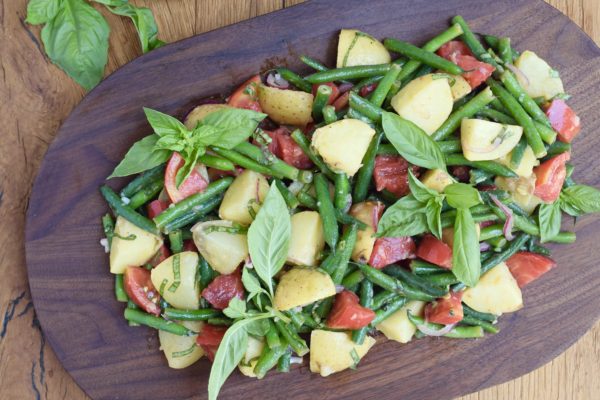 Just before I leave my parents' house for the airport, my father always does the same thing.  He takes some plastic bags and heads out to his gardens to pick vegetables for me to take home.  In my suitcase.  If this doesn't sound crazy to you, then we should be friends.  I instantly repack our suitcases to fit as many eggplants, peppers and tomatoes (packed in plastic containers) that I can.  Yes, I can buy excellent vegetables in LA.  But, nothing beats homegrown and I'll take whatever won't make my clothes smell (ahem, basil.) It's one of the things I miss most about the East Coast given my patio of a backyard, so I take full advantage of my father's green thumb.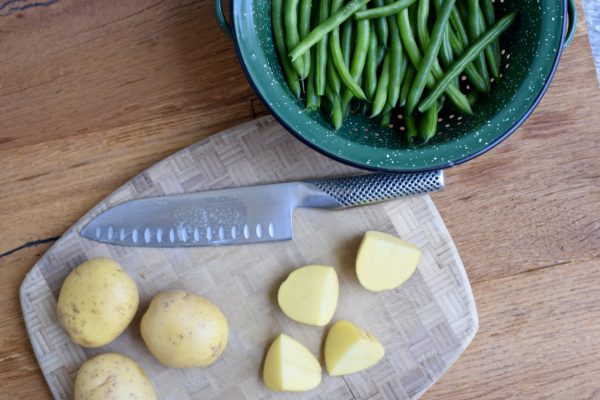 My father is a master gardener, but not so much a cook.  My mother single-handedly cooked everything, except this potato salad which is the only thing I have ever eaten that was prepared by my dad.  It's my favorite potato salad in the world, although if you just gave me a plate of boiled potatoes drizzled with good olive oil, salt and pepper, I would be in heaven.  So simple, but satisfyingly good.  But potatoes can definitely benefit from a little zing.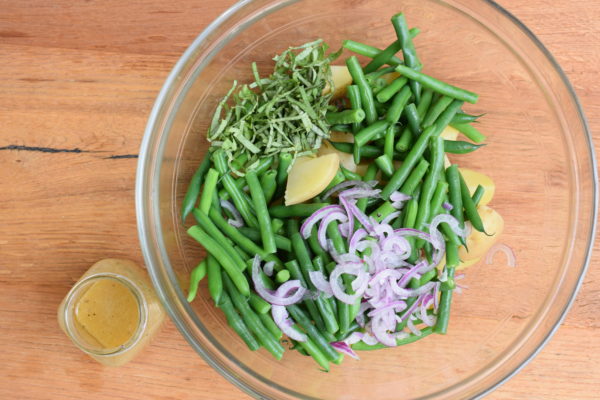 This potato salad is Italian-ized with lots of fresh tomatoes, basil, red onions and green beans.  Mmmm….creamy, buttery potatoes with sweet, juicy tomatoes and fragrant basil.  Sometimes we'll add slivered, roasted red peppers, or capers (my favorite!) or olives.  If you don't have basil, but you do have pesto, stir a dollop of that in here.  You can make the entire thing ahead of time and let it sit at room temp for an hour or refrigerate it in the morning for later.  The only negative is that the green beans will look a tad ugly after being exposed to vinegar.  Or keep the green beans separate and add them later.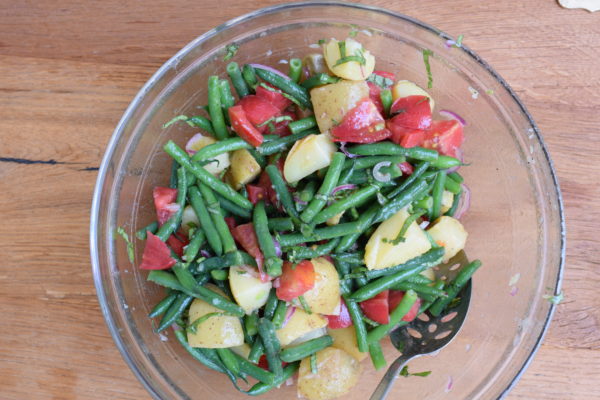 I am not in the potatoes-are-bad-for-you camp.  Potatoes, especially with their skin, are a perfectly healthy whole food.  With potatoes, you need to consider portion control, i.e. don't eat too many because they are starchy.  And avoid potatoes that are deep fried which can offer a host of free radicals and toxic acrylamide.  Instead, boiled potatoes contain phytonutrients, antioxidants, potassium and Vitamin B6.  If you have trouble with nightshade vegetables, then this probably isn't the recipe for you, although the green beans with basil, red onions and vinaigrette would be perfectly lovely.
If you're garden is bursting with any of these ingredients, I urge you make this delightful salad.  Serve it with sauteed zucchini with sliced almonds for a vegetarian meal, or seared halibut or grilled lemon-herb chicken.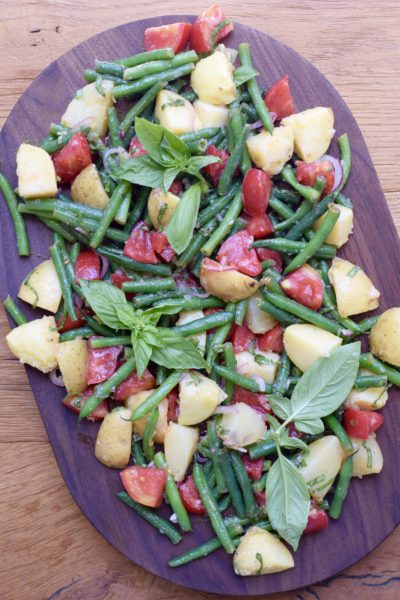 Italian Potato Salad Recipe
Ingredients
1 pound small red new potatoes or Yukon Gold potatoes, halved
Kosher salt
1 pound green beans, trimmed and cut into 2-inch pieces
2 large tomatoes, chopped
½ small red onion, thinly sliced and soaked in ice water to remove strong onion flavor, if desired
1 clove garlic, crushed
¼ cup thinly sliced basil leaves
¼ cup unrefined, cold pressed, extra virgin olive oil
2 Tablespoons red wine vinegar
Instructions
Place potatoes in a large pot and cover with cold water. Add a few teaspoons of salt and bring to a boil. Lower heat to a simmer and cook potatoes until tender, about 15 minutes (more or less depending on the size of the potatoes.) Drain potatoes and transfer to a serving bowl.
Prepare an ice water bath in a large bowl. Bring a separate pot of salted water to a boil and add green beans. Cook uncovered until crisp tender, about 3-4 minutes. Drain and immediately plunge beans into the ice water bath. When completely cool, drain the beans and pat dry. Add to the potatoes.
Add remaining ingredients to the serving bowl and toss to coat. Season well with salt and pepper.
Notes
Alternatively, instead of garlic, basil, oil and vinegar, substitute a few dollops of pesto and toss to combine.
You can also add some olives, a few tablespoons of capers or slivered roasted red peppers.