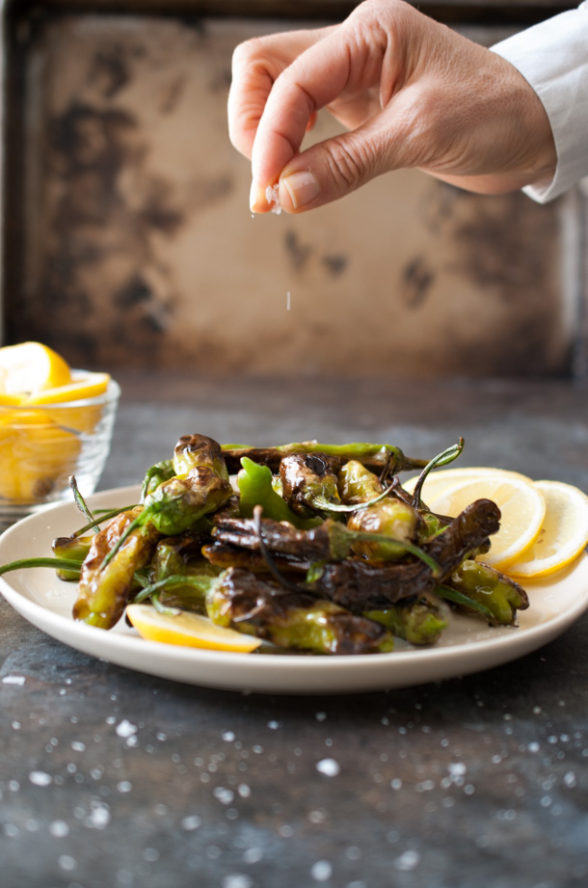 Whenever I go out for Japanese food, if there are shishito peppers on the menu, I order them. Shishitos are the perfect appetizer since they are light (they're just vegetables) and pretty healthful.  Most Japanese restaurants serve them very simply with a dousing of soy sauce or ponzu sauce.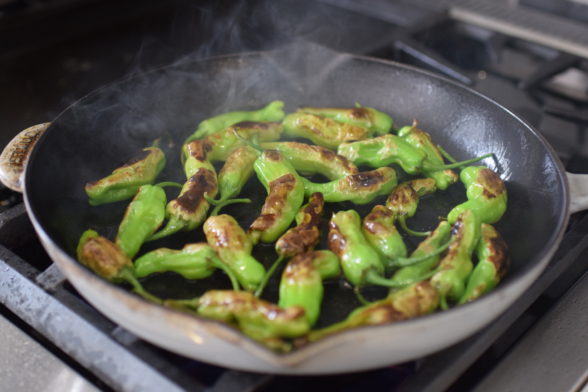 A Shishito pepper is a small pepper, about the size of a jalapeno, but light green and sort of crinkly looking. They are slightly sweet, but every once in a while (apparently every 1 out of 10 peppers) you get a hot one!  I love hot peppers, so it's a welcome surprise, but not everyone agrees.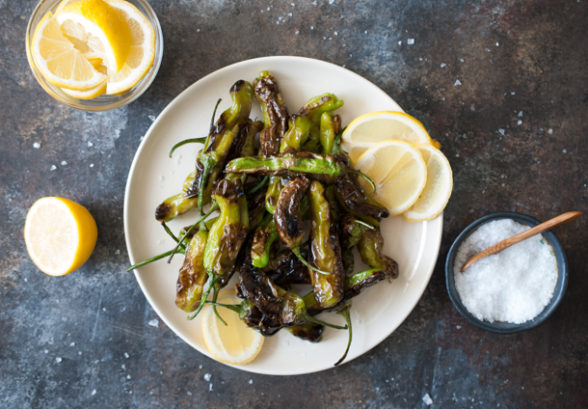 What these peppers remind me of are something that my parents called "Italian frying peppers."  My father grew them every year in the garden, and still does.  We ate them at least once a week as a side dish in the summer.  My mother cooked them in olive oil in a skillet and seasoned them with a bit of salt and that was it.  My sisters and I ate them with our hands, picking up a pepper by the stem and dangling it in our mouths.  These peppers were always sweet and never hot, but they are much larger than shishitos.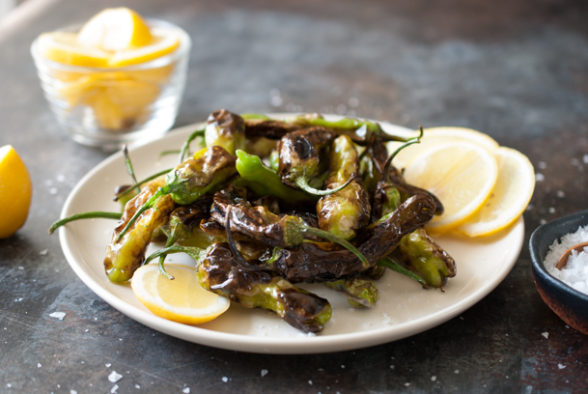 I have discovered shishito peppers at Trader Joe's and some local farmers markets.  Unfortunately, I haven't found them organic, so let's just say I am not making them every day.  My kids flip over shishito peppers and so do my friends, so I recently added them to my cheeseboards.  They take minutes to prepare, so it's an easy snack to make if you're entertaining, and much healthier than chips or cheese ;).

Blistered Shishito Peppers Recipe
Ingredients
1 6-ounce bag shishito peppers
2 Tablespoons avocado oil or olive oil
sea salt to taste (I like to use flaky salt here)
juice of half of a lemon (optional)
Instructions
Heat a large skillet (preferable cast iron) over medium heat until hot. Add the oil. When the oil is hot, but not smoking, add the shishito peppers. Spread out into one layer and allow to cook for 2 ½ minutes or until completely blackened and blistered on the underside. Flip the peppers and repeat on the other side, another 2 ½ minutes. If the peppers are sufficiently blistered, but not soft, cover the pan and turn the heat down to low and cook another minute or two. I personally prefer the peppers to be completely soft and not crunchy.
Remove the peppers from the heat and sprinkle with salt (and lemon juice if using). Serve immediately.
Notes
Other suggestions: sesame seeds, gomasio, tamari, cooking in a combo of sesame oil and avocado oil