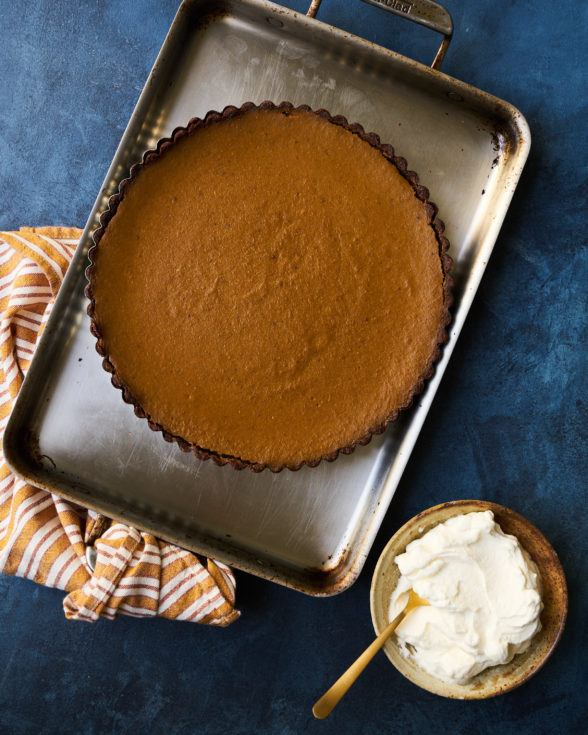 Usually, I am a Don't-Mess-With-Chocolate kind of gal, but I am also Team Chocolate-Makes-Everything-Better.  I am definitely in the latter camp for this recipe.  Pumpkin Pie is not the one I go for on Thanksgiving.  I like it perfectly well, but with everything else I make, it's not my #1.  Unless I add chocolate.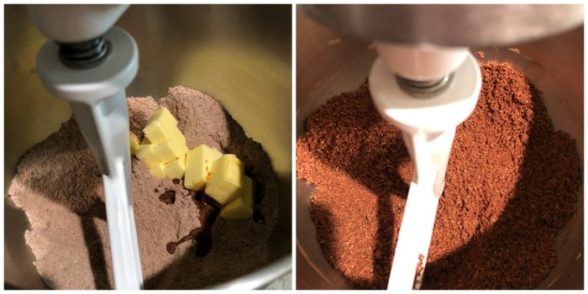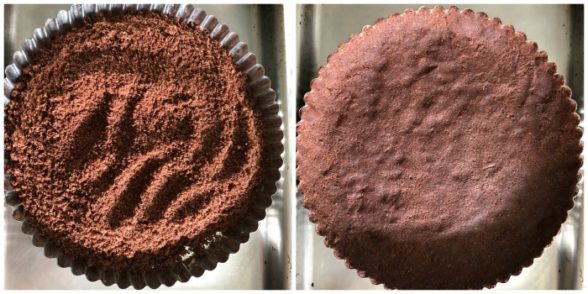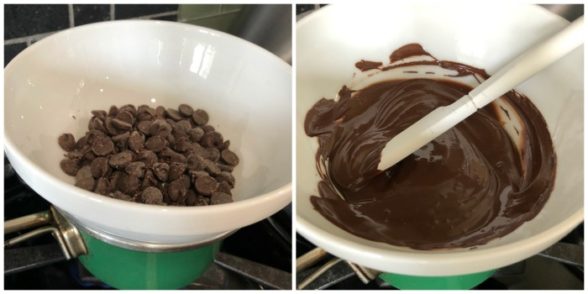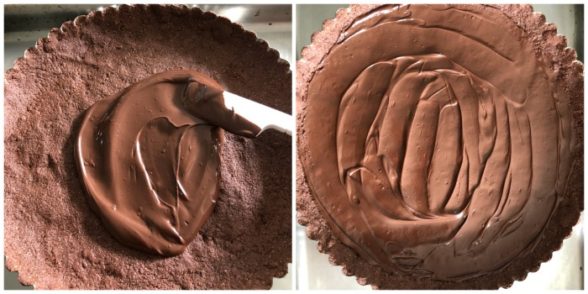 That's how this recipe was born.  In fact, in my notes to myself the last 20 Thanksgivings, I wrote "dessert buffet needs something with chocolate."  It has always felt sacrilegious  to mess with the the classic holiday dessert spread of apple, pecan, and pumpkin pies and alternative pumpkin desserts.  Sometimes I add a pear tart or a crumb topping to the apple pie if I'm feeling adventurous.  But it occurred to me that if I love my pumpkin chocolate swirl bars and pumpkin magic bars, surely pumpkin pie would be even better with chocolate added to it. And I was right!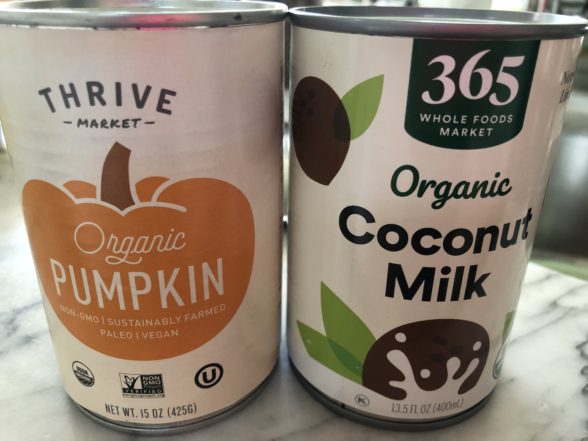 I took my pumpkin pie recipe and swapped in a delicious, press-in chocolate crust – that's it.  You could use your favorite pumpkin pie filling and add it to this crust.  There are multiple variations on the crust as well in case you don't need it to be gluten-free.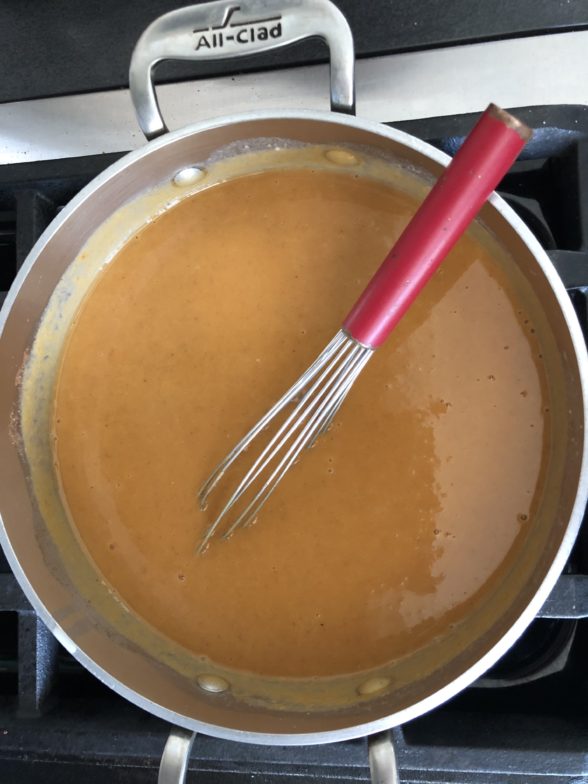 The crust is pretty chocolate-y, nothing subtle about it.  And I add an extra layer of melted chocolate between the crust and the filling which amps up the chocolate but also prevents the crust from getting soggy.  I list semisweet and bittersweet chocolate here to melt.  Dark chocolate, which I normally love, made this a little too intense for me.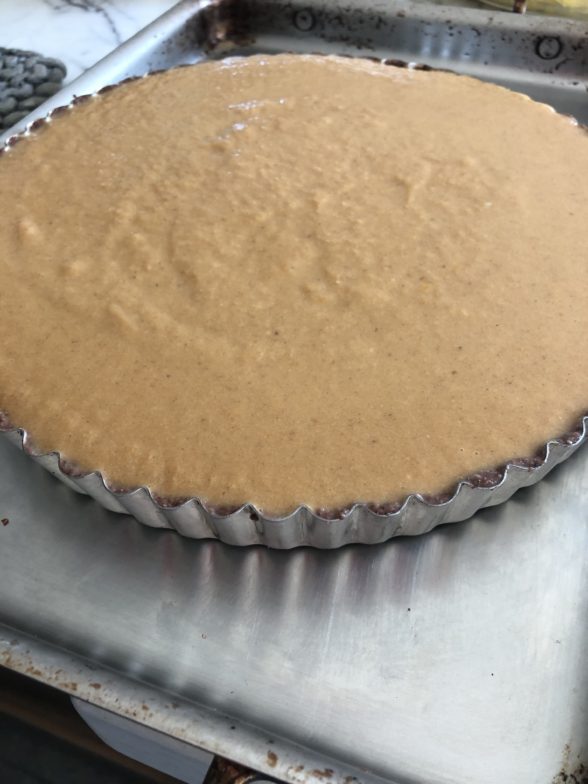 Ok, let's talk do-ahead.  YES, you can make this the day before and refrigerate it.  You can likely makes this even two days before. But it needs to stay refrigerated or the crust will get soggy.  Take care not to press plastic wrap or anything directly on top of the tart because you will ruin the surface of the pumpkin filling. You can invert a bowl on top or create a foil tent.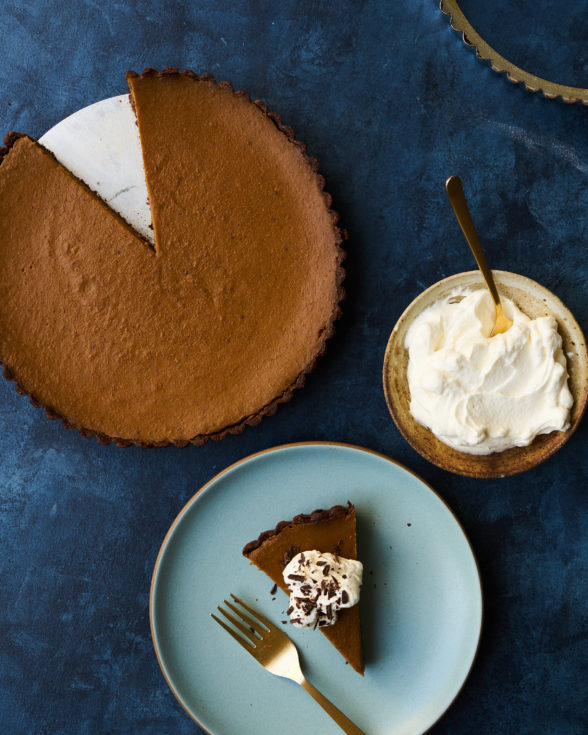 Don't forget the whipped cream here!  I never eat whipped cream except on Thanksgiving.  You know what the kids say – "go big or go home."  I discovered a dairy-free whipped topping at the market, which although not as pure as whipped coconut cream, is actually not terrible.  It's called CocoWhip.  Look for it in the freezer section and thaw overnight in the fridge.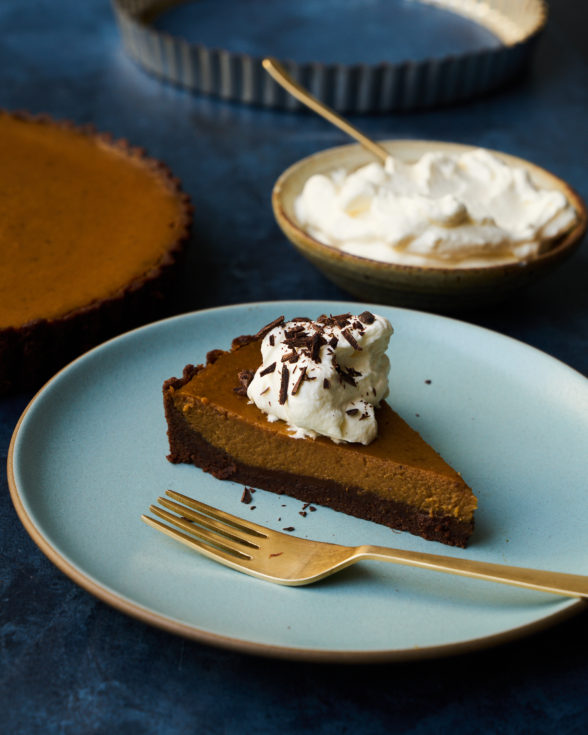 Ok, friends.  After this recipe, I have one more for you for Thanksgiving.  Spoiler alert: it's a plant-based entree.  So if that doesn't interest you, it's high time to commit to your menu! If you are struggling with pulling Thanksgiving together, I strongly recommend my new and improved 2022 THANKSGIVING EBOOK.  It truly has every tip and strategy I have ever come up with as well as every single Thanksgiving recipe with color photos all in one printable PDF.  All for $15.  No stress on Thanksgiving for the price of a smoothie in LA. 😉 Happy planning!

Gluten-Free Chocolate Pumpkin Tart
Ingredients
Crust (see multiple alternate versions at the bottom of the recipe):
½ cup sweet rice flour (if unavailable use white rice flour)
½ cup blanched almond flour
6 Tablespoons cocoa powder
¼ cup tapioca flour
¼ cup maple sugar or unbleached cane sugar
¼ teaspoon sea salt
6 Tablespoons cold unsalted butter or vegan butter, diced into ½-inch cubes
1 teaspoon pure vanilla extract
3 ounces semi-sweet or bittersweet chocolate chips (in between ⅓ – ½ cup)
Filling:
1 15-ounce can pumpkin puree (not pumpkin pie filling)
½ teaspoon sea salt
1 teaspoon ground cinnamon
½ teaspoon ground ginger
¼ teaspoon ground cloves
pinch of ground nutmeg
1 cup full fat coconut milk
6 Tablespoons pure maple syrup
3 large eggs, beaten
2 Tablespoons dark rum or bourbon
Instructions
Position a rack in the center of the oven and preheat to 350 degrees.
In the bowl of the stand mixer fitted with the paddle attachment, combine the sweet rice and almond flours with the cocoa powder, tapioca starch, sugar and salt. Scatter the butter pieces over the top and drizzle with the vanilla extract. Turn the mixer to medium-low and run until the dough comes together in clumps and the butter is worked through, 3-5 minutes.
Transfer the crust mixture into a 9-inch round tart pan or pie plate. Press crust evenly onto the bottom and sides of the pan. Place the pan on a rimmed baking sheet and bake for 10 minutes.
Meanwhile, melt the dark chocolate by placing in a heatproof bowl a top a pot of simmering water. Stir chocolate until completely melted. Drizzle chocolate over crust. You can carefully spread the chocolate evenly across the crust using a spatula or the back of a spoon. Be careful not to rip the crust. Transfer the crust onto a room temperature sheet pan and chill the crust in the freezer for 15 - 20 minutes to harden the chocolate.
In a medium saucepan, whisk all filling ingredients over medium heat until smooth and warmed through. Do not bring to a simmer. Carefully pour over crust, being careful not to overfill and bake for 45 to 55 minutes, until the filling is set, but jiggles like jello. Let cool and serve, or chill in the fridge, covered, for up to 2 days until ready to serve.
Notes
Alternative versions of crust:
1 ¼ cups Jovial Gluten-free Pastry Flour
6 Tablespoons cocoa powder
¼ cup sugar
¼ teaspoon sea salt
6 Tablespoons cold unsalted butter or vegan butter, diced into ½-inch cubes
1 teaspoon pure vanilla extract
3 ounces semi-sweet or bittersweet chocolate chips (in between ⅓ – ½ cup)

OR
½ cup powdered sugar
1 ¼ cups all-purpose flour
5 Tablespoons cocoa powder
¼ teaspoon sea salt
½ cup unsalted butter or vegan butter, diced
1 large egg yolk
1 teaspoon vanilla extract
3 ounces semi-sweet or bittersweet chocolate chips (in between ⅓ – ½ cup)

Another option is to do a chocolate graham cracker or chocolate cookie or gingersnap cookie crust:
8 ounces of cookies, process into crumbs in a food processor
¼ cup melted unsalted butter or vegan butter
Do not pre-bake.