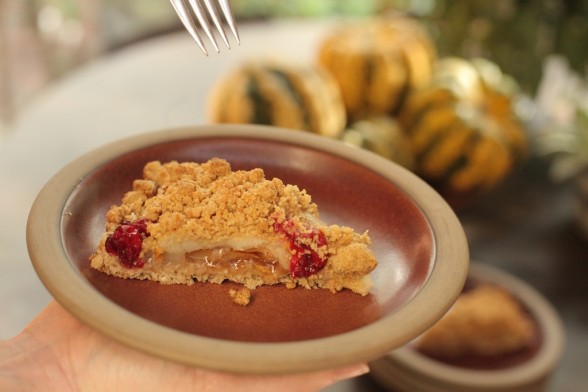 Why do so many people go on cleanses on January 2nd?  One word — SUGAR.  It starts on Halloween with an innocent bite of an Almond Joy and keeps coming until New Years Day with that "one last piece" of cake since the big diet will start tomorrow.  I'm the first to admit that although I may be pretty disciplined during the year, a few sweet indulgences here and there during the holidays throw me off for weeks.  Damn!  One of these years I'm just going to say "no, thank you" over and over in November and December because I really am much happier when sugar and I go our separate ways.  I am especially going to reject any food with the word "slutty" in front of it.  Or at least I need to stick to more natural desserts that don't make me feel like I'm going to hell.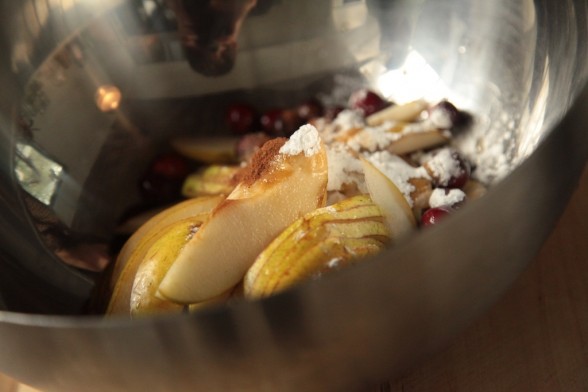 I know what you're thinking.  It's fun to give in.  It's the holidays.  What about everything in moderation?  If you say so.  As for me, sugar is out to get me.   It makes me feel horrible afterwards, saps my energy, ruins my skin, and leaves me craving nourishment, among other things.  The worst part is I go back for that same punishment that next day!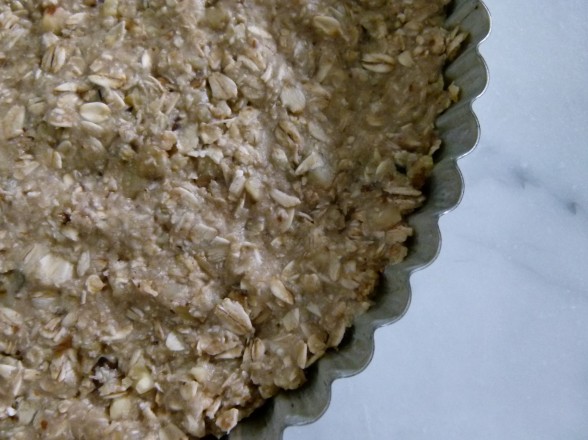 I know it seems hypocritical that I started this post whining about sugar and now I'm encouraging you to make dessert.  HOWEVER, there are desserts out there that deserve a little more respect since they are made of higher quality ingredients that don't leave you regretting what you've just eaten.  Like this Pear-Cranberry Tart!  When Jenni Kayne and The Chalkboard Mag asked me to create a vegan and gluten-free holiday menu which was also healthful, the dessert was what I figured would be the challenge.  But I have to say, this turned out great and may be one of my favorite desserts to date.  It's seasonal, beautiful and just plain delicious.  The tart is sweet, but in a fresh and clean way that doesn't make you feel like you just got a sugar injection.  And I love the contrast of the soft pears with the nubby crust and crumbly topping. Whereas this looks impressive, it's really quite easy.  The press-in crust is the perfect answer for those who don't feel comfortable making and rolling out pastry dough.  Plus it's the perfect dessert for the holidays since you can prep much of it in advance (see my notes at the bottom of the recipe.)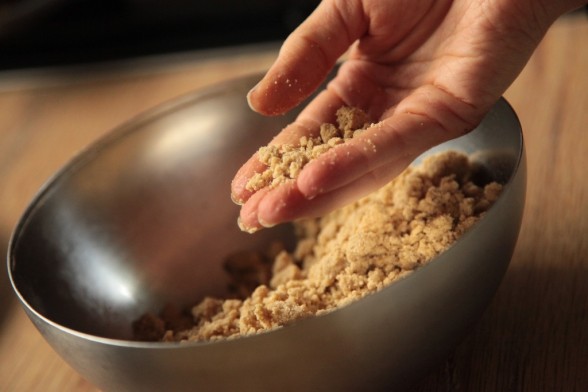 Don't let the gluten-free and vegan label throw you off.  Sometimes people, including my darling husband, rush to judgment about "alternative" desserts without giving them a chance.  But sure enough, my kids all loved it, although Mr. Picky picked out the "sour" cranberries.  No problem, send those over here.  I think you could even eat it with a dollop of whole yogurt and call it breakfast.  I did.  And I didn't have any regrets in the morning.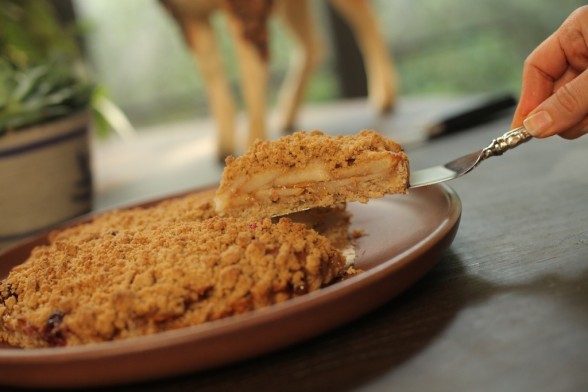 Gluten-Free, Vegan Pear-Cranberry Tart
Author:
Pamela, inspired by Peter Berley's Apple Tart in The Modern Vegetarian Kitchen
Ingredients
Crust:
1 cup rolled oats (look for gluten-free oats, such as Bob's Red Mill)
⅔ cup oat or whole spelt flour (look for gluten-free oat flour, such as Bob's Red Mill; spelt flour is not gluten-free)
½ cup walnuts
¼ cup pure maple syrup
¼ cup unrefined coconut oil, melted
½ teaspoon sea salt
Filling:
3 firm, but ripe pears, cored and sliced into ⅛th-inch wedges
1 handful fresh cranberries
2 Tablespoons maple sugar or brown sugar
2 Tablespoons pure maple syrup (I use Grade A for a more subtle flavor)
1 Tablespoon arrowroot powder
1 teaspoon freshly squeezed lemon juice
½ teaspoon ground cinnamon
Topping:
1 cup oat or whole spelt flour (look for gluten-free oat flour, such as Bob's Red Mill; spelt flour is not gluten-free.)
⅓ cup maple sugar or brown sugar
½ teaspoon aluminum-free baking powder
pinch of sea salt (omit if using Miyoko's vegan butter or Earth Balance)
4 Tablespoons cold Miyoko's vegan butter, organic Earth Balance, unsalted butter or unrefined coconut oil, cut into pieces (butter is not vegan; Miyoko's, Earth Balance and butter give a better result than coconut oil, but coconut oil works just fine.)
Instructions
Preheat oven to 350 degrees. Lightly grease a 9-inch tart pan with a removable bottom. If your tart pan tends to leak when baking, you should also line the bottom with unbleached parchment paper.
Place all crust ingredients in the bowl of a food processor fitted with a metal blade and pulse until nuts are finely chopped. Press crust evenly on the bottom of the pan and into the rim. Freeze crust while you assemble the filling.
In a large bowl gently combine filling ingredients and set aside.
In another bowl, squeeze topping ingredients together with your fingers until the mixture looks well combined, pebbly and no longer dry or dusty.
Remove tart pan from freezer and layer the pears and cranberries on top of the crust. Pour any juices from the bowl on top of the fruit. Spread the crumb topping over the fruit.
Place tart on a baking sheet and bake for 40 minutes or until filling is bubbling and topping is lightly browned. Allow tart to cool slightly before serving. Best eaten the same day it's made, but if you have leftovers, store in the refrigerator. Do ahead: you can make the crust up to a day ahead and keep it tightly covered in the refrigerator. You can also make the topping a up to 3 days ahead and keep that in a tightly covered container in the refrigerator.