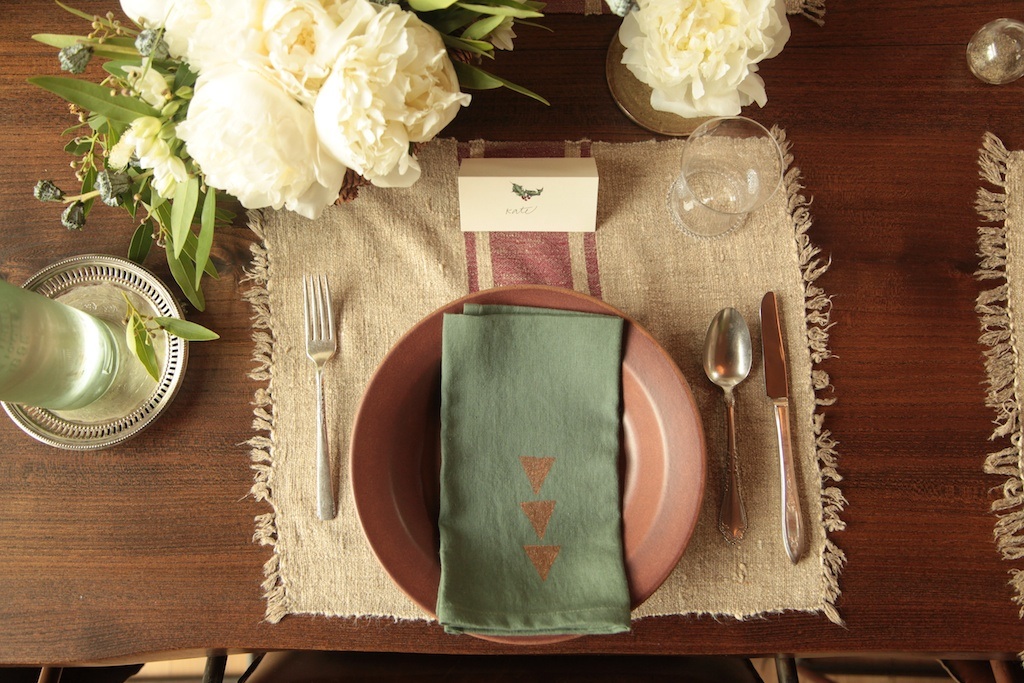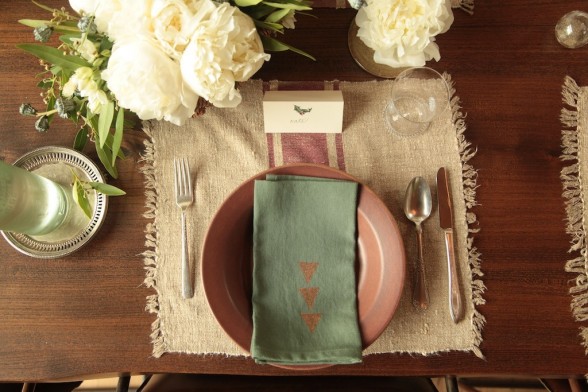 One of my favorite things to do is plan menus for special occasions and holidays.  I'm sure you gathered from my multiple enthusiastic posts leading up to Thanksgiving that I really enjoy the whole process, but my main goal is to pull together a celebration that I can enjoy with everyone else.  So when my friend and student Jenni Kayne and the team at The Chalkboard asked me to teach a Christmas cooking class as part of their "In the Vegan Kitchen" series, I was very excited!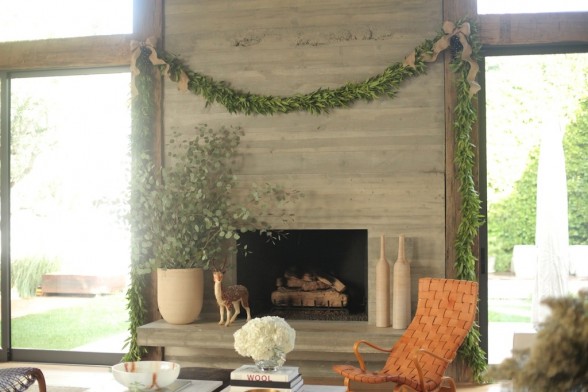 First of all, I loooooooove Christmas!  But not all the commercial nonsense.   I love getting together with my enormous family in New York and celebrating all of our fun traditions.  I have the best time decorating my parents' tree with my kids and listening to all the little ones singing carols from song books my oldest daughter made when she was in 3rd grade.  Totally true!  And I always look forward to indulging in my Aunt Maria's multitude of unbelievable cookies.  Just for the day, of course!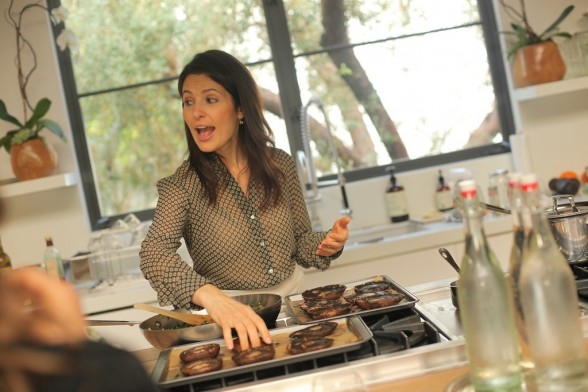 But Christmas at Jenni's house would be different.  Although I place a major emphasis on plant foods on this blog, in my classes, and at home, I am no vegan.  If it weren't for feta cheese and eggs, I could probably do it.  Regardless, my task was to create and teach a fabulous vegan Christmas menu for some fabulous ladies.  Besides Jenni, a few of my regular students attended including Shiva Rose (do check out her blog — I always learn so much from her), Lauren Soloff from The Granola Project, Nicole Simone (a gorgeous woman with a gorgeous voice), Ambre Dahan, design director of Joe's Jeans, as well as some newbies like Lauri Kranz, a woman after my own heart with her incredible business Edible Gardens LA, and Rachel Craven, who designed some of the beautiful linens Jenni used for the meal.  Speaking of Jenni, if you haven't checked out her amazing blog, Rip + Tan, you must.  She is so stylish and chic, and I admire everything she pulls together.  Lucky for us, she reveals all her amazing sources on her site.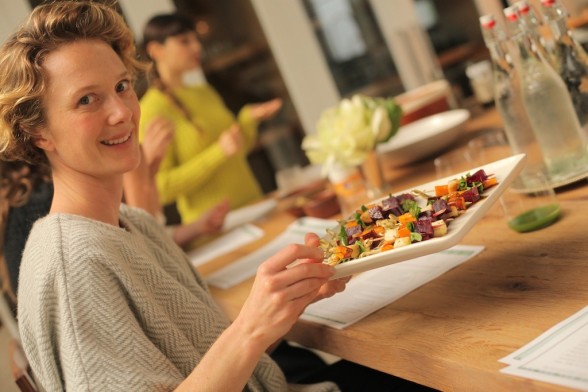 Back to the menu, I wanted to teach recipes that are delicious and healthful whether you are a vegan or not.  We started with one of my favorite hors d'oeuvres, Beet, Butternut Squash and Apple Skewers.  It's basically a few of my favorite winter salad ingredients roasted, skewered and then drizzle with a simple balsamic vinaigrette.  (If you're not vegan or dairy-free, feel free to add a cube of feta.   Shhhhhh!)  These are so easy that usually I get my kids to make all the skewers for me.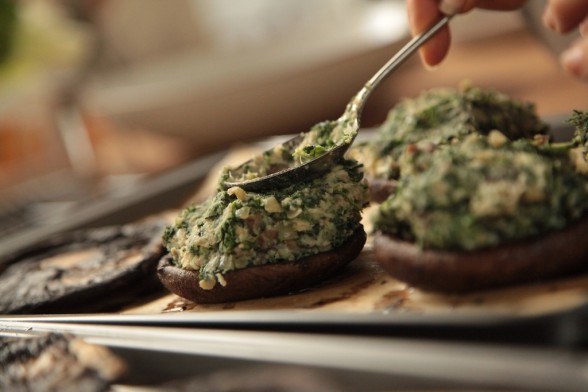 My mom always serves stuffed mushrooms as a side dish on Christmas.  So for the main meal, I came up with Creamy White Bean and Spinach-stuffed Portobello Mushrooms.  I made a really meaty, substantial and flavorful filling for the mushrooms based on pureed white beans and roasted garlic which also added a little protein to the dish.  Next I made a fun Quinoa and Arugula Salad with Avocados, Grapes, Almonds and a Smoked Paprika Dressing.   When I tested this on my family they all loved it, except Mr. Picky who still has yet to try salad with vinaigrette.  I just served him all the salad components separately, except the arugula.  And the quinoa. One day.  Although I think everyone's favorite was the Shredded Brussels Sprouts with Caramelized Shallots.  They really are delicious and cook very quickly so you can prep the sprouts in advance and cook them at the last moment.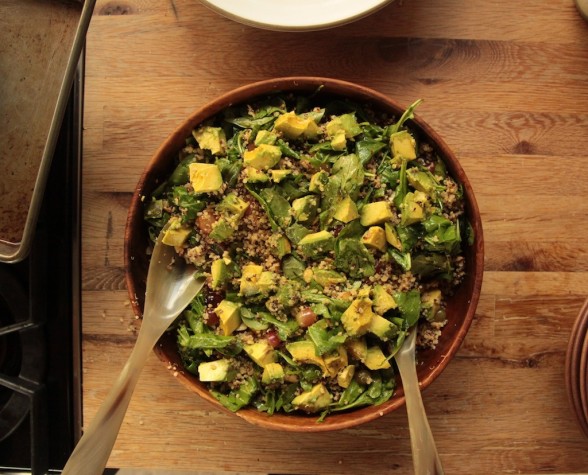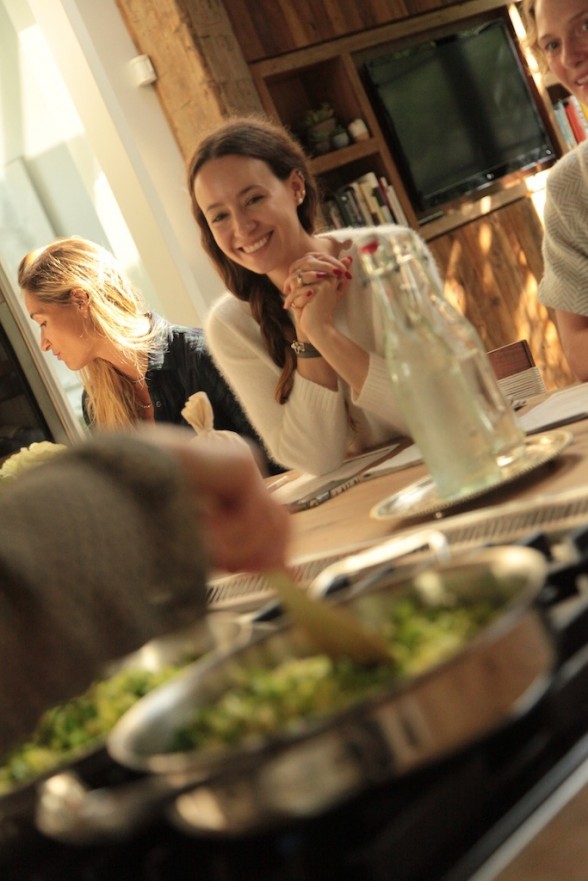 Lastly I showed the class a delicious and beautiful Pear and Cranberry Tart which I am planning to make for my family's Christmas this year.  All the recipes were also gluten-free since Jenni is GF.  That wasn't a factor until the dessert, but I was able to use Bob's Red Mill GF oat flour with success.  I tested the tart with both coconut oil and Earth Balance in place of butter.  The coconut oil was perfect in the crust and worked fine in the crumb topping, but I think Earth Balance was much better in the topping.  But overall, this was a really natural, not-to-sweet seasonal dessert which I think Kate was going to sneak home so she could eat it for breakfast the next day!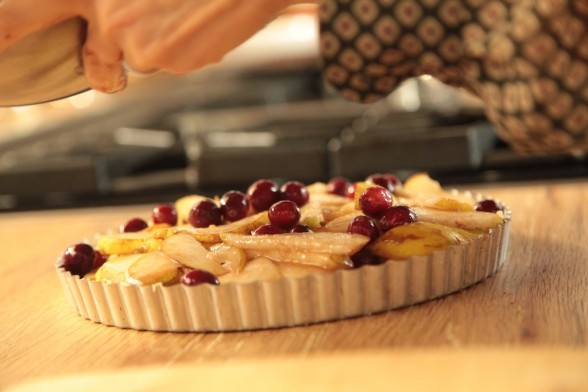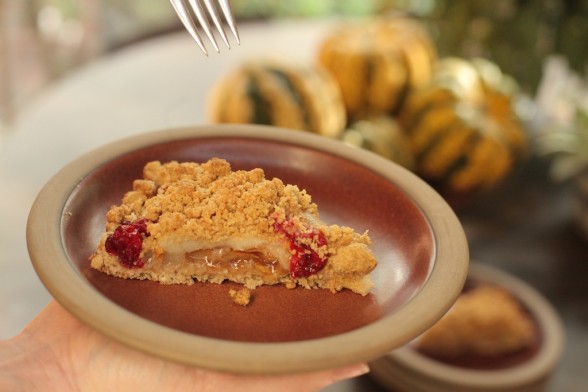 It was a lovely time that I shared with some amazing women!  For more photos and all the recipes, please check out the post "In the Vegan Kitchen:  Festive Holiday Feast" over at The Chalkboard.  And Jenni has meticulously detailed everything from flowers to flatware to recipes on her blog ripplustan.com.  I will be posting at least one step by step of the recipes in the next week or so, mostly likely the tart.  In the meantime, I can't wait for Christmas!!!