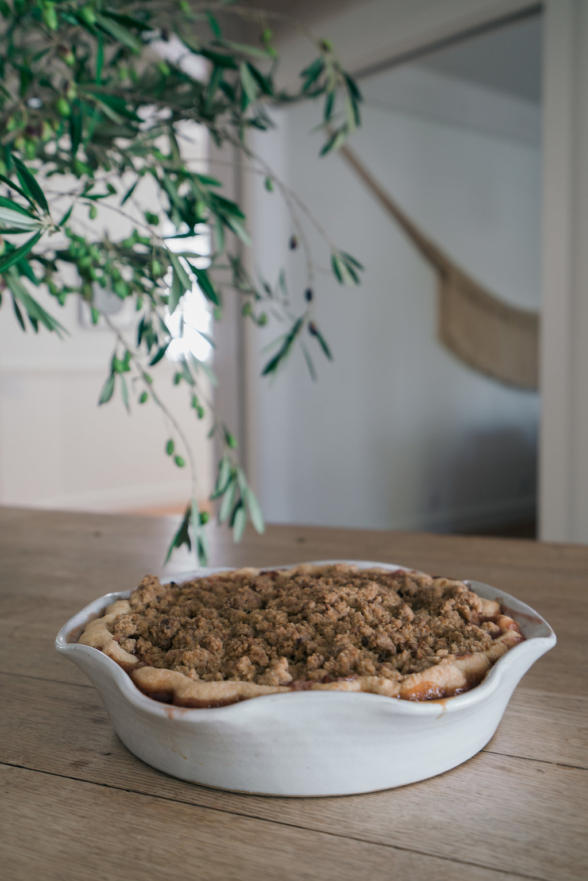 I bake way too many pies on Thanksgiving – 2 pumpkin, 2 pecan and 2 apple.  Plus I usually make 1 non-pie dessert.  I do this because pies are my favorite thing to make for the holiday.  I am trying to simplify my menu this year, but I can't bring myself to bake fewer pies.  In fact, in the last couple of years, I have expanded the apple pie selection to include this apple crumb pie, as well as the classic.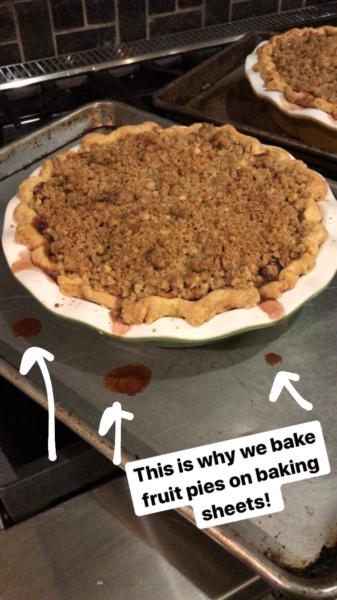 I adore apple desserts in the fall when the fruit is in season.  There are so many wonderful varietals of apples, from tart to sweet and everything in between.  And I love using several different types of apples in pies and applesauce for a more interesting flavor profile.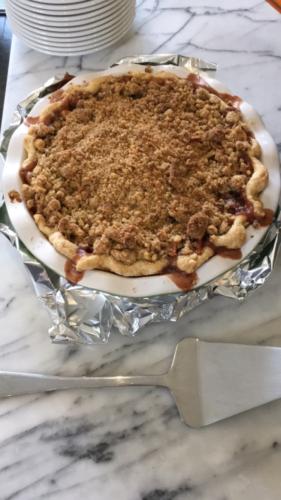 I taught this pie last year in my classes as an alternative to the typical double crust pie.  A crumb topping is much easier to work with.  There's no crimping of the top crust, no pressure to create a Pinterest-worthy work of art with the dough, no rolling – it's almost foolproof, but still looks very impressive.  The downside is that we're adding a bit more sugar in a crumb topping than in a pie crust.  But the crumble topping has wonderful texture and flavor.  This pie is very easy to make look good even if the bottom crust doesn't look great (i.e. if you have a vegan or gluten-free situation happening.)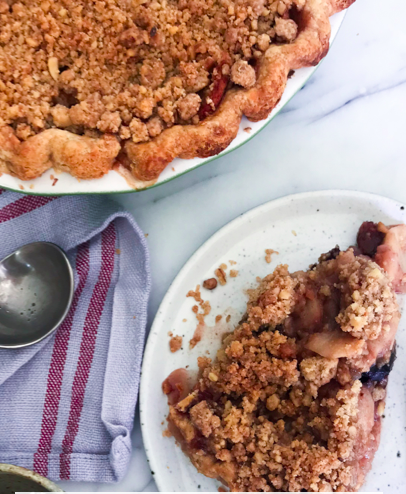 I have actually successfully frozen this pie, defrosted it and reheated it with success.  It's certainly worth a try if you can't manage to pull off your own great Thanksgiving pie bake-off the night before Thanksgiving.  This recipe can also be adapted to many different types of fruits.  Just ask yourself what would taste good as a fruit crisp, and it would be great as a crumble pie.
If you are interested in making your own pie from scratch, I'll be doing an Instagram Live with my friend and cupcake queen, Candace Nelson, next Thursday, November 15th at 2:30 pm PST/5:30 pm EST.  Come join us and bring your pie-making questions!
For ALL my Thanksgiving Recipes and Tips, check out my new Thanksgiving eBook!
Here's a link to my previous dinner planners.
I have LOVED seeing all your creations of my recipes on Instagram.  If you make any of my recipes, please tag me @pamelasalzman #pamelasalzman so I can check them out!
Click here to learn more about my online cooking classes and my cookbook!
Shop the tools for this recipe by clicking on the images below:

Apple-Tart Cherry Pie with Crumble Topping
Ingredients
All-purpose flour for dusting countertop
1 recipe for single pie crust (see below)
1 pound tart apples, such as Granny Smith
1 pound sweet apples, such as Fuji
1 pound soft apples, such as Golden Delicious
¾ cup with dried tart cherries (rehydrate for 15 minutes in warm water until plumped, drain)
¼ cup cherry preserves (look for an all-fruit one without added sugar)
2 Tablespoons fresh lemon juice
¼ cup organic cane sugar
3 Tablespoons all-purpose flour
1 teaspoon ground cinnamon
pinch ground nutmeg
¼ teaspoon sea salt
1 Tablespoon unsalted butter, cut into small pieces
Crumble Topping:
½ cup walnut (or pecan) pieces, chopped very fine
1 cup all-purpose flour or white spelt flour
6 Tablespoons packed light-brown sugar
½ teaspoon ground cinnamon
¼ teaspoon sea salt
6 Tablespoons unsalted butter, melted
Instructions
Roll pie dough* out on a lightly floured countertop, regularly checking to make sure disk is not sticking to counter. Roll into a 12-inch round. Fit pastry into a 9-inch pie plate. Crimp or flute the edges as desired. An easy thing to do is to press the crust with the tines of a fork. Refrigerate.
Preheat oven to 400 degrees.
Peel, core and slice apples crosswise into ¼-inch slices. Transfer to a large bowl and mix with soaked dried cherries, cherry preserves, lemon juice, sugar, flour, cinnamon, nutmeg and salt. Combine well. Arrange apple mixture in pie shell and dot with butter.
Make the walnut crumble: stir together the walnuts, flour, brown sugar, cinnamon, salt and butter in a medium bowl. Top the pie with small handfuls of the crumble, covering everything evenly.
Place pie on a baking sheet and bake for 30 minutes. Reduce oven temperature to 350 degrees. Continue baking until the crumble is golden and the juices are bubbling around the edges and have thickened, about 50 minutes more. Transfer to a cooling rack and cool for an hour before serving. Pie can be kept at room temperature for up to 2 days.
Notes
Pâté Brisée:
1 ¼ cups unbleached all-purpose white flour or white spelt flour
½ teaspoon fine sea salt
1 teaspoon granulated sugar (optional)
½ cup (1stick) cold unsalted butter, cut into 8 pieces
2-4 Tablespoons ice water
Place the flour, sugar <g class="gr_ gr_116 gr-alert gr_gramm gr_inline_cards gr_disable_anim_appear Punctuation only-ins replaceWithoutSep" id="116" data-gr-id="116">and</g> salt in the bowl of a food processor fitted with the metal blade and pulse a couple times until blended.
Add the butter to the flour and pulse until the mixture resembles small peas.
Pour 2 Tablespoons of ice water on top of the flour mixture and pulse about 10 times. Avoiding the blade, carefully grab a small handful of dough and squeeze together. If the dough holds together without crumbling, it's ready to be formed into a disc. If it's too dry, pulse in another few teaspoons of ice water until dough holds together.
Transfer dough to a piece of plastic wrap and shape into a disc. Wrap well and refrigerate at least 30 minutes at which point it will be ready to roll out. Or you can keep the dough refrigerated for 2-3 days, or in the freezer, well wrapped for 2-3 months.