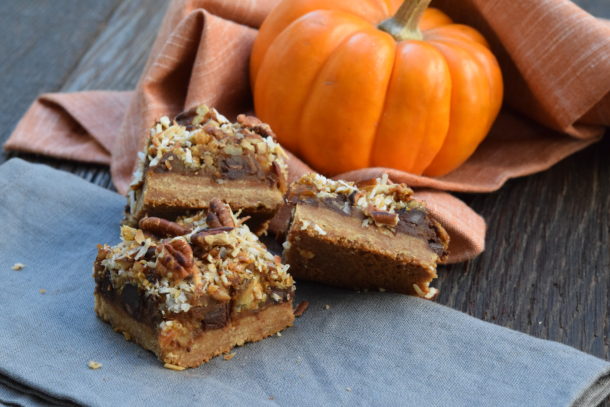 I know sweets aren't good for me or you or anyone. And believe me, I have tried to break up with them many times over. But then it's a special occasion or a friend's dessert cookbook launch party or it's Friday, and I just can't help myself. So you know what? Whatever. Sweets can hang out with me, but on my terms and not too much.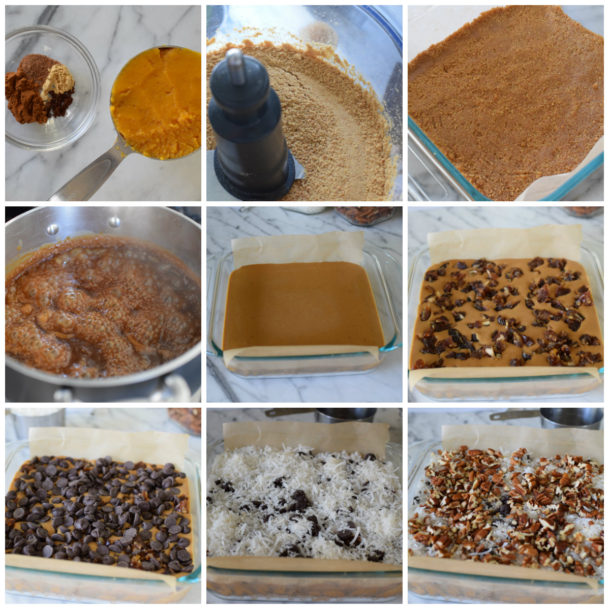 I have always been one to embrace more natural sweeteners, like fresh and dried fruit, and minimally processed ingredients like honey and coconut sugar. And I like to think that the desserts I make just use less sweetener altogether, which is another way to lower the glycemic index of anything. My latest strategy involves smaller sized desserts, ones that can be cut to be bite-sized. I especially love making small desserts when I am entertaining or for the holidays because I usually have prepared more than one dessert and it's nice to be able to taste everything.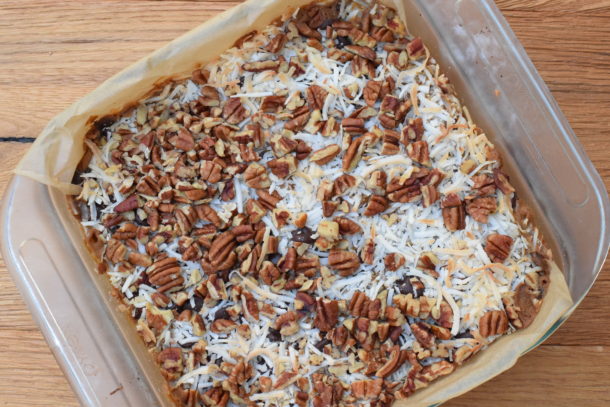 These pumpkin magic bars are perfect for a Halloween dessert buffet or even Thanksgiving. It's basically a 7-layer bar, sometimes referred to as a Hello Dolly Bar, but with the addition of pumpkin and warm spices. Those bars, however, use sweetened canned condensed milk which is where I draw the line. I have my limits and I try to avoid cans, pasteurized cow milk and sugar. I can't avoid all three 100% of the time, but you can bet if they're all in one product, it's a no.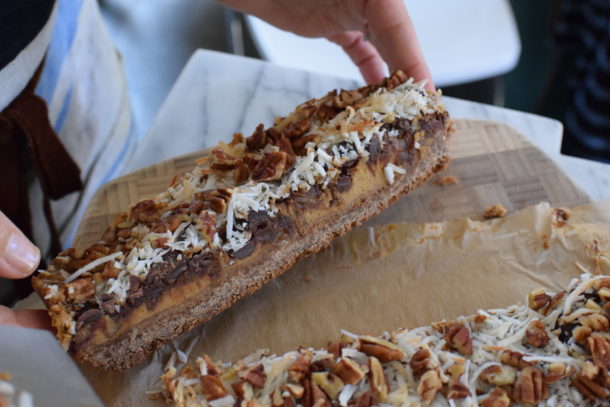 We can still make a delicious layered treat and dare I say even better than the original? Typical 7-layer bars are sickeningly sweet and usually layered with different types of chips, e.g. chocolate, white chocolate and butterscotch. I do add chocolate chips, but I also add a layer of diced dates which I could swear is like caramel when I sink my teeth into a square. Plus I love adding other healthful ingredients like shredded coconut and pecans. I also take coconut milk and simmer it with coconut sugar until it is reduced and thickened slightly to act like condensed milk.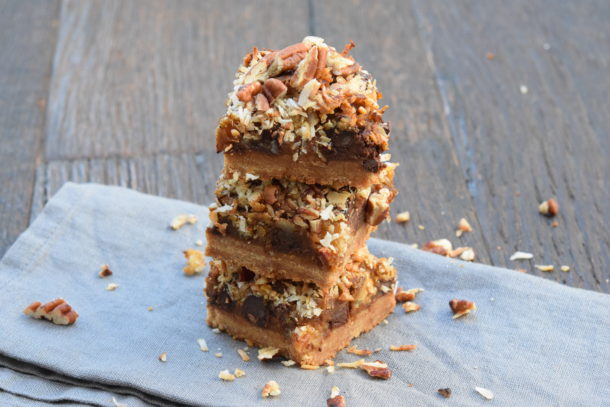 These bars feel super decadent and they are by no means low calorie.  But as far as refined and processed ingredients, this recipe is pretty good.  Last October, I ate one of these every day after class and I didn't feel like I needed a nap or like I just guzzled a soda.  Of course, I had cut these pretty small.  So if you cut these up and start evening out the edges and eating all those slivers, it all adds up.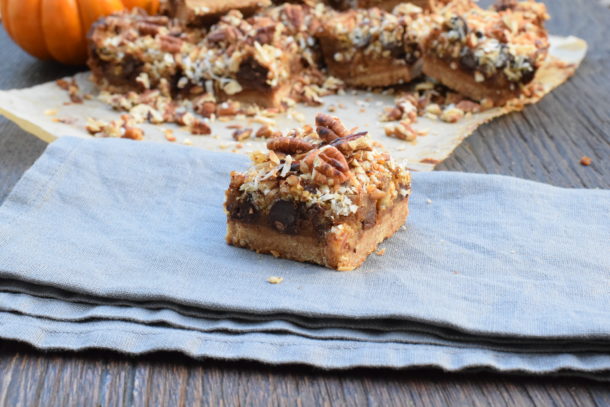 You can make these now if you're having a party next weekend.  They stay in the fridge (as long as they're covered well) for at least a week.  They also freeze really well and unfortunately, they even taste great straight out of the freezer.  Ask me how I know that. #shameful

Pumpkin Magic Bars
Serves:
9 medium or 16 Small Squares
Ingredients
1 14-ounce can full fat coconut milk, about 1⅔ cups
½ cup coconut sugar, cane sugar or brown sugar
1 cup pumpkin puree (not pumpkin pie filling)
1 teaspoon ground cinnamon
¼ teaspoon ground nutmeg
¼ teaspoon ground ginger
⅛ teaspoon ground cloves
2 cups graham cracker crumbs (about 14 crackers pulverized in a food processor)
6 Tablespoons unrefined coconut oil, melted
3 Tablespoons pure maple syrup, Grade A or Grade B
1 cup dried dates, pitted and diced (or omit dates and increase sugar to ⅔ cup)
1 cup dark or semi-sweet chocolate chips
1 cup unsweetened shredded coconut
¾ cup pecans, chopped
Instructions
Preheat oven to 350 degrees. Lightly grease (coconut oil is fine) an 8x8 or 9x9-inch baking dish and line it with unbleached parchment paper.
Prepare condensed coconut milk. Pour coconut milk and coconut sugar into a medium saucepan. Cook over medium heat at a low simmer. Do not allow to boil over. Simmer on medium-low heat for 12-14 minutes, whisking occasionally, until the mixture thickens slightly. You want it to reduce to about 1⅓ cups. If you reduce it less, no problem.
Once milk is condensed, whisk in pumpkin puree, cinnamon, nutmeg, ginger, and cloves until well combined. Remove from heat to cool.
Prepare graham cracker crust. Combine graham cracker crumbs, coconut oil, and maple syrup. Transfer mixture to prepared pan and press down firmly, making an even layer. The better you press the crust, the better it will hold together.
Pour condensed coconut milk mixture over the crust. Sprinkle on the diced dates and then the chocolate chips, followed by the coconut and then the pecans. Press the mixture down lightly with your hands so that all the toppings stick to the layer underneath.
Bake in the oven for 25-35 minutes, until the edges are golden. Remove from pan and place on a cooling rack for approximately 30 minutes. Set bars in the freezer for 2 hours or the refrigerator for 4 hours or overnight. If put in the freezer, bars will need to be defrosted before eating. Store in the refrigerator wrapped well, for up to one week.