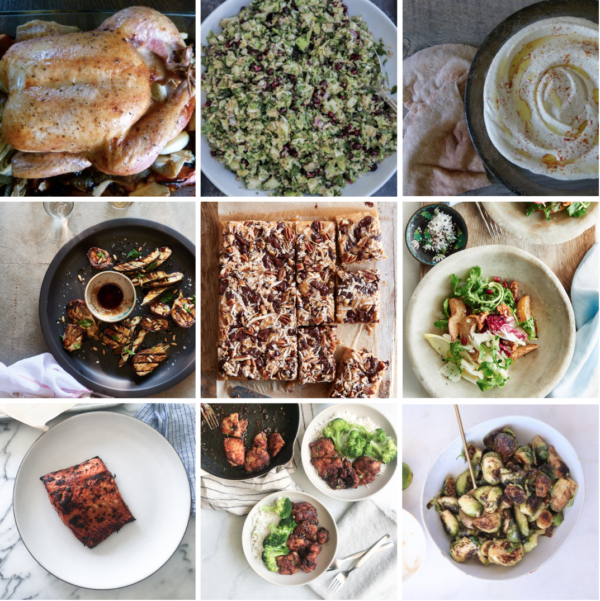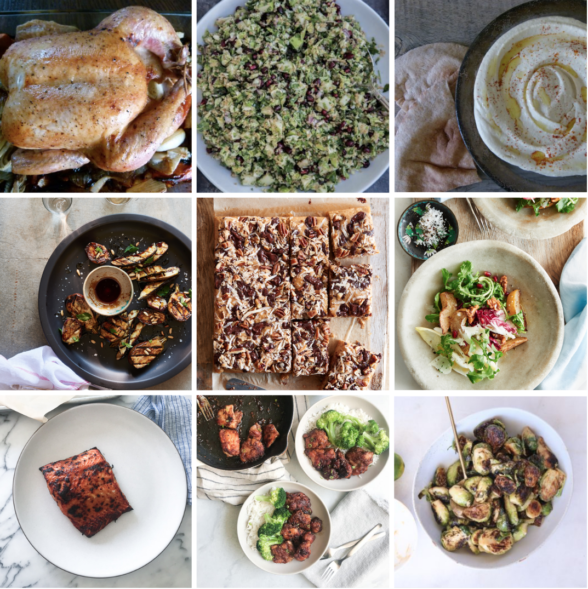 I have done this before where I forget about the first night of Rosh Hashana when posting my dinner planner because it's not a holiday I host. Ooops!  I do host a luncheon after services on the first day of the holiday which is this Monday.  I always do a 3-4 basic roast chickens with some room temperature salads, fruit and simple sweets.  Like all holidays, I'll do flowers, grocery shop, and set my tables two days before.  Anything that can be prepped the day before will be because I enjoy the process and the meal much more if I'm not stressed!  Follow me along on Instagram stories to hear some of my do-ahead tips.  If you are celebrating the holiday, happy new year to you and your family!
Monday Rosh Hashana Lunch:  3 no-fail roasted whole chickens with potatoes, onions and carrots,  Fall/Winter Tabbouleh, hummus, quinoa with spinach, dill and feta, Marrakesh salad (from my October 2016 classes), grilled eggplant with pomegranate molasses and mint from my cookbook, challah (I use the recipe from the original Silver Palate Cookbook and I add an extra egg yolk), apples & honey, seasonal fruit salad, bite size sweets like chocolate chip cookies, white bean-tahini blondies from my cookbook, and grain-free apple cinnamon cake.  In past years I have made my delicata squash and apple salad, noodle kugels, butternut squash salad with pomegranate and pumpkin seeds, falafel, poached salmon.
Tuesday: Leftovers of some sort.  I have to wing it since I never know what I'll have leftover.  But I will have some homemade chicken or veggie stock ready to make a soup.  I'll heat up the broth and add whatever leftovers go together – chicken, onions, carrots, quinoa and spinach.  Another easy way to use up leftovers is to add them to beaten eggs and bake in a pie plate for a frittata.
Wednesday: Easy Chinese Chicken served with a side of brown rice and steamed organic vegetables.
Thursday: Fall Salad with Pumpkin Pie-Spiced Roasted Pears, Manchego, and Walnuts from my book. To make it more filling, mix in your favorite grains or serve this salad with a cozy soup on the side. You can use this soup if you want!
Friday: Brown-Butter Miso Glazed Wild Salmon. I suggest roasting veggies on the same baking sheet using either asparagus or broccolini and drizzling it with olive oil and sea salt before roasting it in the oven and/or some sautéed mixed mushrooms with garlic.
Saturday Brunch/Lunch: Leftover Salmon Salad with farro, fresh greens, dill, and cucumber. Drizzle with unrefined extra-virgin olive oil and a freshly squeezed lemon juice. Season with salt and pepper to taste. 
Sunday: Chipotle Brussels Sprouts served with roasted sweet potato, use this method, and veggie rice
Here's what you can do ahead if you need to:
Sunday
Make all dressing, marinades, and sauces
Wash/prep vegetables
Make the challah
Make Monday's desserts fully or make the dough
Friday
Make farro
Here's a link to my previous dinner planners.
I have LOVED seeing all your creations of my recipes on Instagram.  If you make any of my recipes, please tag me @pamelasalzman #pamelasalzman so I can check them out!
Click here to learn more about my online cooking classes!
If you like my recipes, you'll LOVE my cookbook!