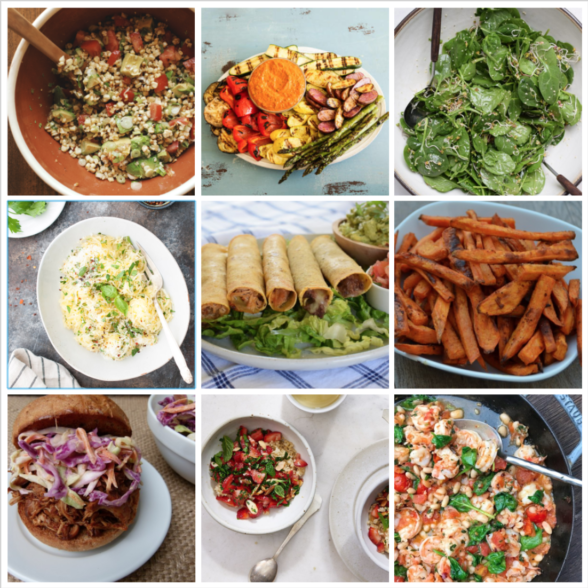 This Labor Day weekend is very different from all past LDW's.  I have no kids going to school, but instead participating in school at home.  No lunches to make at 6:00 am.  No breakfasts to prep in advance.  No in-person cooking classes to resume after a summer break.  It doesn't feel like the "fresh start" of years past.  We will continue to roll with the punches, not let the uncertainty of the current situation get the best of us, stay hopeful, not veer from what we know is the best path for balance and healthfulness since we need our strength more than ever.
What I will also be doing is thinking of ways to continue to support you in feeding yourselves and your families.  This has been and continues to be my life's work and I am here for you! For those of you that didn't get into my Plant-Based bootcamp which started last week, I will be repeating it as soon as this course is over.  Stay tuned!
Here's your dinner planner for the week:
Labor Day: Charred corn salad with tomatoes and avocados, Grilled vegetable platter with romesco or basil vinaigrette, + any protein you like such as Tasty Turkey Burgers, Grilled Shrimp from KM, Grilled Herbed Lemon Chicken with Mint Drizzle, or do a big grazing board with a loaded hummus platter with crudites, mini avocado toasts, bruschetta and nuts and olives – or whatever you like to graze on!
Tuesday: Vegetable fried rice – using any leftovers you have, sesame spinach salad
Wednesday: Broiled fillet of sole with lemon and white wine from KM, spaghetti squash with herbs and pecorino, green salad with everyday salad dressing #1
Thursday: Southwestern quinoa salad, black bean or chicken taquitos
Friday: Slow cooker BBQ chicken sandwiches, coleslaw or cilantro lime slaw, and sweet potato fries
Saturday brunch: strawberry mint tabbouleh p. 31 from Quicker than Quick
Sunday: Shrimp with white beans and tomatoes, steamed rice, and grilled zucchini
Here's what you can do ahead if it helps you:
Sunday:
Make romesco or basil vinaigrette
Make salad dressings
Make marinade for proteins, if using
Roast spaghetti squash
Tuesday:
Cook beans for taquitos, if using
Cook quinoa
Thursday:
Cut sweet potato into fries
My new cookbook, Quicker Than Quick, is here!  I have LOVED seeing all your creations of my recipes on Instagram. If you make any of my recipes, please tag me @pamelasalzman #pamelasalzman so I can check them out!  If you have 1 minute, would you mind leaving a review on amazon?  I would be so grateful, thank you!
Take a peek at my first cookbook "Kitchen Matters"!