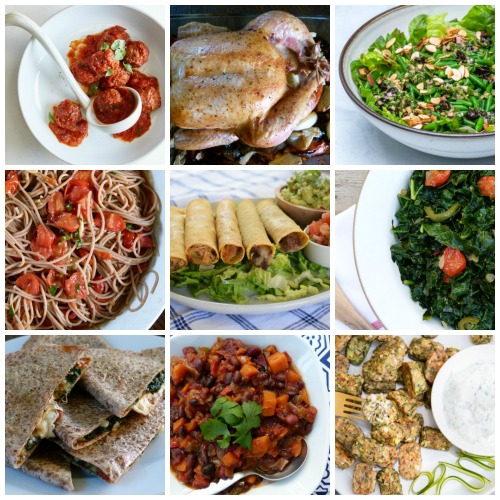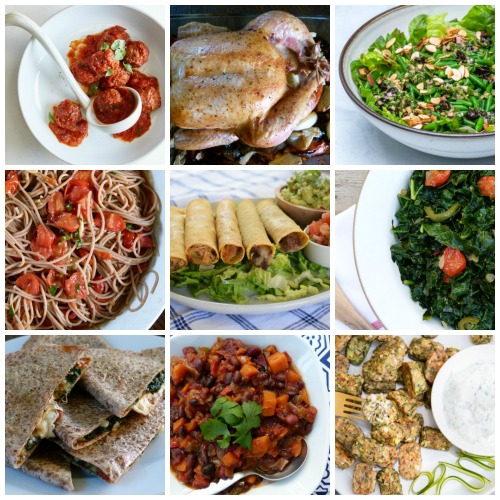 My name is Erika and I am Pamela's cooking class assistant.  I am guest posting for Pamela while she spends time with her family in New York this week after both her father and her uncle passed away on the same day.  She didn't want you to be without your weekly dinner planner, so she asked me to pitch in and help.  I will be the first to admit that writing out my meals for the week like Pamela does has allowed me to cook much more often at home and I have actually saved a lot of money because I only buy what I have a plan for!  I picked some of my favorite recipes for your dinner planner this week.  Feel free to ask me any questions and I am happy to answer them, especially with respect to substitutions.
Here's your dinner planner for the week:
Meatless Monday: Eggplant meatballs on roasted spaghetti squash – see this recipe for how to roast spaghetti squash
Tuesday: Simple roast chicken, mixed greens with green beans, make braised fennel with tomatoes and thyme from Kitchen Matters if you need more food
Wednesday: Pasta with 5 minute cherry tomato sauce and shrimp (add the shrimp to the tomatoes just as the tomatoes are done and sauté until the shrimp are cooked through – about 3-4 minutes)
Thursday: Bean or chicken taquitos, guacamole, and/or salsa, Mexican sautéed greens
Friday: Miso glazed cod, roasted cauliflower and rice
Saturday Lunch: Pizza quesadillas (sub Kite Hill almond milk ricotta for the mozzarella if dairy free)
Sunday: slow cooker chili with sweet potatoes and top with a dollop of almond-milk based yogurt or sour cream or avocado, zucchini tots
Here's what you can do ahead if you need to:
Sunday:
Wash greens and vegetables
Make meatball mixture
Roast spaghetti squash
Monday:
Salt chicken
Blanche green beans
I have LOVED seeing all your creations of my recipes on Instagram. If you make any of my recipes, please tag me @pamelasalzman #pamelasalzman so I can check them out!
Click here to learn more about my online cooking classes! If you like my recipes, you'll LOVE my cookbook!  If you have 1 minute, would you mind leaving a review on amazon?  I would be so grateful, thank you!