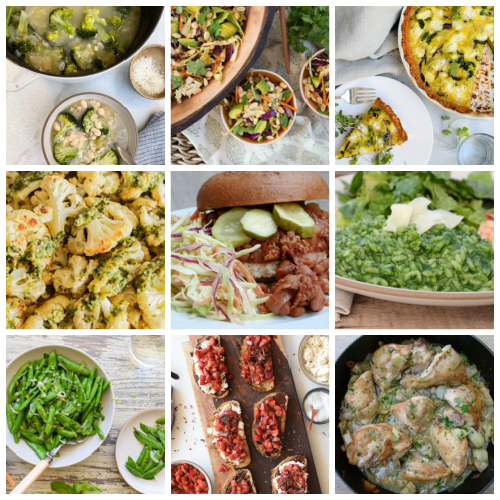 It was a busy and wonderful week here at PamelaSalzman.com!  I had two new bootcamp groups and I can tell I love them already.  And I filmed the monthly online class for March!  Spring is in the air!  For those of you who take my monthly classes, the recipes are PERFECT for Passover and Easter.  Plus I give you lots of tips and tricks along the way.  If you're not taking my classes monthly, they're only $27/month and I go live once a month with the group to check in and answer any and all questions.  I'd love to have you join us!
Here's your dinner planner for the week:
Meatless Monday: Broccoli and White Bean Soup
Tuesday: Lime-soy fish, Thai crunch salad
Wednesday: Mushroom and leek quiche with sweet potato crust, roasted cauliflower with almond-herb sauce
Thursday: Turkey and pinto bean sloppy joes, grated carrot salad or Skillet chicken with asparagus (p.183)  served with Mexican chopped salad with spicy cilantro dressing (p. 166) from Kitchen Matters
Friday: Spinach Risotto and sautéed shrimp, sautéed sugar snap peas with mint (olive oil, garlic salt and pepper + mint at the end)
Saturday brunch: Roasted strawberry bruschetta with ricotta and grilled bread
Sunday: Baked chicken with artichokes and capers, millet cauliflower mash
Here's what you can do ahead if it helps you:
Sunday:
Cook beans, if making from scratch
Make stock
Wash greens
Break cauliflower into florets
Make salad dressing
Tuesday:
Make sweet potato crust and bake
Wednesday:
Grate carrots
Friday:
Wash and hull strawberries
My new-ish cookbook, Quicker Than Quick, is here!  I have LOVED seeing all your creations of my recipes on Instagram. If you make any of my recipes, please tag me @pamelasalzman #pamelasalzman so I can check them out!  If you have 1 minute, would you mind leaving a review on amazon?  I would be so grateful, thank you!
Take a peek at my first cookbook "Kitchen Matters"!