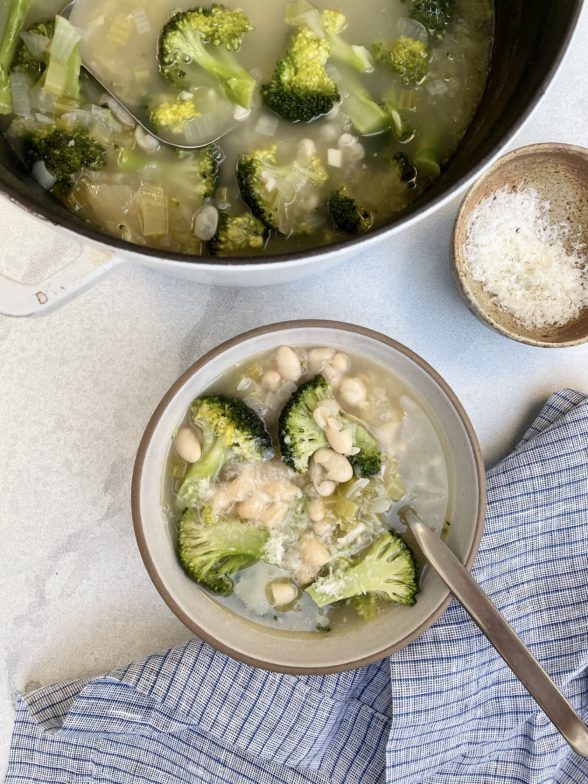 You have the appetite for one last soup, don't you?  Last I checked, it was still chilly and damp in many places.  And even where I live in Southern California, it is very cool in the evenings.  We love soup all year.  My husband and I especially love soup as our entire dinner.  This particular soup is light, but filling, and has plenty of protein and fiber to qualify as a meal!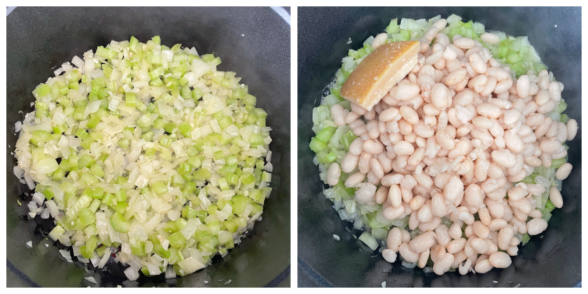 The step-by-step is so easy.  You likely have all the ingredients and if you don't, you can find something else to use that you do have.  Isn't that what we have all learned this past year in terms of cooking?  Use what you've got and it will be ok.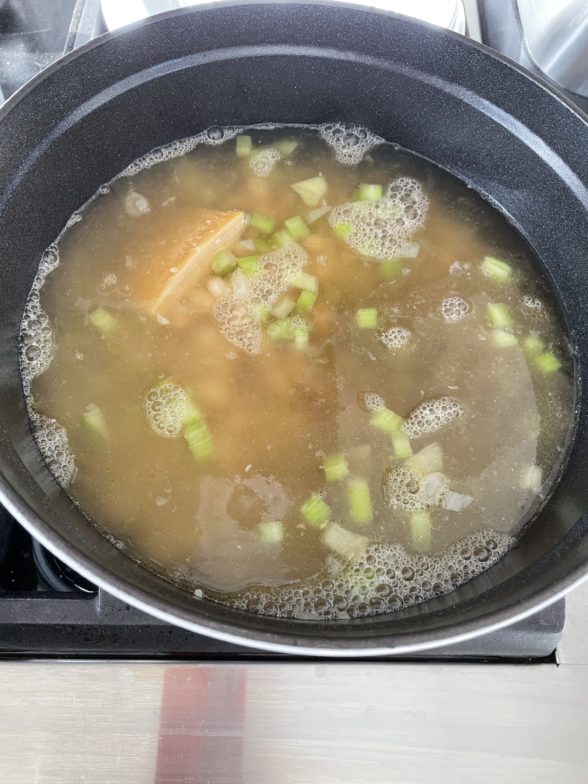 I taught this class last February in my in-person and online monthly class.  Everyone raved about it since the ratio of delicious to time (and ingredients) invested is very high!  Plus it's pretty healthy and budget-friendly.  Use veggie or chicken stock; fresh or frozen broccoli; any kind of white bean, chickpea, or even pinto or borlotti bean (Jovial makes a really good one.) I always keep parmesan rinds in the freezer, and I think that is a must-use ingredient!  So much flavor for something that you would otherwise throw away.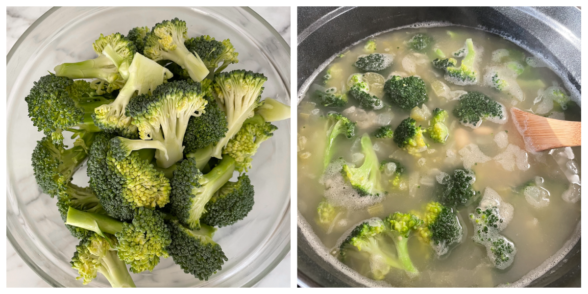 The only downside to this recipe is that the broccoli doesn't look as vibrant and green after it has been sitting in the soup for very long, and especially the next day.  But it tastes exactly the same!  You can also make the soup without the broccoli the day before and reheat; then add the broccoli right before serving.  Other vegetables in that group that could be delicious here are cauliflower, green cabbage and kale.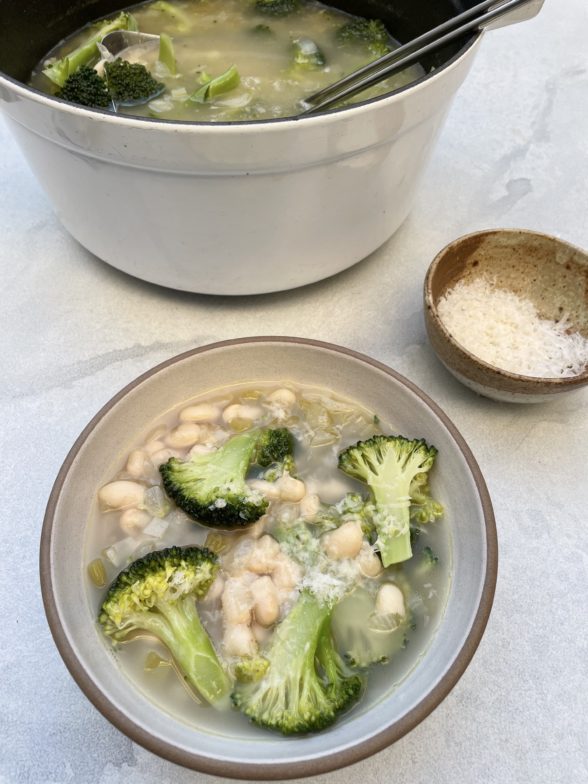 Because white beans blend beautifully into a creamy velvety texture, you can blend the entire soup as well after the broccoli is tender.  I know this soup looks very basic, but I promise there are a couple of flavor boosters that make it special (parmesan rind and a splash of vinegar) and make all the difference!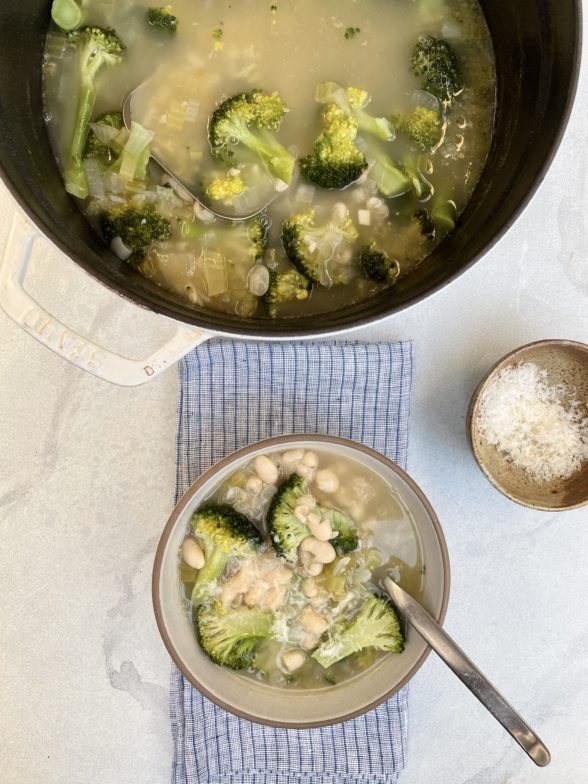 Because this is so easy and quick, you can treat yourself to a warm bowl of delicious and healthful soup any day.  If you make this or any of my recipes, please let me know here or tag me on Instagram @pamelasalzman #pamelasalzman so I can see your beautiful creations!
You can shop the tools I used for this recipe by clicking on the images below:

Broccoli White Bean Soup
Ingredients
1 Tablespoon unrefined cold-pressed extra-virgin olive oil
1 Tablespoon unsalted butter or vegan butter (or use all olive oil)
1 onion, diced
2 stalks celery, diced
4 cloves garlic, finely chopped
3 cups cooked cannellini or Great Northern beans or 2 15-ounce cans, drained
1 3-inch piece of Parmesan or Pecorino rind
6 cups vegetable stock, chicken stock or water (or a combo)
1 teaspoon sea salt
4 cups broccoli florets cut into 1-inch pieces (about 10 ounces)
2 teaspoons balsamic vinegar (dark or white)
Freshly ground black pepper
¼ cup shredded or coarsely grated Parmigiano-Reggiano (optional)
Instructions
Heat the oil and butter over medium heat in a 3-quart saucepan; add the onions, celery, and garlic. Saute until the vegetables are softened but not browned, about 6-8 minutes.
Add the beans, cheese rind, stock/water and salt and bring to a boil. Reduce heat, partially cover and simmer for 20 minutes.
Add the broccoli, and simmer 3 to 5 minutes, until just cooked. Just before serving, stir in the balsamic vinegar and season with freshly ground black pepper to taste. Serve the soup with grated Parmigiano cheese, if desired.
Notes
If you prefer to puree the soup before serving, you can blend the soup in a blender or with an immersion blender.

For a dairy-free option, you can omit the rind in step 2. Whisk in 2 Tablespoons of white miso paste, or more to taste into the soup just before serving. Alternatively, scoop out ½ - 1 cup of liquid from the soup and blend with miso in a blender until smooth. Pour miso mixture back into pot and serve.