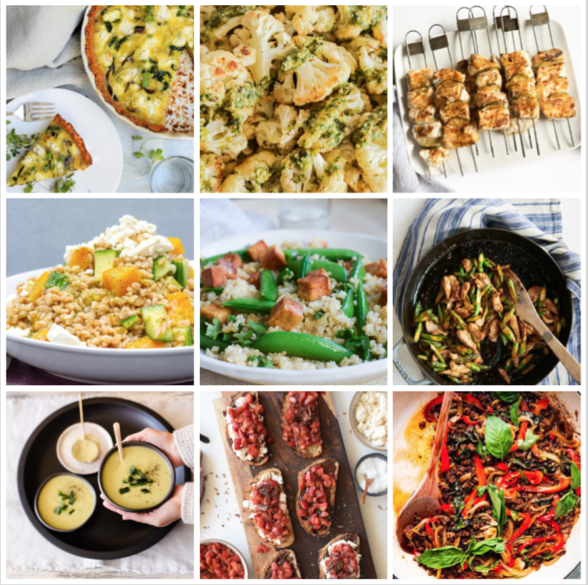 March already!!  My mother has been visiting me this week and I told her, "you're almost out of the woods!"  Which means, winter is almost over for those who have a winter.  It's an East Coast thing, I guess.  She said, "don't jinx it!"  She's quite right since there have been plenty of snowstorms in March and April.  But I don't believe I will jinx anything by starting to incorporate some lovely spring foods like leeks, peas, strawberries and asparagus.  They come into season at this time of year no matter what.
Later this week I will attend the largest natural foods show in the country called Expo West.  I've skipped it the last couple years, but I'll be there on Thursday and possibly Friday.  Watch my Instagram stories to see what's new and exciting in the world of packaged health food! 😉
Here's your dinner planner for the week:
Meatless Monday: Mushroom and leek quiche with sweet potato crust, roasted cauliflower with almond-herb sauce
Tuesday: spiced halibut and lime skewers, farro with golden beets, cucumber, feta and mint vinaigrette
Wednesday: Sugar snap pea and quinoa salad with tofu
Thursday: Skillet chicken with asparagus (p.183)  served with Mexican chopped salad with spicy cilantro dressing (p. 166) from my book
Friday: Poblano potato leek soup, quesadillas (swap avocados for cheese to make it vegan or your favorite vegan cheese) with leftover roasted or sauteed veggies
Saturday brunch: Roasted strawberry bruschetta with ricotta and grilled bread
Sunday: Thai beef with basil from the modern proper, served with tortillas/lettuce leaves or as a bowl with a grain and your favorite roasted vegetable.
Here's what you can do ahead if you need to:
Sunday:
Wash and dry vegetables and herbs
Make salad dressings
Make sweet potato crust and bake (store at room temp)
Roast beets
Cut cauliflower into florets
Make almond-herb sauce
Thursday:
Roast poblano peppers, peel and deseed
I have LOVED seeing all your creations of my recipes on Instagram. If you make any of my recipes, please tag me @pamelasalzman #pamelasalzman so I can check them out!
Click here to learn more about my online cooking classes! If you like my recipes, you'll LOVE my cookbook "Kitchen Matters"!  If you have 1 minute, would you mind leaving a review on amazon?  I would be so grateful, thank you!  My new cookbook, Quicker Than Quick, is available for pre-order!