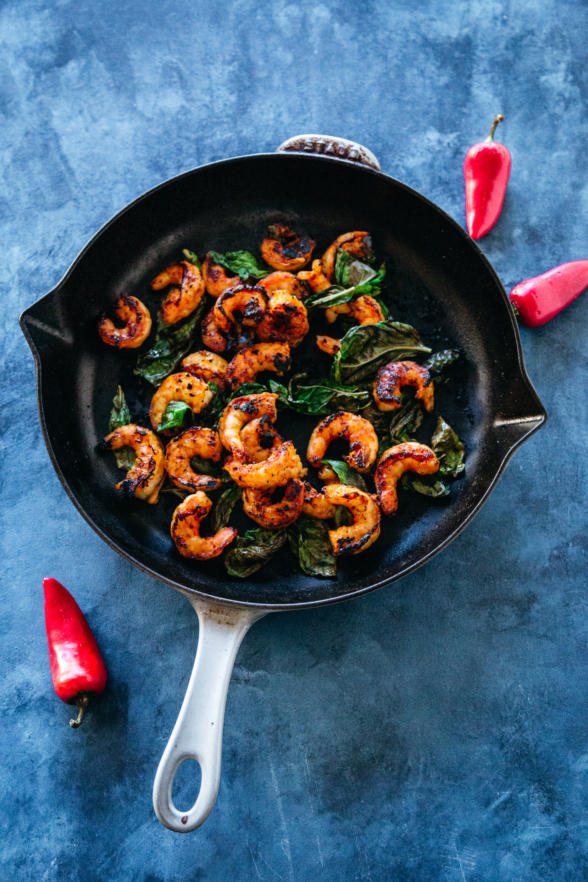 I saw this Bon Appetit shrimp dish on my friend Leanne Citrone's Instagram feed a while back and I saved it to make at a later date.  I save and pin things a lot and then I forget about them.  Plus, I don't have a lot of time to make other recipes because I am constantly testing my own.  Recently I looked at my saved posts on Instagram (never mind that I can't even remember saving the recipes), and this one jumped at me again.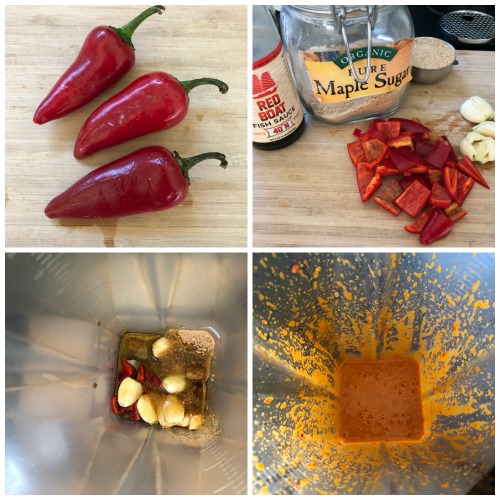 I am attracted to dishes that have a lot of balanced flavors and that I know at least two of us in the house will eat.  And if it looks fast enough for a weeknight, I'l totally in.  My son, Mr. Picky, loves shrimp and he's getting into spicy food, so I figured I could give this a shot.  Plus, he'll eat almost anything on a bowl of rice.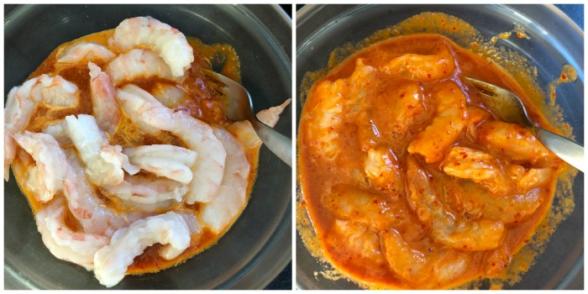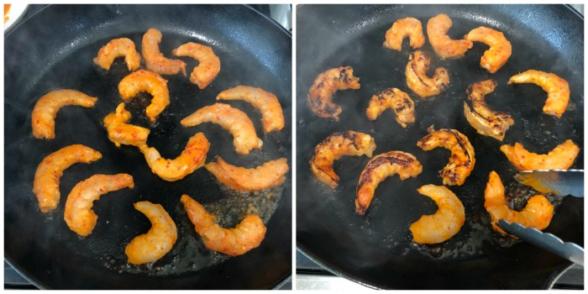 This recipe was delicious, light, healthy and easy to pair with any vegetable.  Mr. Picky gave it a thumbs-up!  I asked my fish monger for whatever wild shrimp he had, whatever size.  That is more important to me than getting the size I want if it means settling for farm -raised.  I also ask him to peel and devein my shrimp so I don't have to do it at home.  If I have a lot of shrimp to buy for a class, I'll call the fish monger ahead of time and set up a time to pick it up.  This is a huge time saver since I can never guarantee he'll have time to do it quickly while I am grocery shopping.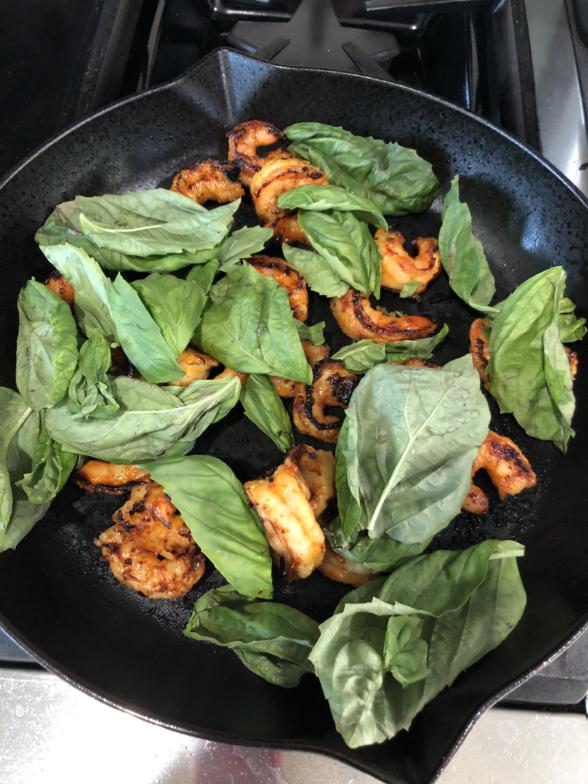 I do keep the rest of these ingredients in my pantry, other than the Fresno chilies.  Honestly, I have made this with crushed red pepper in a pinch and it was still great.  Just looks prettier with the fresh chilies.  One of the takeaways from this recipe though is the idea of using basil leaves as a leafy green, like spinach.  Super good!  And I think it would be delicious with mint and cilantro, too.  Can you believe Mr. Picky likes BASIL???  Parents, trust me when I tell you that they all come around eventually if you stay the course.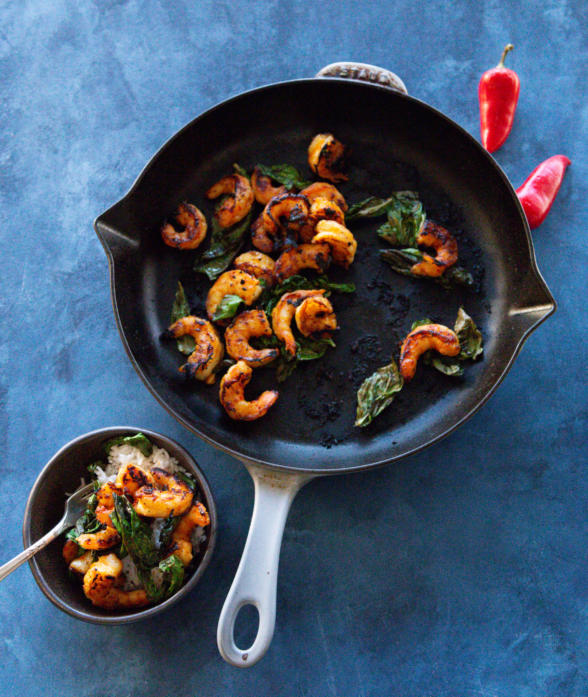 I have a non-cooking tip for you though:  if you cook something in a pan and you burn or have bits stick to the pan, sprinkle the surface with baking soda and about a 1/2 inch of water.  Place over moderate heat and bring to a simmer. As the mixture simmers, take a wooden spatula or spoon and scrape the burned bits.  They will lift right off!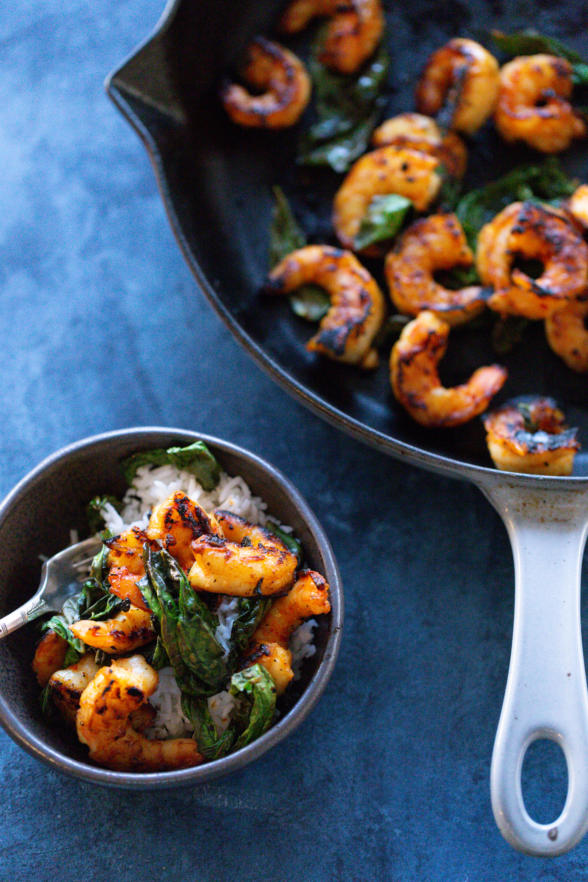 I know I photographed this recipe without a proper vegetable.  You should know that I would never serve a meal without a proper vegetable!  This would be great with spinach, green beans, snap peas, cauliflower rice (obviously), carrots or asparagus.  Or any vegetable LOL.  This recipe is from August 2018.  Have you made this already?  Any modifications?  I bet you can make this with tofu or chicken!!
If you make any recipes from my book or my website, please tag me so I can see your creations! @pamelasalzman #pamelasalzman
You can shop the tools I used for this recipe by clicking on the images below:

Shrimp and Basil Stir Fry
Author:
adapted from Bon Appetit
Ingredients
3 Fresno Chiles, stemmed and seeded, coarsely chopped
6 garlic cloves, peeled
¼ cup maple sugar or cane sugar
2 Tablespoons fish sauce*
1 teaspoon sea salt
4 Tablespoons avocado (preferably), coconut or olive oil, divided
1 pound large wild shrimp, peeled and deveined
2 cups basil leaves
Lime wedges for serving
Instructions
In a blender, add chiles, garlic, sugar, fish sauce, salt, and 3 Tablespoons of oil. Blend until smooth. Transfer the sauce to a medium bowl and add the shrimp. Toss to coat and allow to marinate for 10 minutes.
Heat remaining Tablespoon of oil in a large heavy bottom or cast iron skillet over medium-high heat. With tongs, pull the shrimp out of the marinade and add to the skillet in one layer, trying not to overcrowd the pan. Discard the marinade. Cook the shrimp turning once, until lightly charred on both sides, about 1 minute per side. You may need to do this in batches.
Remove pan from heat. Transfer the shrimp back to the pan if you did this in batches. Add basil and stir until wilted. Serve immediately with lime wedges, if desired.
Notes
*I know you're going to ask me if something can be subbed for fish sauce! In this recipe, you can try tamari or shoyu and it will be also very good. I like the funk of fish sauce, but it's not a deal breaker if you don't have it.