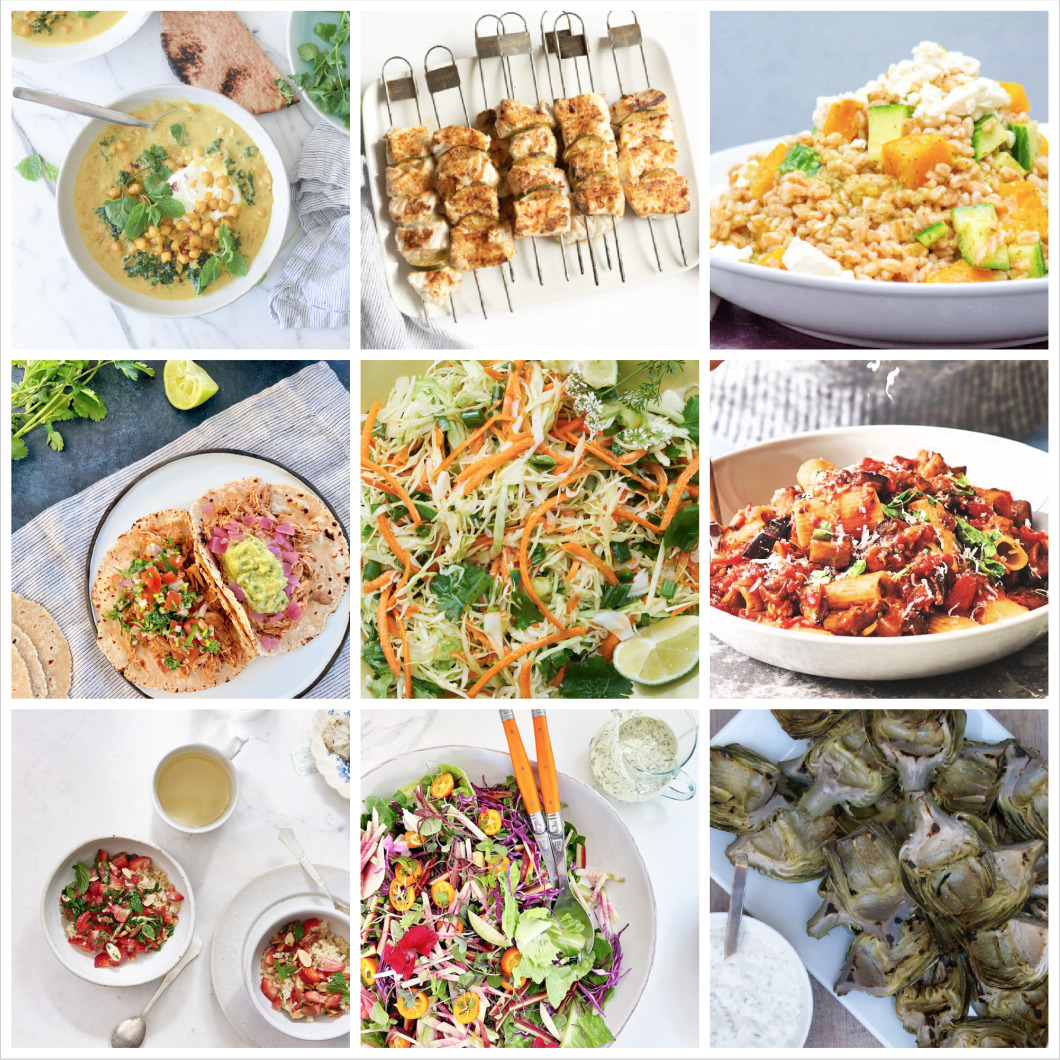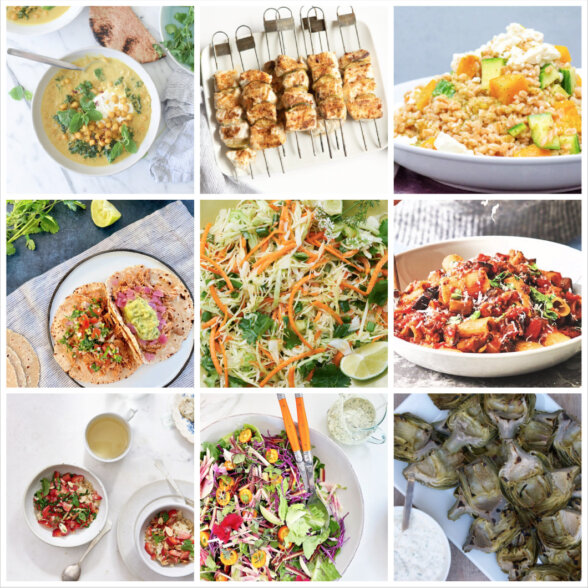 Spring has sprung and I am here for it! I have so many great spring recipes coming to the site soon. If you take my monthly cooking class, I am going live on Zoom Tuesday, March 29th at 5:00 pm Pacific Time to answer any and all your questions. We have had such a great time in this new format and I have loved seeing you guys in person. If you are a monthly cooking class subscriber and haven't joined the live zoom, just come! No pressure to show yourself on video if you want to just observe and hang out. Here's your dinner planner for the week:
Meatless Monday: spiced chickpea stew with coconut and turmeric, with grilled naan or pita bread for dipping if you need a little extra
Tuesday: halibut and lime skewers, farro with golden beets, cucumber, feta and mint vinaigrette
Wednesday: Slow cooker chicken tacos (make extra for Thursday's Not-fried rice), tortillas, cilantro-lime slaw (save 6 cups of cabbage for Thursday), cooked rice, salsa, guacamole
Thursday: Not–Fried Rice – Mexican version (based on this recipe but sub cilantro for basil), with leftover rice and chicken taco meat, kale or cabbage, bell peppers, onions and whatever veggies you need to use up
Friday: Pasta with vegan eggplant bolognese p. 181 from QTQ
Saturday brunch: strawberry mint tabbouleh p. 31 from QTQ
Sunday: Seared or roasted salmon served over this spring salad with dill dressing, if you need more try these grilled or steamed whole artichokes (using the dipping sauce in the recipe or just make a balsamic vinaigrette)
Here's what you can do ahead if it helps you:
Sunday:
Cook farro and beets
Cook chickpeas if making from scratch
Wash greens
Monday:
Make mint vinaigrette
Friday:
Wash strawberries
Make dill dressing
Cook quinoa
I have LOVED seeing all your creations of my recipes on Instagram. If you make any of my recipes, please tag me @pamelasalzman #pamelasalzman so I can check them out!
My cookbook, Quicker Than Quick, is on sale for $14.99 on Amazon! If you have 1 minute, would you mind leaving a review on amazon? I would be so grateful, thank you! Take a peek at my first cookbook "Kitchen Matters"!