Truth be told, I don't really come up with new salads as much as new salad dressings.  I am always mixing and matching salad dressings with different combinations of components.  I just try to keep seasonal ingredients together, keep salads simple, and use only the freshest produce.  I make more vinaigrettes than creamy dressings because they're easier to shake in a jar than blend in a blender, but I love a tasty creamy dressing!
This dressing is a total winner and doubles as a dip for crudites too.  Dill is one of my favorite fresh, light herbs.  It pairs so nicely with spring and summer vegetables, both cooked and raw.  In this recipe, I use dill in the dressing, but you can also use it chopped as a salad component.  Dill is delicious with parsley, chives, mint and tarragon, if you have those in your garden.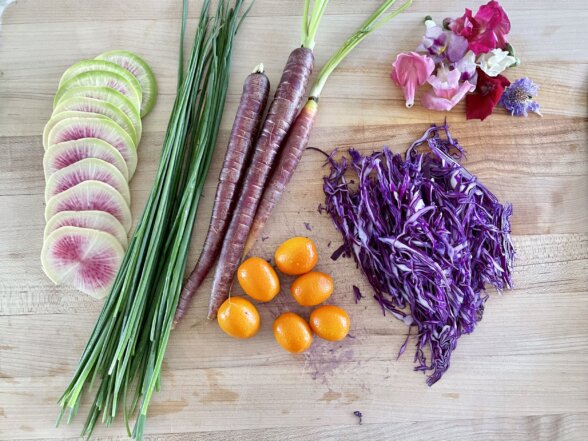 Ingredients for this Dill Dressing
Olive oil: this is the base for almost all my salad dressings
Raw cashew butter: it's smooth, flavorless, creamy and good for you!  I like Artisana or JOI. Swap mayo for the nut butter if you are nut-free.
Shallots or green onions: either one is great here and gives the dressing a mild edge.
Garlic: omit if you can't have it, but it adds great flavor
Lemon juice and zest: the zest adds more punchy lemon flavor than the juice, but we need an acid in salad dressing, so we'll use both.  Just remember to zest your lemon before juicing it because it's near impossible to zest an already juiced lemon.  Definitely use fresh, not bottled, lemon juice for the best flavor.
Fresh dill: it's the star of the show here, but you can play with other herbs like basil or tarragon if you want to try something different.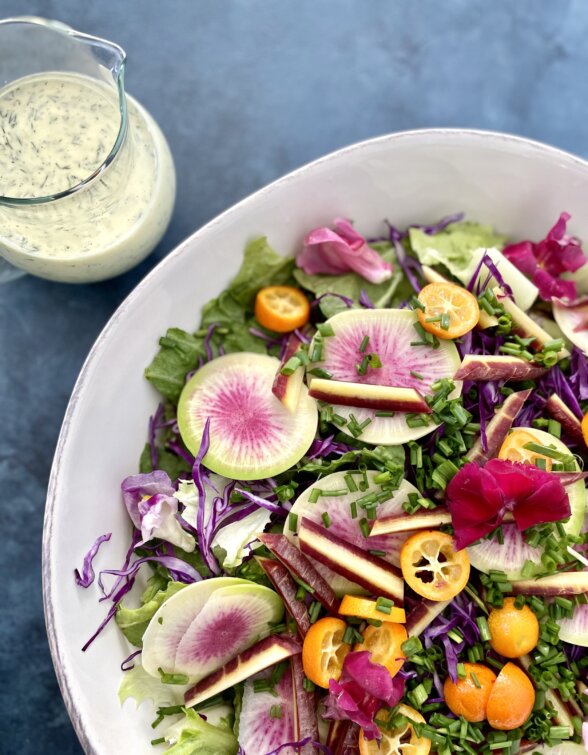 What Components are Great with Creamy Dill Dressing?
Salad greens: for a creamy dressing, you want sturdy greens like romaine, green leaf lettuce, iceberg or even a fresh butter lettuce. Nice to mix something bitter like radicchio with a mild salad too.
Fruit: dill is delicious with kumquats, pictured here, or other citrus or even strawberries.
Raw veggies like snap peas, carrots, radishes, and red cabbage are my go-to's in the spring.
Cooked veggies like asparagus, green beans or pickled onions would be great, too.
Other herbs like chives, basil, tarragon and mint can be part of this salad.
Creamy cheese like feta or goat cheese or avocado 
Crunchy nuts or seeds like toasted pistachios, almonds or walnuts; or sunflower seeds.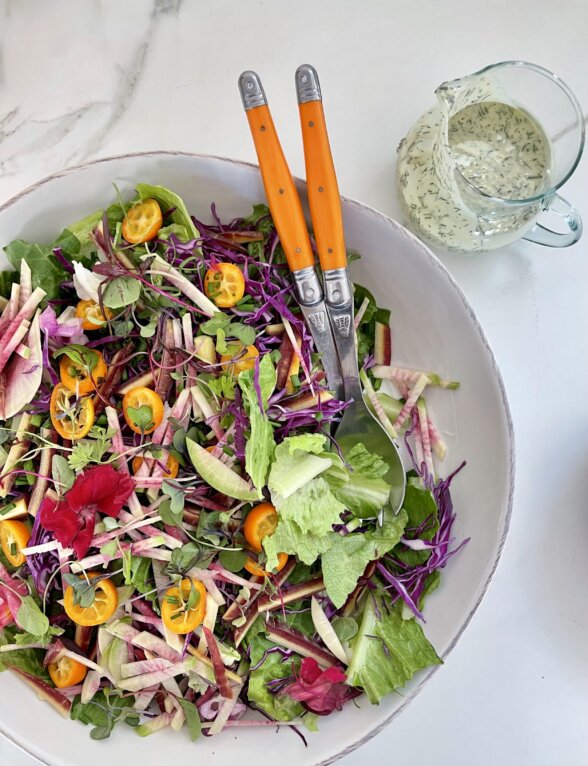 Make Ahead Tips for Salad with Creamy Dill Dressing
I always wash and dry my salad greens as soon as I bring them home from the market. I store them in Vejibags or damp kitchen towels.
Hearty veggies (such as cabbage and radish) can be washed and chopped a day in advance if needed.
Dressing can be made a few days in advance but it cannot be frozen.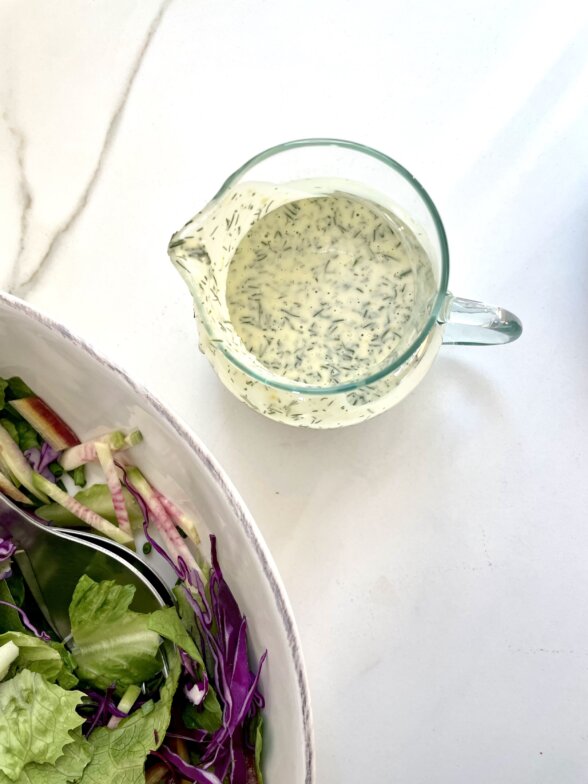 If you give this recipe a try, snap a pic and tag @pamelasalzman so I can see your beautiful creations. I also really appreciate readers taking the time to leave a rating and review! Lastly, subscribe for free to my site for the latest recipes and updates.
For more recipes, check out my monthly online cooking classes. 

Spring Salad with Dill Dressing
Ingredients
1 large or 2 small heads butter lettuce, washed, spun dry and leaves torn into bite size pieces
1 cup thinly sliced red cabbage
4 small radishes, sliced as thin as possible or 1 medium watermelon radish sliced thinly
2 small carrots, scrubbed clean and julienned or sliced super thin (purple or yellow would be pretty)
1 bunch fresh chives, chopped
A few kumquats sliced crosswise
A few edible flowers
Flaky sea salt, if desired
Dressing:
6 Tablespoons unrefined, cold-pressed, extra-virgin olive oil
2 ½ Tablespoons raw cashew butter (sub mayo for nut-free)
3 Tablespoons water
1 small garlic clove
½ shallot or 2 scallions
Zest of half a lemon (optional - gives it more lemon punch than just juice)
Juice of 1 lemon
½ teaspoon sea salt + more to taste
Few grinds of black pepper
1 box (.75 ounce) fresh dill, tough stems removed, fronds chopped
Instructions
Place the butter lettuce in a large bowl and layer the remaining ingredients on top.
Blend all dressing ingredients except dill in a blender until smooth and creamy. Taste for seasoning. Stir in chopped dill.
Drizzle just enough dressing to coat lightly and toss together. Finish with a sprinkle of flaky sea salt, if desired.