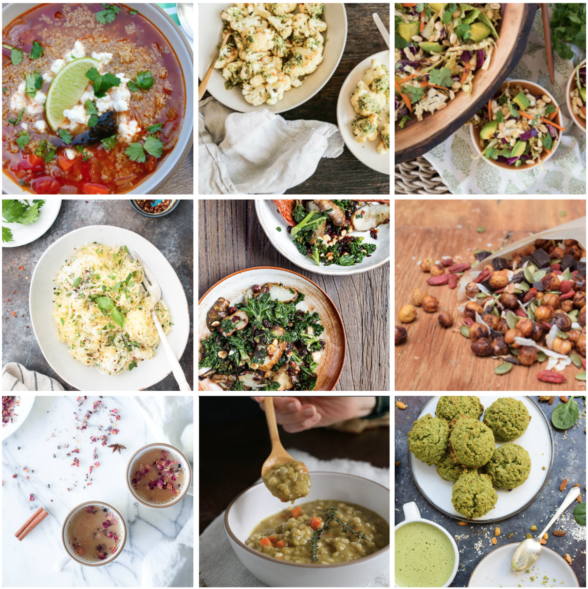 This was the first year in a while that I have not gone to Expo West, the gigantic natural foods show which is happening right now in Anaheim.  Truthfully, the show is so overwhelming with about 90,000 people (not an exaggeration) and it's all packaged food.  It's not to say that there can't be higher quality packaged food, but even "better" processed food is still processed food.  Word on the street is that CBD is now in snack foods, plant milks are going strong, grain-free tortillas and taco shells are big, keto is a big influence in products and being totally manipulated so that people can still feel justified in eating loads of dessert (#sarcasm), and more.  Maybe I'll go back next year.
Don't forget to set your clocks forward before you go to bed on Saturday (March 10) night.  I love springing forward since we get more daylight in the afternoons!  My daughter is in town from college this week.  I am going to give her some cooking lessons!  Here's your dinner planner for the week:
Meatless Monday: Caldo Tlalpeño Soup with Quinoa, serve with a quesadilla if you need more
Tuesday: Lickety-Split Chicken from my book, roasted cauliflower, method here, and roasted sweet potato wedges, method here. 
Wednesday: Thai Crunch Salad, if you have any leftover chicken it would be delicious in this salad! Or some warm or cold salmon would also be delicious.
Thursday: Spaghetti Squash, method here, (or make pasta) with kale pesto and sautéed shrimp (sauté on medium heat with olive oil, salt and pepper until no longer translucent). 
Friday: Roasted Jerusalem Artichoke, Hazelnut and Kale Salad by Deliciously Ella
Saturday brunch: Full-fat or dairy-free yogurt topped with my Crunchy Chickpea Trail Mix and diced mango. Feel free to replace the yogurt base with oatmeal. Pair with a warming Spiced Chai and it's the perfect way to start your weekend!
Sunday (St. Patricks Day): Split Pea Soup with Irish Soda Bread. You can also serve these St. Patricks Day Green Breakfast Cookies or Green Muffins in the morning! 
Here's what you can do ahead if it helps you:
Sunday: 
Make all dressings, sauces and marinades
Wash and prep all vegetables
Cook quinoa
Wednesday:
Make Crunchy Chickpea Trail Mix
Saturday: 
Make Split Pea Soup
Make Breakfast Cookies or Green Muffins