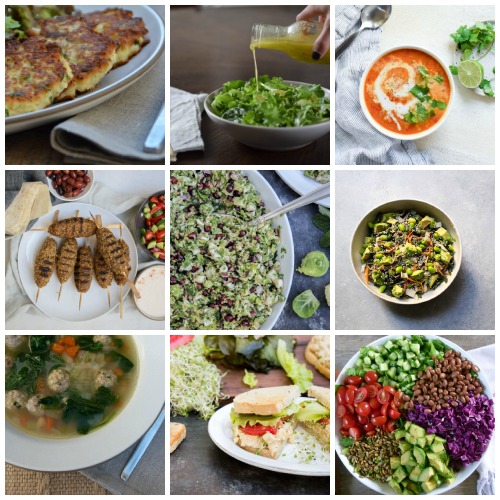 Eeeek!  My older daughter came home on Friday night for a visit this weekend and I completely forgot to press send on the dinner planner!  So sorry!
I had a great week this week.  I am feeling better every day although that cough will come back between 8-10 pm every night if I talk too much.  I will be updating my old post about home remedies when you're sick because so many people message me all day every day about what worked for me and I really want to help more people.  These viruses this year are NO JOKE!  I was on Home and Family on Tuesday morning, taught a great cooking class, shot a ton of recipes for the blog and now will take the weekend to rest.  Going forward, I am not going to be working on my computer every chance I get.  I want to respect my body and mind and be present for my family and friends.  So far, so good.  🙂  Lastly, MY NEW COOKBOOK, "QUICKER THAN QUICK" IS AVAILABLE FOR PREORDER ON AMAZON!!! I will be posting a separate blogpost with more details. But in the meantime, check it out and if you love my first book, would you do me the hugest favor and write a review?  It will help my new book get more visibility.  Thanks a million!
Here's your dinner planner for the week:
Meatless Monday: Cauliflower fritters and green salad with cooked lentils, white beans, shredded carrots, walnuts, avocado and everyday salad dressing #2
Tuesday: Curried lentil, tomato and coconut soup
Wednesday: Kibbeh kebabs with lavash, tzatziki sauce and fall tabbouleh
Thursday: Kale and Soba salad with miso ginger almond dressing (I might add some roasted shrimp or tofu) from The Crunchy Radish
Friday: Italian wedding soup
Saturday Brunch: chickpea "tuna salad" served with butter lettuce leaves, sprouts and avocado
Sunday: Mexican millet casserole from my cookbook and Mexican chopped salad
Here's what you can do ahead if you need to:
Sunday
Wash greens and herbs
Make chicken or vegetable stock
Cook beans, if not using canned
Make salad dressings
Steam cauliflower for fritters
Shred carrots (you can use your food processor shredding disc attachment to make this job easier and quicker! See this video for a how-to)
Make quinoa
Make millet
Make lentils
Tuesday
Kebab meat mixture can be made today and refrigerated until tomorrow night
Make tzatziki sauce
Prep all ingredients for fall tabbouleh (with the exception of the apple) and refrigerate
Thursday
Prep the meatballs for the soup and refrigerate until tomorrow
I have LOVED seeing all your creations of my recipes on Instagram. If you make any of my recipes, please tag me @pamelasalzman #pamelasalzman so I can check them out!
Click here to learn more about my online cooking classes! If you like my recipes, you'll LOVE my cookbook!  If you have 1 minute, would you mind leaving a review on amazon?  I would be so grateful, thank you!