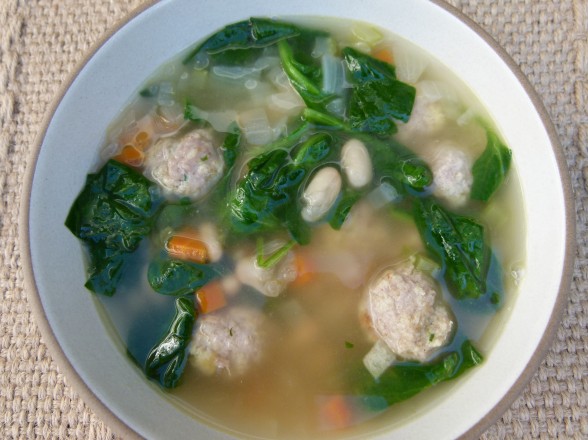 I love new beginnings and thankfully we have so many opportunities to start fresh.  For me, the first day of school, beginning of summer, first day of spring and of course, January 1st are all times of the year when I take a minute to regroup, reflect and think about what I'd like to do better or differently.  I even think of Sundays in the same way, a time to prepare for the week ahead.  I am an obsessive list-maker so I start with my menu for the week, as well as errands that need to get done, calls to be made, projects that need to be completed, etc.  But January 1st is a day when I think about bigger goals whether it's being more physically active, learning how to meditate, eating dinner as a family 5 nights a week, or stepping away from the computer by 8:00 pm each night (sounds like a dream, yes?).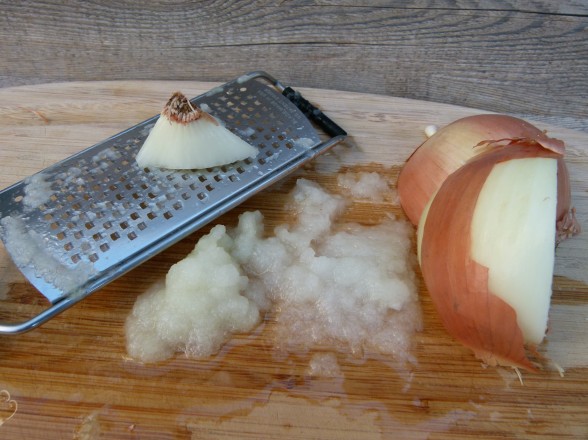 Most people I know make resolutions about food and their health or just take this time after holiday indulging to cleanse or go on a diet.  I've never been able to restrict my daily fuel consumption to juices for a few days without becoming a complete raging you-know-what, so instead I try to return our diet to lighter, but always nourishing foods.  It is still the middle of winter after all, and too many cold and raw foods may leave you feeling imbalanced and out of harmony with nature.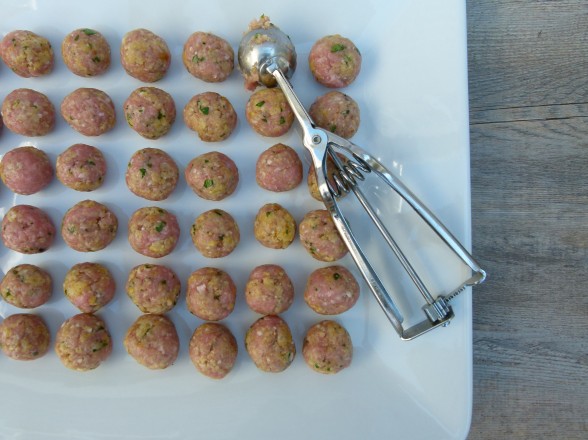 I recently spent the week with my family in NY and had a great time cooking with my mom and sisters.  I think we made a soup or stew every single day for either lunch or dinner.  Kids usually like soups, especially if you let them add fun foods on top like tortilla chips, popcorn or shredded cheese.  Soups are also a great opportunity to get in some homemade stock which is such a great immune booster at the time of the year when we need it most.  I'd like to share with you one of my kids' favorites, Italian Wedding Soup.  Honestly, I didn't do my homework here and I can't tell you the origins of the name, but you can call it whatever you like, including "chicken soup with baby meatballs" which is what Mr. Picky calls it.  He ate three bowls of this the other day which makes me happier than getting into my skinny jeans.  If you have a picky eater, you know what I'm talking about.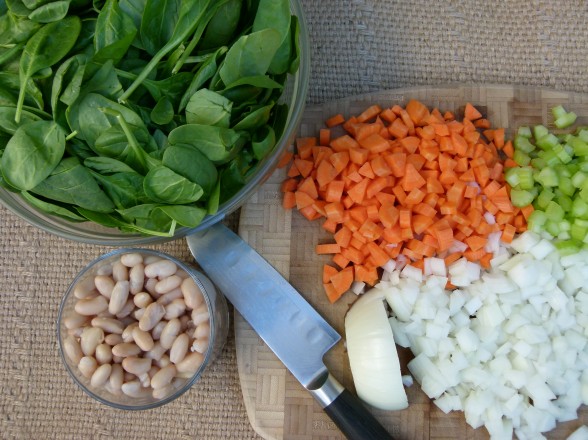 My grandma used to make a version of this with small pasta and escarole, but I think white beans are much more nutritious than pasta.  The way I prepare this here is rather brothy, but I don't see why you couldn't add more vegetables or beans and make it heartier.  Either way, whenever I eat this, it always feels like a big loving hug and I can't think of a better way to start a new year.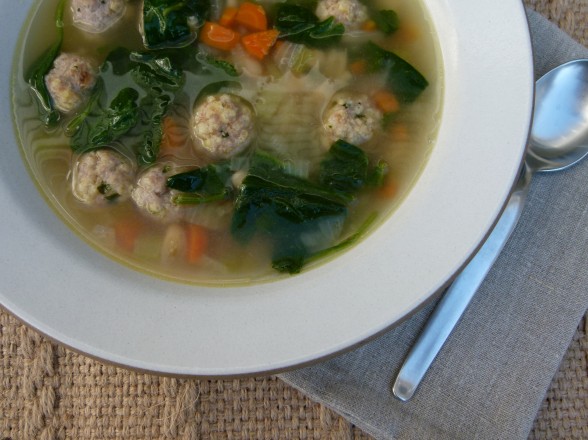 Italian Wedding Soup
Ingredients
FOR THE MEATBALLS*:
1 large egg
¼ of an onion, grated
¼ cup dry whole grain bread crumbs (purchased or just toast fresh breadcrumbs)
½ cup fresh bread crumbs (1 slice of bread, hard crusts removed, processed in food processor)
⅓ cup Pecorino or Parmigiano cheese
1 pound ground turkey, preferably dark meat
1 Tablespoon finely chopped parsley
1 clove garlic, finely chopped
¾ teaspoon sea salt
freshly ground black pepper to taste
FOR THE SOUP:
2 Tablespoons unrefined extra-virgin olive oil
1 medium yellow onion, diced
2 large carrots, diced
2 stalks celery, diced
10 cups chicken or turkey stock, preferably homemade
1 ½ cups cooked cannellini beans or 1 15-ounce can, drained and rinsed**
sea salt and freshly ground pepper to taste
10 ounces baby spinach, stems trimmed or 1 head escarole, chopped
2 Tablespoons freshly grated Pecorino or Parmigiano, plus extra for garnish
Instructions
To make the meatballs, stir the first five ingredients in a bowl to blend. Add the remaining meatball ingredients and combine well with your hands. Using a half tablespoon or a mini-ice cream scooper, scoop the meat mixture into your hands and from them into 1-inch diameter meatballs. Set aside on a plate or baking sheet.
To make the soup, warm the olive oil in a large pot over medium heat. Add the onions, carrots and celery and sauté until the onions are translucent.
Add the broth, beans and 2 teaspoons salt. Bring to a boil and carefully add the meatballs (if using escarole, add this now too.) Lower to a simmer and cook until the meatballs are cooked through, about 8-10 minutes.
Stir in the spinach and grated cheese and cook until spinach is just wilted.
Taste for seasoning. Serve with additional grated cheese, if desired.
Notes
*To make this vegetarian, use your favorite vegetarian meatballs and vegetable broth.

**Traditionally served with ditalini or pastina. If you prefer to use pasta, add already cooked pasta to the soup and the end with the spinach. Another option is to add cooked Arborio rice or green peas.