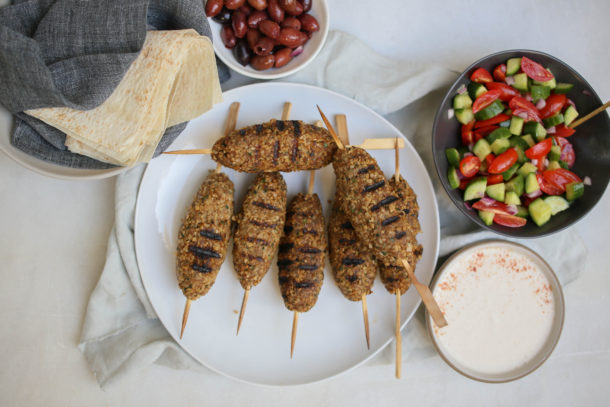 To anyone who might be offended that I am liberally calling these kebabs "kibbeh," I apologize in advance.  I know I am taking some liberties with this recipe and there are many who might think there's not enough of one spice or another, or that they should be fried or made with lamb, but if I called these kebabs something else, then a whole other group of people would be offended.  So let me start out by saying that I am in no way an expert in Middle Eastern cuisine,  but I am an expert in what my family likes and they could eat these kebabs several times a week if I made them. So I think you should know about this recipe, whatever you decide to call it.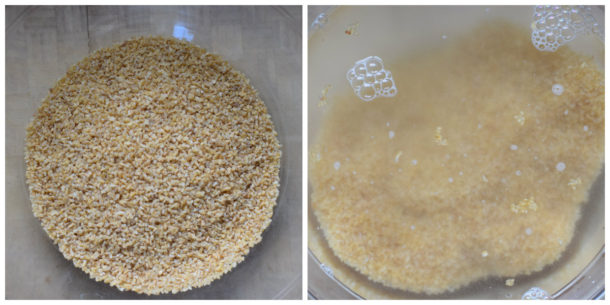 The truth is that you can make kibbeh many different ways, into different shapes (meatballs vs. logs vs. football shaped vs. a pie), how they are cooked, and with tweaks on the seasonings. What I am sharing is a recipe that I tweaked until my family said, "Stop tweaking!  This is how we like it!"  One spice often found in kibbeh is cinnamon and allspice and my family wasn't crazy about too much of it.  I personally am not a beef or a lamb fan, so I prefer these with dark meat turkey, which I don't even know if that's a thing.  If any of my Middle Eastern readers would chime in, I would love to hear from you! Is it acceptable to make these with turkey?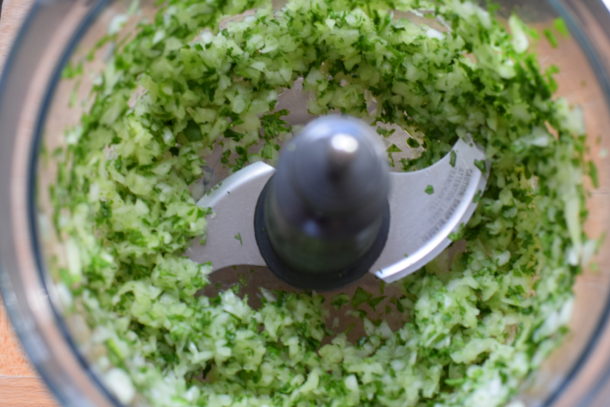 What I do love is adding a little soaked bulgur to the mixture so the kebabs are part grain and part meat.  Not only does it cut down on the amount of meat we consume, but it also makes the kebab lighter and more tender.  And if you don't do grains, feel free to add another 1/3 pound of ground meat.  You can also make these into meatballs if you prefer, which are great in a lettuce wrap.  My son of course wants his tucked into pita or lavosh with a Shirazi salad and maybe if I'm lucky some tahini sauce.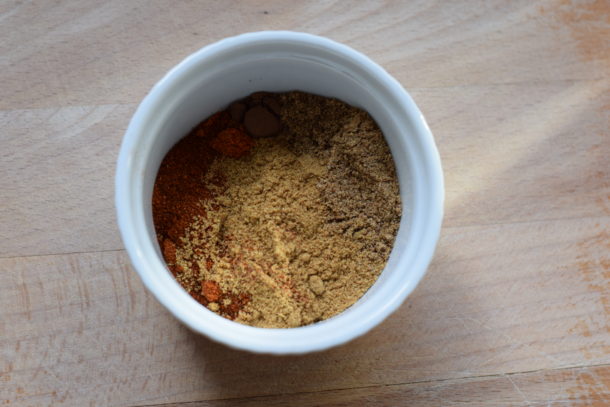 What's great about this recipe is that for those of you who work out of the house, you can make the mixture the night before and form the kebabs and cook them when you get home from work the next day.  You'll have dinner on the table in no time.  In the images shown here, I used a Staub cast iron grill pan to cook the kibbeh.  Broiling is really the easiest and you can also bake them but they take a little longer that way.  My husband's method is to bake them and then give them a quick sear in a cast iron skillet with a little oil.  Because he likes everything weeeeellll done.  Do what you've gotta do, folks.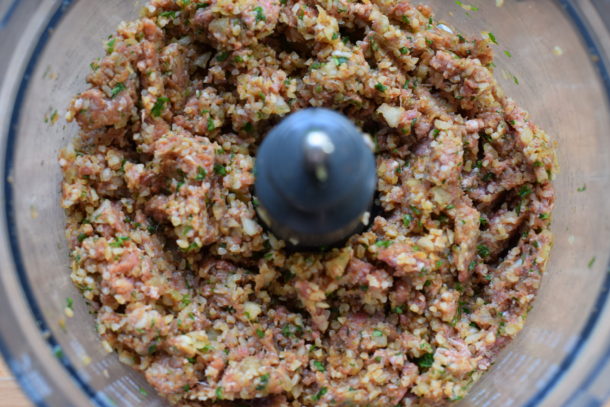 This was a really popular recipe in my classes and with my students' families.  The meat is really quite tasty and spiced well.  There's no overwhelming flavor, although I wouldn't mind these a bit spicier.  But what I think most kids (and adults) love most about a recipe like this is the fun in creating your own meal.  Toppings and sauces are always big in my house and I also like the flexibility of serving something like pita to the kids and lettuce leaves for me.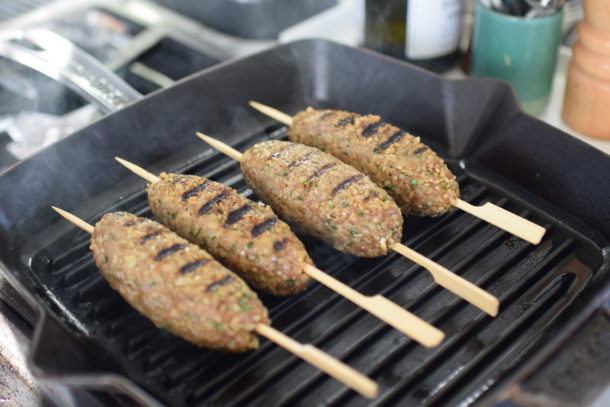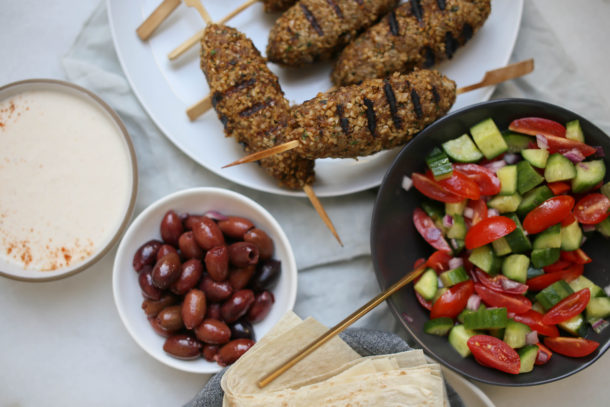 Please share with me your favorite ways to eat this delicious dish.  I am always looking to learn!

Beef and Bulgur Kofta Kebobs Recipe
Ingredients
1 cup dry bulgur, medium- or fine-grade
1 onion, quartered
6 Tablespoons* chopped cilantro (leaves and tender stems)
6 Tablespoons chopped parsley (leaves and tender stems)
1 pound grass-fed ground beef or ground lamb or a combo
1 Tablespoon ground coriander
1 Tablespoon paprika
2 teaspoons ground cumin
⅛ teaspoon allspice
pinch cayenne
2 ¼ teaspoons sea salt
8 metal skewers or wooden skewers soaked in water for 30 minutes
Instructions
Put the bulgur in a bowl, cover with warm water and soak for 10 minutes. Drain using a fine mesh sieve. Squeeze out excess water.
Place the onion and herbs in the bowl of a food processor. Process until finely minced. Add the meat, soaked bulgur, spices, and salt. Pulse a few times until well combined.
Place the mixture in a bowl, cover, and refrigerate for at least an hour.
Divide the meat mixture into 8 equal portions. Form into a log and thread the beef onto the skewers.
Preheat your grill or broiler. Grill kebobs on a grill or under a broiler (use a broiler pan) for 3-5 minutes on each side.
Serve with tzatziki, minty-garlic yogurt sauce (use this recipe and add some minced fresh mint) or wrapped in a pita with pickled veggies or tomato-cucumber salad.
Notes
*6 Tbs. is a heaping ⅓ cup.