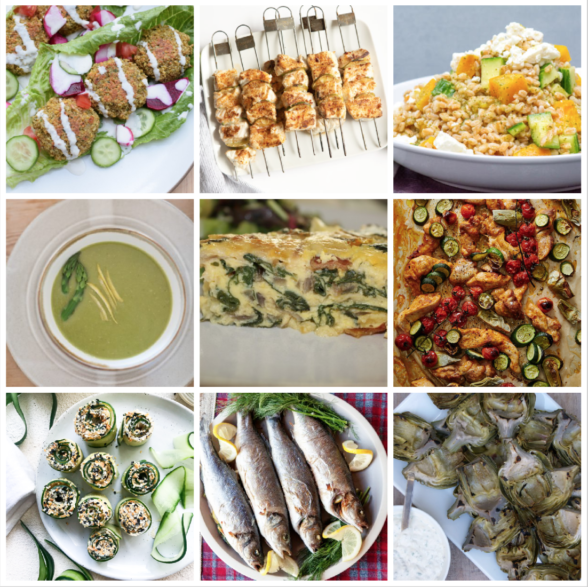 The fam and I are in Montecito visiting friends for the weekend.  I absolutely love it here and if Hubs said, "let's retire in Montecito," I'd say, "I'll start packing!"  My friend Chrissy is a great plant-based cook and we always have fun in the kitchen together.  We decided it would be fun to do an IG live together on Saturday at 5:00 pm PT!  We should be able to pull this off after a Pickleball match with the guys!   Here's your dinner planner for the week:
Meatless Monday: Baked falafel  with your favorite accompaniments like avocado slices, quinoa, pickled onions, tahini sauce, lettuce wraps or pita.  You can also pan-saute the falafel if you want to cook them faster.  It might sound odd, but creamy cabbage and avocado slaw goes great with falafel!
Tuesday: spiced halibut and lime skewers, farro with golden beets, cucumber, feta and mint vinaigrette
Wednesday: Creamy, dairy-free asparagus soup, Swiss chard frittata
Thursday: sheet pan chicken with artichokes, zucchini and cherry tomatoes, brown rice with chopped herbs (I'll probably do dill and parsley)
Friday: Pasta with vegan eggplant bolognese p. 181 from QTQ
Saturday brunch: cucumber-hummus turkey roll ups
Sunday: Zesty lemon quinoa, whole roasted branzino (so easy, try it!), grilled or steamed whole artichokes (using the dipping sauce in the recipe or just make a balsamic vinaigrette)
Here's what you can do in advance if it helps you:
Sunday:
Cook farro
Roast beets
Make mint vinaigrette
Make tahini sauce, if using
Make spice mixture for halibut
Tuesday:
Wash and cut asparagus
Cook veggies for frittata
Wednesday:
Cook brown rice
Thursday:
Wipe mushrooms clean
Friday:
Make hummus, if making from scratch
I have LOVED seeing all your creations of my recipes on Instagram. If you make any of my recipes, please tag me @pamelasalzman #pamelasalzman so I can check them out!
My cookbook, Quicker Than Quick, is discounted for the first time on Amazon!  If you have 1 minute, would you mind leaving a review on amazon?  I would be so grateful, thank you!
Take a peek at my first cookbook "Kitchen Matters"!