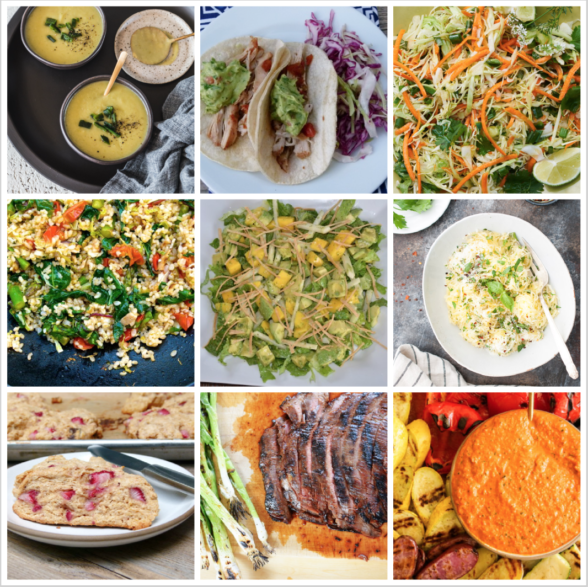 I had a lovely, lovely week with my family on Long Island.  Easter was simple but just right.  We had a delightful meal that we didn't work too hard to pull together, and we enjoyed lots of spring veggies and the like.  It was a nice break for me as well, but I am back to regularly scheduled programming.  I will be doing my Instagram LIVE on Monday at 5:00 pm.  I'll see if I can get Hubs to join me.  My newest bootcamp launched this past week and I am beyond excited with the fabulous group who decided to join me.  If you are interested in participating in future bootcamps, make sure you are subscribed to my website so you're the first to hear.  In May I am repeating Entertaining with Ease and I may also repeat Plant-Based 2.0!  Here's your dinner planner for the week:
Meatless Monday: Poblano potato leek soup, quesadillas (swap avocados for cheese to make it vegan or your favorite vegan cheese) with leftover roasted or sauteed veggies
Tuesday: Slow cooker chicken tacos (make extra for Wednesday's Not-fried rice), tortillas, cilantro-lime slaw (save 6 cups of cabbage for Wednesday), cooked rice, salsa, guacamole
Wednesday: Not–Fried Rice – Mexican version (based on this recipe but sub cilantro for basil), with leftover rice and chicken taco meat, kale or cabbage, bell peppers, onions and whatever veggies you want to get rid of
Thursday: Sweet potato nachos with vegan queso, avocado, jicama and mango salad
Friday: Spaghetti squash with pesto and shrimp, arugula salad with everyday salad dressing #1 (Click here to cook spaghetti squash; click here for a basil-parsley pesto recipe; click here for a kale pesto recipe) I'll saute the shrimp in a skillet with olive oil, garlic and crushed red pepper, which takes a few minutes on each side.
Saturday brunch:  Oatmeal Soufflé or these Strawberry Scones (best made the day of.)
Sunday: Grilled skirt steak, roasted cauliflower, sautéed greens, romesco sauce.  (I might make a little rice to go with it all. If you're plant based, add some cooked legumes like white beans to your sauteed greens.)
Here's what you can do ahead if it helps you:
Sunday:
Make stock
Roast and peel poblano peppers
Wash greens
Make salad dressings
Make pesto
Monday:
Prep slaw ingredients
Tuesday:
Make cheese sauce
Cut jicama and mango
Thursday:
Roast spaghetti squash
Friday:
Make romesco
Make marinade for steak
Wash and hull strawberries
I have LOVED seeing all your creations of my recipes on Instagram. If you make any of my recipes, please tag me @pamelasalzman #pamelasalzman so I can check them out!
My cookbook, Quicker Than Quick, is discounted for the first time on Amazon!  If you have 1 minute, would you mind leaving a review on amazon?  I would be so grateful, thank you!
Take a peek at my first cookbook "Kitchen Matters"!