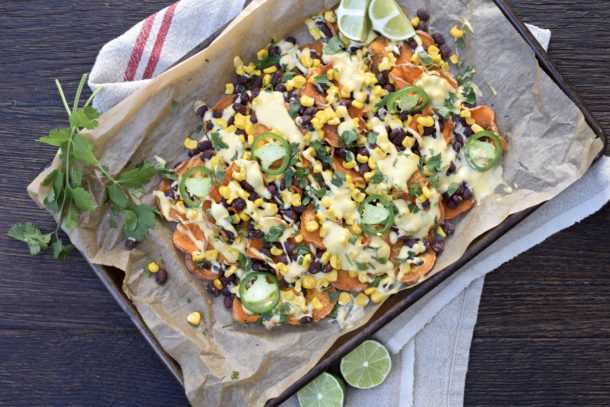 I was watching "The Kitchen" this morning while I was working out, because don't we all watch cooking shows while we're trying to burn calories?  I have a theory that combining the two makes me even more hungry than I would have been just exercising and watching CNN. The struggle.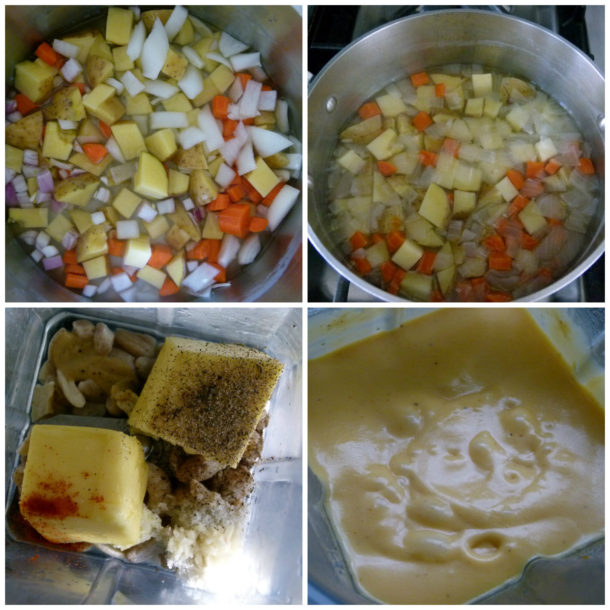 Anyway, one of the hosts (I love them all!) said that Super Bowl Sunday is the second biggest eating day of the year next to Thanksgiving.  I was absolutely NOT shocked.  "Really? It's just a football game," you might say.  Ah, but it's a an extra-long football game with parties where there are snacks and food (mostly of the unhealthy variety) sitting out for 4-6 hours.  It is very hard not to overeat with food sitting in front of you for 4-6 hours.  You might be able to resist the first hour, maybe even the second.  But after watching everyone else drink and have a great time chowing down on wings and mini versions of the worst food in America, at some point, one gives up and gives in.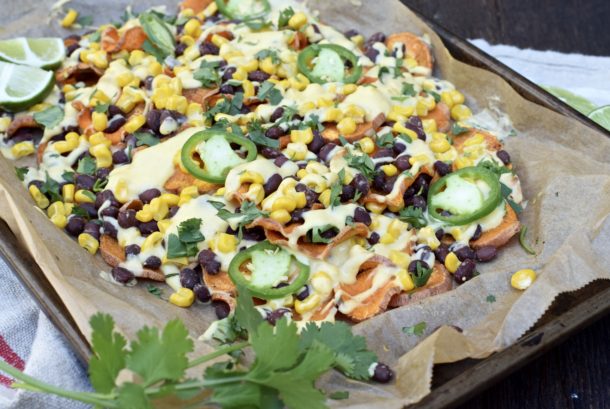 Here's the key:  bring something that's not junk to that Super Bowl party.  Offer a pot of healthy chili or a salad or even better, a giant platter of crudités and healthy dips.  But if you really want to score points (hehe, sorry), bring a pan of these vegan sweet potato nachos.  I'm going to tell you right now that they are insanely delicious. No one, I repeat NO ONE, has ever not loved these nachos.  And most people are surprised at how much they love them.  Here's what you do: you offer vegan sweet potato nachos and don't talk them up.  Be really casual about it.  "They should be good.  I hope you like them."  Because when you keep people's expectations low, it only works in your favor.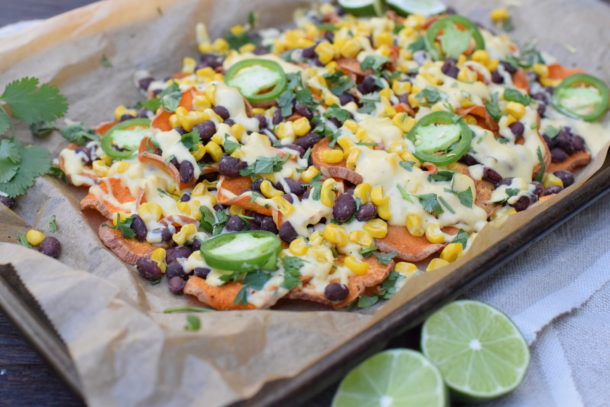 The Chalkboard Mag posted my nachos last year on their site and my friends at the Fan Girl Sports Network had me over last week to shoot a video on how you make them, so you should check that out here.  But I always like to give you my personal take on my recipes.  The recipe may look vaguely familiar because it's a tweak of the vegan mac and cheese sauce.  It is not cheese at all and in fact the sauce is mostly vegetables.  So we're replacing fake Velveeta with vegetables + a little Earth Balance or butter and then corn tortilla chips with roasted sweet potato rounds.  Winner, winner!! Be a skeptic no more and just make it.  Truth be told, I make it with butter, but use Earth Balance if you are DF/vegan.  Actually, make a double batch so you can pour it all over baked potatoes, steamed vegetables, spaghetti squash, grain bowls and savory waffles the next day. I love you, too. You're welcome.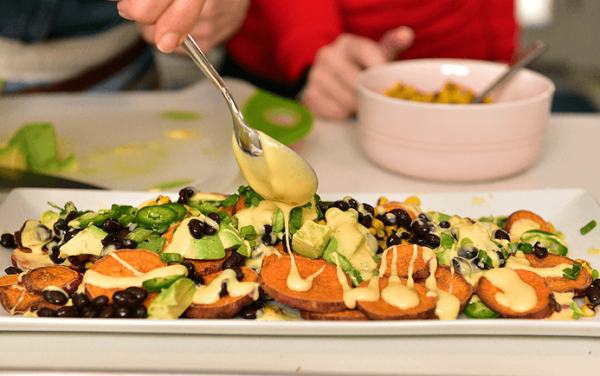 Sweet Potato Nachos with Vegan Queso
Ingredients
3 medium-large sweet potatoes, thinly sliced about ¼-inch thick
3 Tablespoons coconut oil, melted
Sea salt and freshly ground black pepper for seasoning sweet potatoes
For the "queso":
5 Tablespoons unsalted butter (not vegan) or organic Earth Balance (vegan)
2 Tablespoons chopped shallots
1 cup (about 7 ounces) chopped Yukon gold potatoes (you can leave the peel on)
¼ cup chopped carrots (about 1 small carrot)
⅓ cup chopped onion
1 cup water
¼ cup raw cashews (If you don't have a Vitamix or equivalent, soak the cashews 1-5 hours in water and drain before adding to blender)
1 ¾ teaspoons sea salt (use 1 ½ teaspoons if using Earth Balance)
¼ teaspoon garlic, minced (about 1 medium clove)
¼ teaspoon Dijon mustard
2 teaspoons freshly squeezed lemon juice (optional, but add it if you have it)
¼ teaspoon black pepper
pinch of cayenne pepper
Suggested toppings: black beans*, sliced fresh or pickled jalapeño, fire-roasted corn, cilantro, sliced avocado or guacamole, tomatillo salsa, chicken taco meat
Instructions
Preheat the oven to 400 degrees and line 3 sheet pans with parchment paper. Place the sweet potato slices in one layer on the sheet pans and brush both sides with coconut oil and sprinkle with salt and pepper. Bake for 20 minutes, flip over and bake for another 10 minutes, until crispy.
Meanwhile, in a medium saucepan, add the shallots, potatoes, carrots, onion and water and bring to a boil. Lower to a simmer and cook, covered, for 15 minutes, or until vegetables are very soft.
Place the cashews, salt, garlic, butter or Earth Balance, mustard, lemon juice, black pepper, and cayenne in a blender or food processor. Add the softened vegetables and cooking water to the blender** or food processor and process until perfectly smooth. Give this a minute or two until it is perfectly creamy and smooth. If you want it to be a little thicker, pour it back into the saucepan and simmer it for another 5 minutes. Queso can be made 2 days in advance and reheated gently in a saucepan before serving.
To assemble the nachos, place 1 layer of sweet potato rounds on a platter and drizzle with queso and desired toppings. Arrange another layer of sweet potatoes, queso and toppings. Serve immediately.
Notes
* 1 (14.5) oz can or 1 ½ cups cooked black beans can be warmed in a small skillet with the juice from ½ a lime and ½ teaspoon of ground cumin and ½ teaspoon salt
**Results will be much creamier with a high-powered blender like a Vitamix.