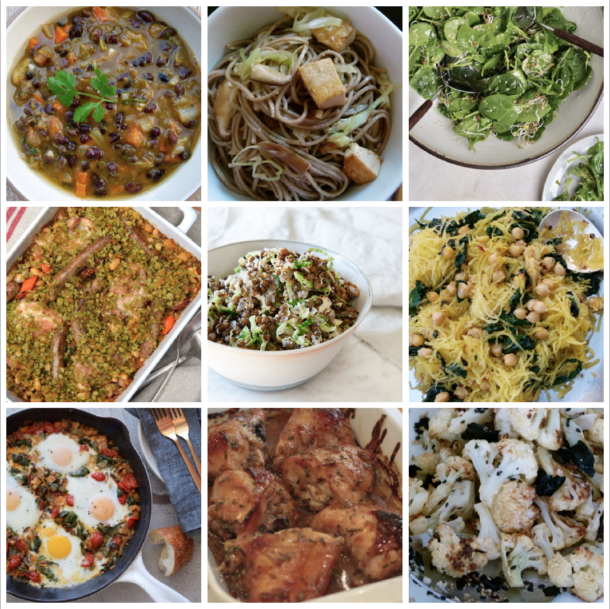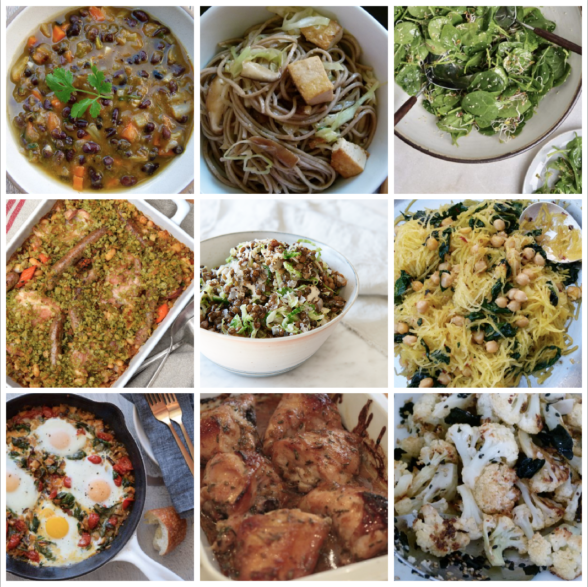 This was a great week, but I'm a wee bit exhausted.  No rest for the weary, however.  I'm off to NYC on Tuesday for a couple of days.  Stay tuned for details! Here's your dinner planner for this week:
Meatless Monday: black bean and pumpkin soup
Tuesday: stir fried soba noodles with vegetables and tofu, sesame spinach salad
Wednesday: Cassoulet-style chicken and sausages, green salad with everyday salad dressing #2
Thursday: braised lentils with brussels sprouts and creamy Dijon cashew drizzle from my cookbook, slow roasted salmon (without the mango salsa)
Friday: spaghetti squash with kale and chickpeas and chili-garlic broccolini (just blanche your broccolini and dry it really well, sauté some thinly sliced garlic with chili flakes in olive oil in a large sauté pan and add the broccolini, cook until its heated through and season with salt and pepper)
Saturday lunch: green shakshuka, crusty bread
Sunday: orange and rosemary glazed chicken, sesame roasted cauliflower, brown rice
Here's what you can do ahead if you need:
Sunday
Make chicken or vegetable stock
Make everyday salad dressing #2 and sesame spinach salad dressing and refrigerate
Wash your salad greens and herbs
Make your pumpkin puree from scratch, if not buying canned
Cook your beans, if not buying canned
Tuesday or Wednesday
Make the creamy dijon cashew drizzle and refrigerate, if you're using whole cashews instead of cashew butter, remember to soak your cashews 4-6 hours prior to making the sauce
Make the lentils and refrigerate
Saturday
Marinate chicken for Sunday
Here's alink to my previous dinner planners.
If you like my recipes, you'll LOVE my new cookbook!