I hope you all had a wonderful Thanksgiving and that you were able to spend quality time with family and friends.  I was feeling extra grateful this year and cherished being with so many loved ones.   But I think I overdid it this year leading up to Thanksgiving and I am resting up and trying to nip a cold in the bud.
Not the norm for me, but I have been indulging a bit too much on holiday food.  Ooops!  So on Monday, I am making a fresh batch of Bieler's broth to get me back on track.  Tomorrow is always a new day.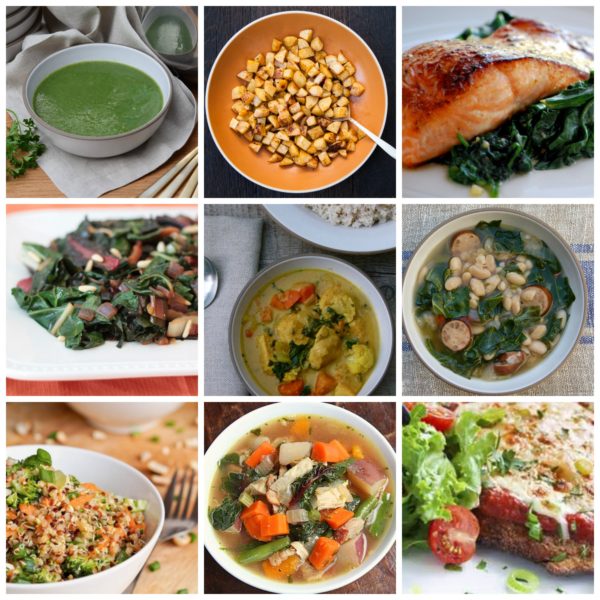 Here is your dinner planner for this week:
Meatless Monday:  Bieler's broth (everyone else can make a scramble or a waffle of leftovers)
Tuesday:  Roasted salmon (olive oil, salt and pepper at 400 degrees/8-10 minutes per inch of thickness) with roasted balsamic rutabagas, sautéed swiss chard (you can use this recipe and leave out the dried apricots and pine nuts, if you want)
Wednesday:  Chicken and vegetable curry (I might make this vegan and sub chickpeas for the chicken), steamed brown rice
Thursday:  Slow cooker white bean and sausage soup
Friday:  Thai veggie quinoa bowls
Saturday lunch: turkey and vegetable soup with kale pesto (I made turkey stock the day after Thanksgiving and I am going to use the Hearty Vegetable Soup recipe from my cookbook, which is only $15 and makes a great hostess or holiday gift!)
Sunday: Chicken parmigiana (take these breaded and baked cutlets, then add sauce and cheese if you want and bake until melted), pasta, salad with everyday salad dressing #2
Here's what you can do ahead if it helps you:
Sunday
Make stock for slow cooker soup and curry
Wash Swiss chard
Prep (wash, dry, chop) rutabagas and refrigerate
Make salad dressing
Tuesday
Wash collard greens
Prep vegetables for curry
Make kale pesto
Friday
Prep veggies for soup
Here is a link to all my previous dinner planners.