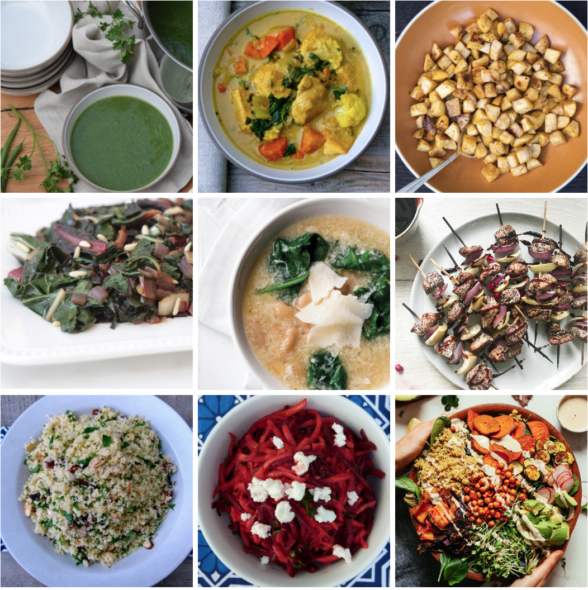 I hope you all had a beautiful Thanksgiving.  We had a lovely holiday at home with some family and friends.  The best part was cooking in the kitchen with all three of my kids.  I didn't care what anything looked like, including myself LOL.  I was just thrilled to be together with my babies.  We are enjoying the leftovers and I am thinking Monday will be a great day to make a big batch of Bieler's broth which is wonderful for giving the digestive system a little break. 😉
Monday's Instagram Live will be at a different time because I am teaching at the normal 5:00 pm.  So I'll either do it earlier in the day or on Tuesday at 5:00 pm.  Here's your dinner planner for the week:
Meatless Monday:  Bieler's broth (everyone else can make an egg scramble or a waffle of leftovers)
Tuesday:  Chicken and vegetable curry (I might make this vegan and sub chickpeas for the chicken) with steamed white or brown rice or cauliflower-rice
Wednesday: Roasted salmon (olive oil, salt and pepper at 400 degrees/8-10 minutes per inch of thickness) with roasted balsamic rutabagas, sautéed swiss chard (you can use this recipe and leave out the dried apricots and pine nuts, if you want)
Thursday: Stracciatella (Italian Egg Drop) Soup , you can use this Turkey Stock recipe ( I made the turkey stock using my leftover turkey from Thanksgiving)
Friday: Sumac Spiced Moinkbox Chicken Skewers with Couscous with Dried Apricots and Herbs and a Morrocan Carrot and Beet Salad 
Saturday lunch: Abundance Kale Salad with Savory Tahini Dressing from The Minimalist Baker
Sunday: Turkey and Hearty Vegetable Soup from my book with Kale Pesto and Turkey Stock
Here's what you can do ahead if it helps you:
Sunday
Make turkey stock
Wash and dry all vegetables
Prep (wash, dry, chop) rutabagas and refrigerate
Make all dressings, marinades and sauces
Make rice, couscous and quinoa
Wednesday 
Prep veggies for chicken skewers and salad
Friday
Prep veggies for soup
Here's a link to my previous dinner planners.
I have LOVED seeing all your creations of my recipes on Instagram.  If you make any of my recipes, please tag me @pamelasalzman #pamelasalzman so I can check them out!
Click here to learn more about my online cooking classes!
If you like my recipes, you'll LOVE my cookbook!