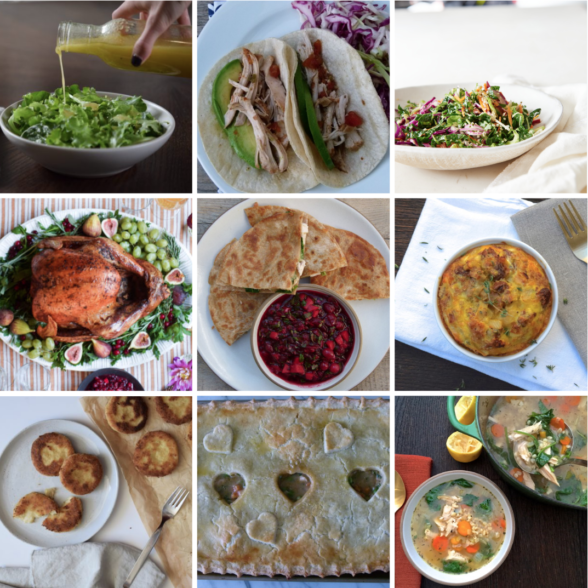 I just taught my last Thanksgiving class of the year and I am gearing up to start prepping for my own Thanksgiving.  My daughters are coming home this week.  Life is good.  I don't need more than that.  I am keeping the dinners easy this week because I never have enough time in the weeks leading up to Thanksgiving to freeze casseroles for dinners this week.  If you take my online classes, I am doing a Facebook live on our private Facebook page on Saturday at 9:45 am PST.  On  Monday, November 19th I am doing an Instagram Live at 5:00 pm PST at Thrive Market headquarters.  Join me and bring your questions!
Here's your dinner planner for the week:
Meatless Monday: Naan pizza (spread your favorite topping on fresh naan bread from the store and roast in the oven until ingredients are warmed and cheese is melted), green salad with Everyday Salad Dressing #1
Tuesday: Slow cooker chicken tacos served bowl-style with rice, organic black or pinto beans, freshly shredded cabbage, thinly sliced radish rounds and fresh avocado
Wednesday: Tuna patties, Winter Vegetable Slaw with Ginger and Lime from my book mixed with quinoa and any leftover avocado.
Thursday:  Happy Thanksgiving! If you're still searching for recipes and tips, my new Thanksgiving E-Book is here. 
Friday: Leftovers!  Check out these recipes for Spinach and Turkey Quesadillas with Cranberry Sauce, Stuffing Egg Bake, Mashed Potato Croquettes, use this Chicken Pot Pie recipe and sub turkey for chicken and gravy for the flour/stock combo + whatever leftover vegetables are left
Saturday lunch: Turkey Barley Soup with Lemon
Sunday:  Giant salad with leftover turkey and roasted vegetables tossed with a simple unrefined extra virgin olive oil, lemon juice and sea salt
Here's what you can do ahead if you need to:
Sunday
Wash and dry all veggies
Make all dressings, marinades and sauces
Make rice and quinoa
Monday
Prep slaw ingredients
Friday
Make turkey stock with your leftover turkey carcass.  (Or use chicken stock and make this soup with that.)
For ALL my Thanksgiving Recipes and Tips, check out my new Thanksgiving eBook!
Here's a link to my previous dinner planners.
I have LOVED seeing all your creations of my recipes on Instagram.  If you make any of my recipes, please tag me @pamelasalzman #pamelasalzman so I can check them out!
Click here to learn more about my online cooking classes!
If you like my recipes, you'll LOVE my cookbook!