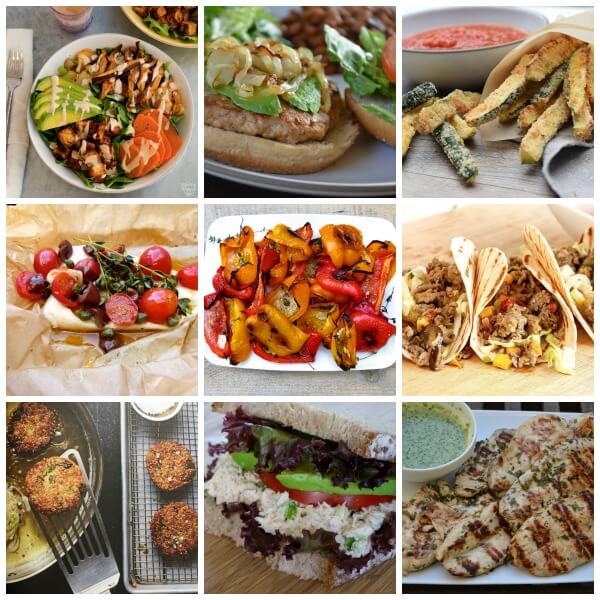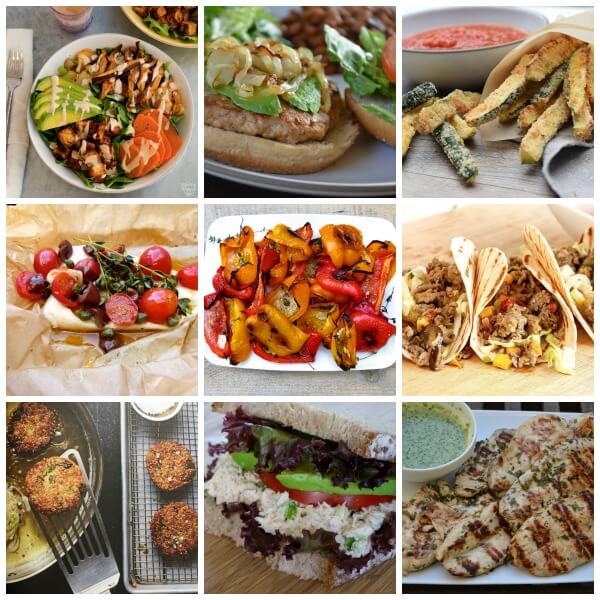 Happy Mother's Day to all the wonderful mamas out there!  My gift for Mother's Day is that my older daughter is coming home from college on Tuesday.  I could not be more excited!  I am patiently waiting for her to tell me what she wants me to cook this week, but I know she is super busy studying for finals.  At least that's what I hope!
Here's a great dinner planner for the week ahead:
Monday: Grain and veggie bowls (I'm thinking cooked brown rice, roasted sweet potatoes, mushrooms, asparagus, and onion, plus avocado, sesame seeds and my miso-ginger vinaigrette)
Tuesday: Tasty turkey burgers, baked zucchini fries
Wednesday: Mediterranean fish in parchment paper, polenta, parmesan peppers (or just add some spinach to the packets and skip the peppers as a side dish)
Thursday: Grass-fed ground beef tacos, guacamole, salsa, tortillas
Friday: Quinoa broccoli patties from Haven's Kitchen Cookbook (see recipe below), homemade ranch, romaine salad with cherry tomatoes and cucumbers
Saturday lunch: Tuna salad sandwiches or lettuce wraps
Sunday: Lemon-herb grilled chicken, zesty potato skewers, blanched-then-sauteed green beans with shallots, garlic and thyme
Do Ahead:
Sunday (or do this all on Monday if you are taking Sunday off!)
Make miso-ginger dressing
Prep veggies that you want roasted for grain bowl
Make turkey burger patties and refrigerate until ready to sauté
Cut zucchini into fries
Prep your peppers for parmesan peppers
Make taco seasoning
Thursday
Make quinoa broccoli patties and refrigerate until read to sauté
Make ranch dressing
Wash greens for salad
Make tuna salad and refrigerate
Saturday
Make marinade for chicken
Marinate chicken the morning before you plan to cook the chicken

Haven's Kitchen Quinoa Broccoli Patties
Ingredients
1 cup coarsely chopped broccoli florets, steamed
2 cups cooked quinoa
2 large eggs, whisked
sea salt and freshly ground black pepper
1 cup panko breadcrumbs, plus more as needed
½ cup grated sharp cheddar
2 garlic cloves, minced
about 8 sprigs fresh flat-leaf parsley, chopped
Unrefined, cold-pressed, extra-virgin olive oil, for sautéing
flaky sea salt (such as Maldon) for finishing
Instructions
In a large bowl, mix the cooked and cooled quinoa and the steamed broccoli florets.
Whisk the salt and pepper with the egg in a small bowl and add to the broccoli and quinoa mixture. Add the panko an mix to combine.
Mix the cheddar, garlic, and parsley into the quinoa mixture. Refrigerate for 15 minutes, until the panko has absorbed the excess moisture and has a texture like that of wet sand.
Divide the mixture into 8 equal balls, then press and flatten into ¾-inch-thick patties.
Place a 12-inch saute pan over medium-high heat. When it's hot, pour in enough oil to generously cover the bottom of the pan and heat until it begins to shimmer. Add the patties and sear until the edges are golden brown, 2 to 3 minutes. Flip and cook the second side for another 2 to 3 minutes, or until a deep golden brown.
Transfer the fritters a rack or plate and immediately sprinkle with flaky sea salt. Serve hot with your preferred sauce or dressing if desired.
Here's
a link
to all my previous dinner planners.
My new cookbook is available for pre-order on amazon and signed copies are available from my local bookstore, Pages.