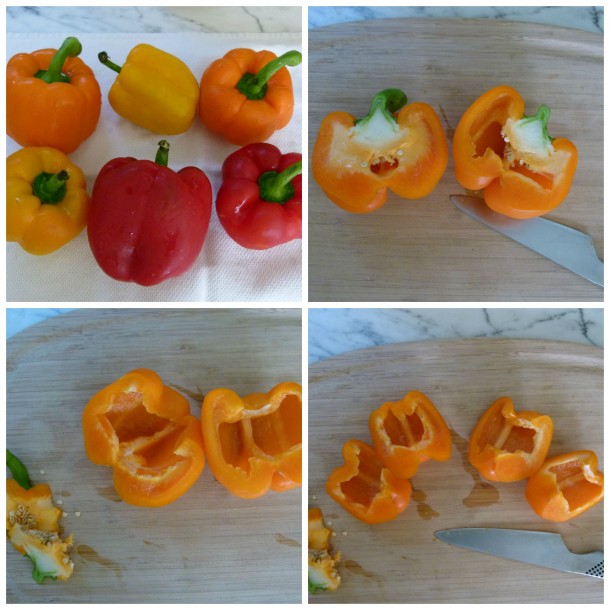 I just returned home from a beautiful vacation on Long Island with my family.  It's always my favorite week of the year and I enjoy the time even more when the weather is perfection like it was last week (barring the crazy 30-minute quasi-tornado on Tuesday morning.) I try to visit my parents in August rather than earlier in the summer because my father's vegetable gardens are much more abundant now.  I think one of the best, most rewarding things in life is to be able to grow your own food.  On so many levels it's good for you and good for the earth.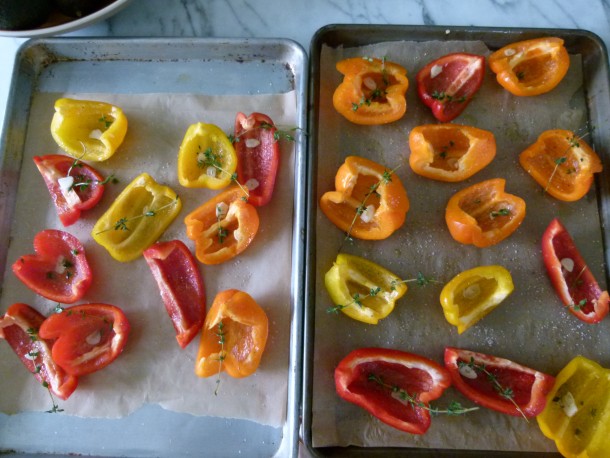 It can be very confusing to know what's in season these days since we can buy virtually anything at any time.  But if you've ever gardened, you know that certain vegetables are planted during certain times of the year.  When I was growing up, I knew strawberries were only around for a short time so I would eat as many as humanly possible to take advantage of nature's little springtime gift.  Same with tomatoes.  In fact, my mother loves telling me the story of when I was little and I ate so many unripe green tomatoes out of my father's garden that I made myself sick.  I guess you can have too much of a good thing.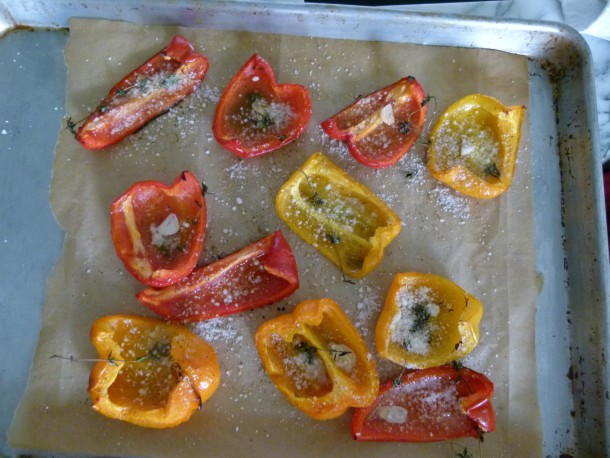 Here's a newsflash for some people:  bell peppers are a summer vegetable.  Sure you can buy them all year, but they'll be imported and likely not organic.  Another newsflash is that bell peppers are usually on the Environmental Working Group's "Dirty Dozen" list of most highly contaminated produce, so I always buy organic or not at all.  Yikes.  Now I look back and thank my lucky stars my father grew lots of peppers without pesticides.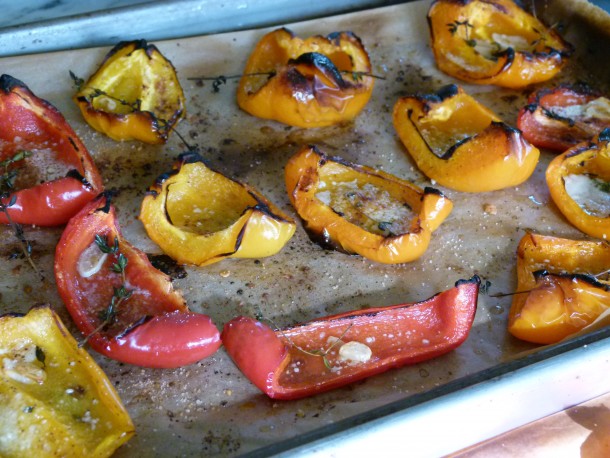 Sweet bell peppers have a soft spot in my heart because they were one of Mr. Picky's first "approved" vegetables.  I can even remember the day he tried a stick of raw red bell pepper and said, "Hey, this is good!  It's juicy!"  Munch, crunch.  Then I went overboard trying to put sweet bell peppers in everything because I thought they were my ticket to broadening his limited palate.  Well my strategy didn't exactly work.  But I'm glad I went pepper-crazy because I found this recipe for Parmesan peppers and it has become a favorite.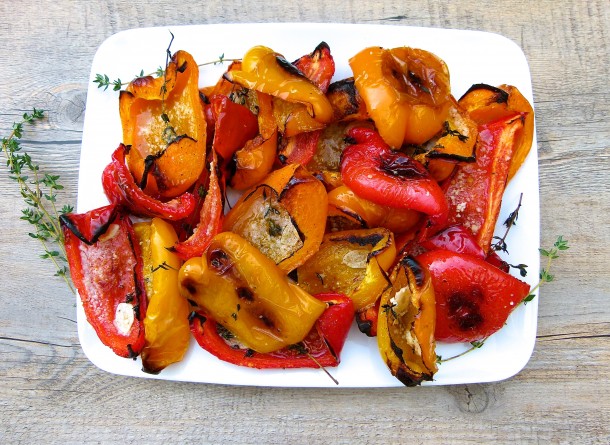 Parmesan peppers is one of the easiest and tastiest side dishes.  It gets multiple flavor boosts from garlic, thyme, lemon and Parmesan cheese, although I often use Pecorino, a sheep's milk cheese.  It's true that my son prefers his bell peppers raw ("juicy and crunchy"), I prefer the sweeter flavor and silky texture from roasted peppers.  One sliver of these peppers wrapped around a bite of fish or roasted chicken is just delicious.  And if you can find two (or even three) colors of peppers, this is a really beautiful side dish.  And I repeat, easy!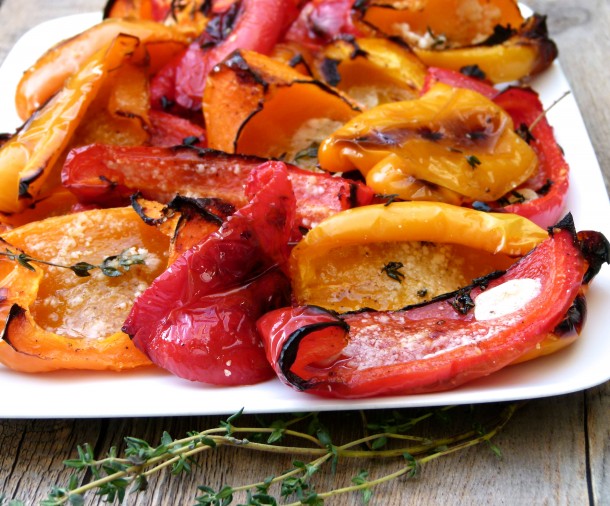 So the big question is, does Mr. Picky eat this?  And the answer is, almost.  What does that mean?  Like most kids, he's slow to come around to vegetables and he likes to try things on his own terms.  It's annoying for sure, but it is pretty normal.  So the first couple of times I made this, he was like "no way I'm eating that."  He did have the obligatory taste, but nothing more after that.  More recently, he has eaten an entire piece and declared, "it's pretty good, but I'm fine with one piece, thanks."  The last time he had one piece and said, "it's good and I'm pretty sure I'll eat more next time."  Welcome to my world!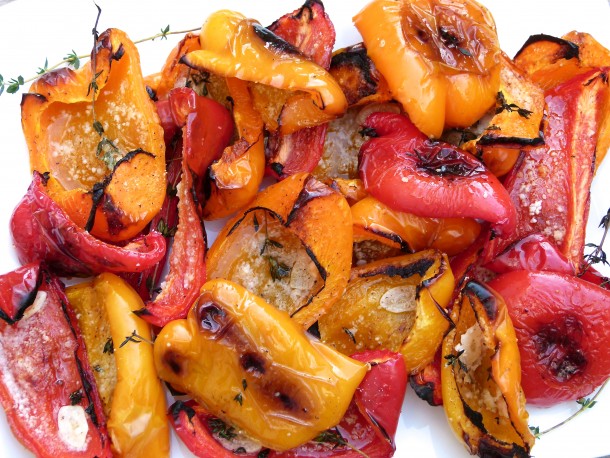 While there are no guarantees in life, these peppers have always been a hit with everyone else who has tried them, including my two daughters. What I do know for sure is that summer and local peppers won't be around forever, so do enjoy them while you can.

Parmesan Peppers
adapted from Bon Appetit, June 2011
Ingredients
4 bell peppers (a mix of yellow, red and orange is nice)
1 clove thinly sliced garlic
8 thyme sprigs
1 Tablespoon unrefined, cold pressed, extra virgin olive oil
sea salt and freshly ground black pepper
¼ cup grated Parmesan or Pecorino
juice of ½ lemon, if desired
Instructions
Preheat oven to 425 degrees and line a baking sheet with parchment paper.
Stem, core and quarter bell peppers; place on prepared baking sheet.
Toss with garlic, thyme and olive oil; season with salt and pepper.
Arrange skin side down in a single layer and roast until softened, about 30 minutes.
Remove from oven and preheat the broiler.
Sprinkle the peppers with Parmesan and place under the broiler until the cheese is melted and peppers are slightly charred. This will only take a minute or two.
Remove from oven and drizzle with lemon juice, if you like. You can leave the thyme sprigs, but they are not to be eaten.
Notes
Feel free to leave out the cheese if you need. These are also great with a few capers sprinkled on when they come out of the oven.