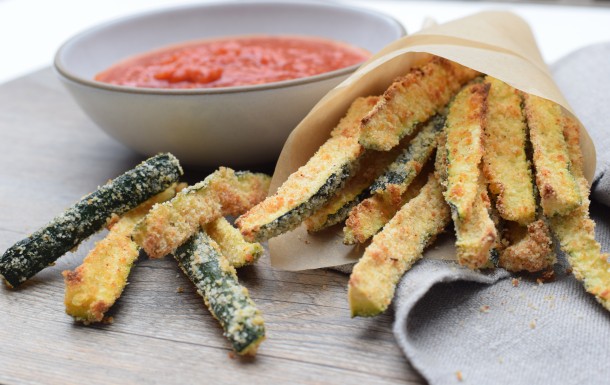 My kids can't get enough of these zucchini fries and I can't get enough of hearing them beg me for vegetables!  After I returned home from New York last week, my son, the one and only Mr. Picky, said, "I don't know what you're making for dinner this week, but please include zucchini fries!"  Pinch me.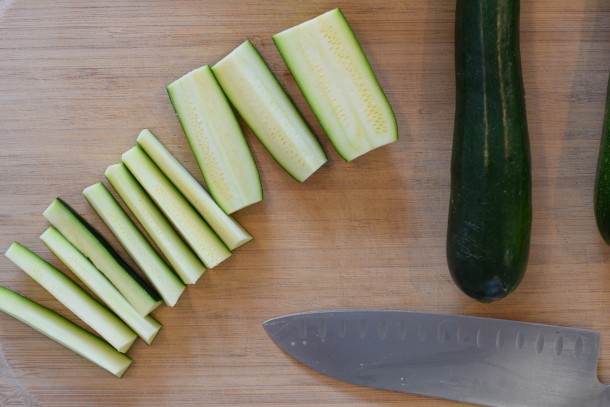 I know the recipe is posted on the Today Show website, but I didn't actually demo the recipe during my segment and I do have some tips to share.  Keep in mind, if you love zucchini fries when you go to a restaurant, these are similar, but not exactly the same.  Those are deep-fried, and we all know deep-fried food, EVEN A VEGETABLE, is really, really bad for you.  Sorry to remind you, but restaurants use the lowest quality oil to fry foods and they use it over and over and over again.  It is like a big vat of inflammation and free-radicals and transfats and likely GMO's — everything you want to avoid.  So we're going to bake these, ok?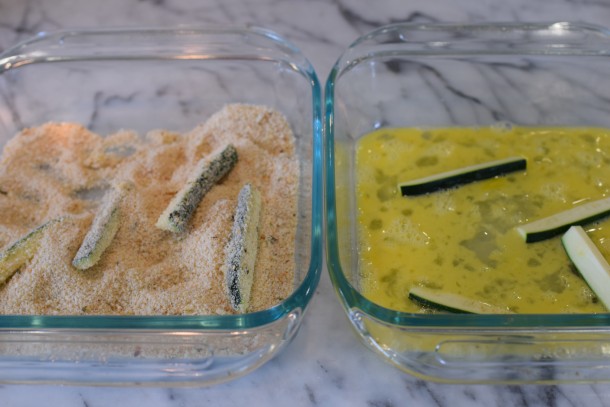 They're still going to be crispy and tasty, they're just not going to be greasy.  Perfect reason to dip these fries into something.  I eat them as is, but my husband (just a grown-up kid really) likes these dipped in tomato sauce (homemade recipe here) or Ranch dressing (homemade recipe here) and my son will also eat them with mustard.   I find two things to be true with kids and vegetables — they love dips and they like things that resemble French fries.  That makes this recipe a double winner!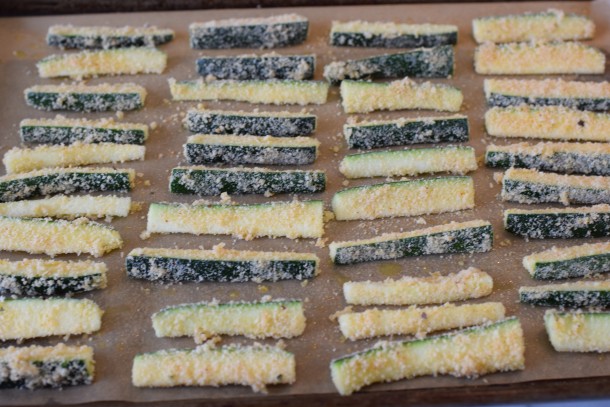 But I'm not going to lie — even though this is an easy recipe, requiring no special skills or culinary training, they're kind of a pain to make because you're dipping a lot of zucchini sticks into egg and then breadcrumbs and arranging them just so on a baking sheet.  My advice is to get your kids or someone to help you and then this becomes no big deal.  You can also cut the zucchini in the morning to save on prep time before dinner.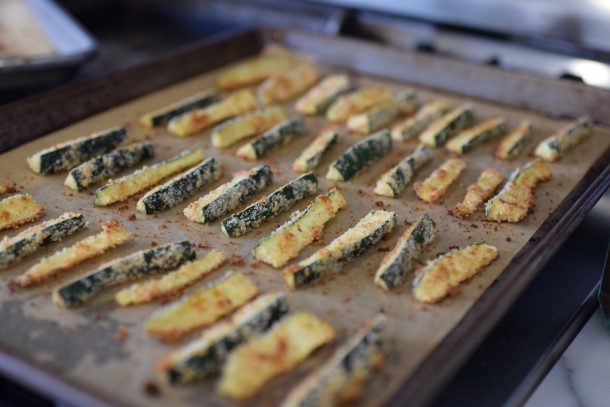 I know so many of you have zucchini coming out of your ears right now.  Try not to let them grow too big.  For this recipe especially, you want to select small to medium zucchini which contain fewer seeds and aren't bitter like some big ones. And the trick is to cut them into the size no bigger than a normal adult finger.  If you cut them too big, they won't get tender enough and if you cut them too small, they can get dried out.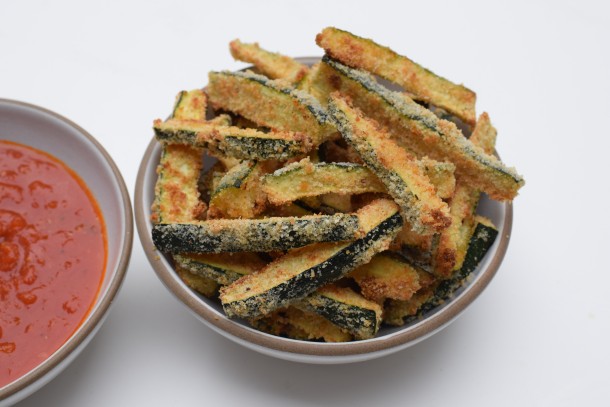 The only problem with this recipe is that it never makes enough.  It says "serves 6," but that's hardly true.  I actually never got to eat 1 fry during the entire month I taught this recipe because there were never any left.  Once you start, you can't stop.  So for the first time, I can't answer the question "how long do leftovers last in the fridge?"  No matter how many you make, there won't be any!

Baked Zucchini Fries
Ingredients
Unrefined, cold-pressed extra virgin olive oil
4 medium zucchini
1 cup dry bread crumbs (use GF breadcrumbs to make these GF)*
¼ cup freshly grated Parmesan or Pecorino cheese (omit to make these dairy-free)
1 teaspoon garlic powder
½ teaspoon ground paprika
⅛ teaspoon dried oregano
⅛ teaspoon crushed red pepper
1 teaspoon sea salt
2 large eggs**
Unrefined, cold-pressed extra virgin olive oil spray
Instructions
Preheat the oven to 425 degrees. Line 2 baking sheets with parchment paper and brush parchment with olive oil.
To cut your zucchini into fries, cut each zucchini in half crosswise. Cut each half lengthwise into halves or in thirds, and each one of those pieces into 4 sticks or into ½-inch wide sticks.
In a shallow dish, combine breadcrumbs, Parmesan, garlic powder, paprika, oregano, red pepper and salt. In a separate shallow dish beat eggs very well.
One by one, dip each zucchini stick into the egg mixture, then into the bread crumb mixture. Shake to remove any excess and place on the baking sheet.
Once all are coated with breadcrumb mixture and on the prepared baking sheet, spray with olive oil.
Bake for 15-20 minutes, or until golden and crispy on the outside and soft on the inside, flipping over halfway to ensure browning on both sides. Serve plain or with marinara sauce or Ranch dressing.
Notes
*Do not use panko bread crumbs instead of the standard bread crumbs. They do not stick as well.
**You can also dip the zucchini in olive oil instead of eggs for an egg-free version.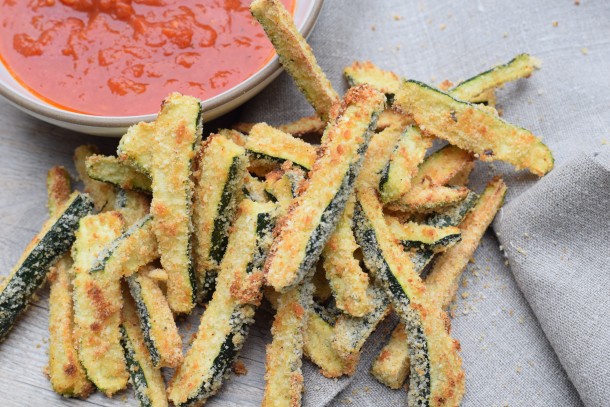 For more great zucchini recipes, check these out:
Grain-free Chocolate Zucchini Cake (seriously the bomb!)