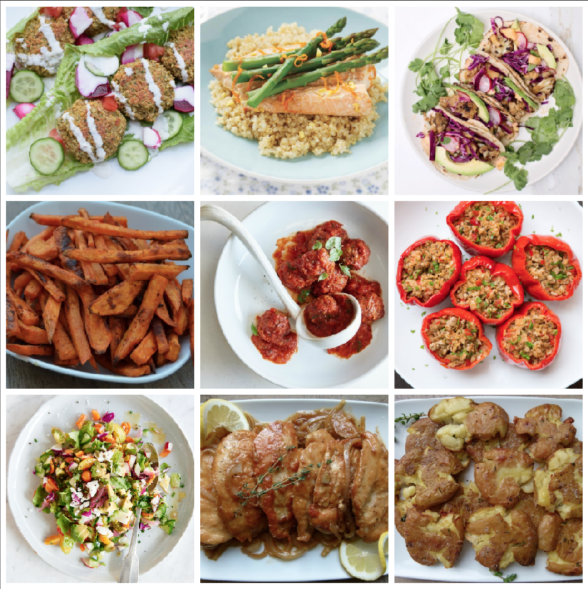 Happy Mother's Day in advance to all the beautiful mamas out there!  I hope you have some time to do what makes your heart sing.  I am going foraging (yes, foraging!) with the fam.  Follow along on instagram on sunday to see all the action.  And then next weekend I am going to Dallas for #1's graduation.  Gasp!  That went fast, didn't it?  I'm really proud of my daughter and I am looking forward to celebrating her and her accomplishments!  I won't be cooking all that much this week, but I know you've got to eat!  Here's your dinner planner for the week:
Meatless Monday: Falafel bowl: Cooked quinoa (or your favorite grain or cauliflower rice), baked falafel, shredded/chopped romaine lettuce, chopped cherry tomatoes, cucumbers, red onion, pickled radish, and tahini sauce
Tuesday: Orange-ginger salmon with asparagus from Clean Eating Magazine (use this method as an easy way to wrap the fish in parchment), brown rice (make extra for stuffed peppers)
Wednesday:  Chipotle cauliflower tacos, serve with avocado, shredded cabbage and pickled onion or radish or pineapple slaw from my cookbook or jicama slaw, chipotle sweet potato fries
Thursday: Eggplant meatballs on roasted spaghetti squash (see this recipe for how to roast spaghetti squash)
Friday: Turkey and rice stuffed bell peppers, grilled broccolini (use this method for grilling the broccolini and finish with a squeeze of lemon, no breadcrumbs)
Saturday Lunch: Saturday chopped salad from my cookbook (use all the leftover veggies from this week!)
Sunday: Lemon-thyme chicken, roasted smashed potatoes, sautéed spinach
Here's what you can do ahead:
Sunday
Cook quinoa (or whatever grain you want to use for the bowls)
Wash/dry greens/lettuce and herbs
Pickle radish (Use this recipe as a guide, but use your food processor slicing disc to make quick work of the radish. Make extra if you want some for your tacos on Wednesday.)
Make tahini sauce and salad dressings
Trim tough ends of asparagus and place cut ends in a small amount of water in the fridge
Make spice mixture for tacos
Cut sweet potato into fries and store in the fridge
Make chicken or vegetable stock
Wednesday
Make eggplant meatball mixture and refrigerate
Roast spaghetti squash and refrigerate
Make marinara sauce or use jarred (make sure you have extra for stuffed peppers)
Thursday
You can make the stuffed peppers up to the point of baking and store, covered, in the fridge until you're ready to bake them
Saturday
Prep the chicken
Wash potatoes
Here's a link to my previous dinner planners.
I have LOVED seeing all your creations of my recipes on Instagram.  If you make any of my recipes, please tag me @pamelasalzman #pamelasalzman so I can check them out!
Click here to learn more about my online cooking classes!
If you like my recipes, you'll LOVE my cookbook!