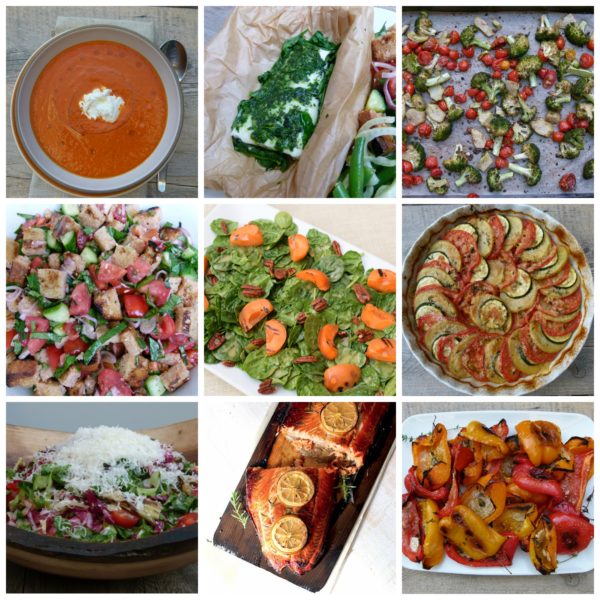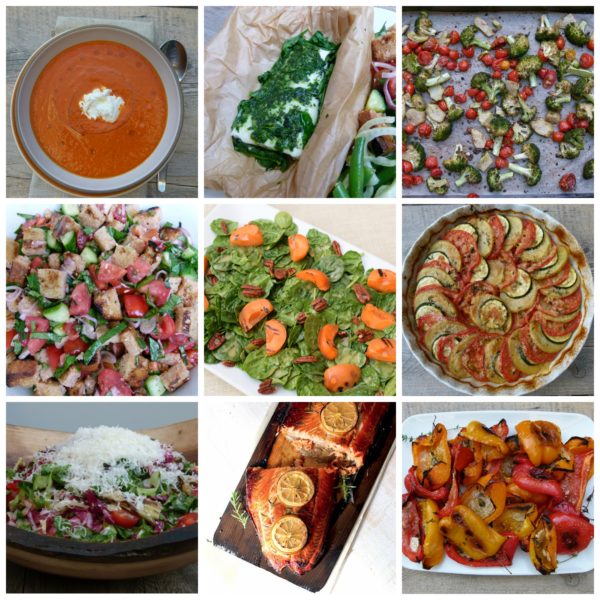 I know most people aren't thinking about what to make for dinner this week, but rather what to make for the 4th of July a week from Monday.  I always used to think of July 4th as the summer being half over.  Why is that?  We're just getting started and I am going to enjoy every single second of it!  Do not fret about July 4th though.  Take a peek at this post from last year with a dozen or so menu ideas for a fab fete!
In the meantime, here is what I'm planning on cooking this week:
Meatless Monday: fresh tomato soup, grilled cheese sandwiches on whole grain bread (I use dairy-free cheese or smashed avocado + spinach for me)
Tuesday: Fish in parchment with herbs, balsamic roasted broccoli with cherry tomatoes, corn the cob (I boil for 4 minutes exactly)
Wednesday:  Grilled panzanella, grilled chicken paillard with kale pesto
Thursday: Spinach salad with honey-mustard dressing and grilled apricots, pan sautéed turkey sausages, simply roasted sweet potato coins (brush rounds with melted coconut oil, season with salt and pepper, roast at 400 degrees)
Friday: Roasted vegetable tian, arugula salad (or any mixed greens) with Everyday Salad Dressing #1 (add white beans to make this more substantial)
Saturday lunch: vegetarian chopped antipasto salad
Sunday: Cedar plank grilled salmon, grilled scallions, Parmesan peppers
Here's what you can do ahead if you need to:
Sunday
Wash all herbs and greens
Prep (wash, dry, cut) broccoli
Tuesday
Make dressing for panzanella
Make marinade for chicken paillard
Make kale pesto
Make honey-mustard dressing
Make Everyday Salad Dressing #1
Friday
Make dressing for chopped salad
Cook chickpeas for chopped salad (unless you're using canned)
Here's a link to all my previous dinner planners!