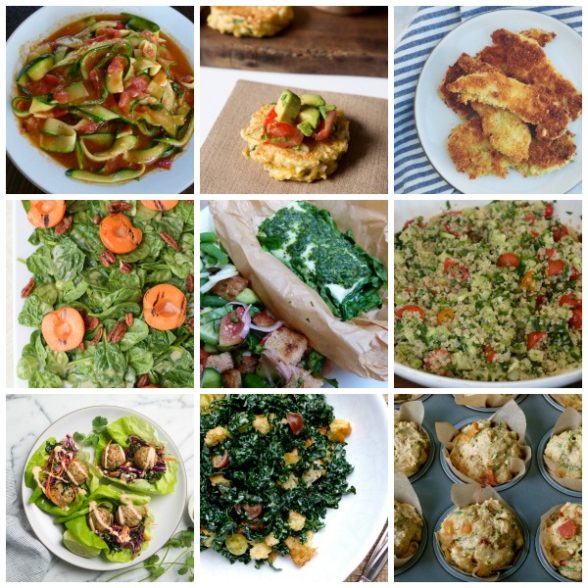 Happy Father's Day!!  I hope you are all doing something wonderful to celebrate all the great dads out there!
It is officially summer in my house since Mr. Picky finished school this week.  Yippee!!  No more making lunches at either 9 o'clock at night or 6 o'clock in the morning!! Perfect timing as I have quite a few activities this week to keep me busy.
Wednesday, June 21st tune into The TODAY Show in the 8:00 hour for a cooking segment I am doing from my new cookbook! (The cooking segments are usually after 8:30 am.)
Thursday June 22nd 10:20-ish am I'll be on KTLA in Los Angeles for more cooking from the book
12:45 pm PST I am cooking on Facebook Live with Catherine McCord from Weelicious!
7:00 pm Book party at Pages Bookstore, Manhattan Beach.  It's a free event, but please RSVP.  Also, if you can't get to Pages, but you'd still like a signed book, you can order from them and they'll ship it to you!
Here's your dinner planner for the week:
Monday: Zucchini pasta with marinara, green salad with white beans and lemon-basil dressing
Tuesday: Fresh corn cakes with avocado salsa , grilled shrimp (I will do a quick spice rub on these with my fish taco seasoning)
Wednesday: GF chicken tenders from Valleybrink Road, spinach salad with honey mustard dressing
Thursday: Fish in parchment with summer herbs, quinoa tabbouleh
Friday: Asian turkey meatballs with avocado slices, shredded cabbage, and sriracha aioli, roasted sweet potato wedges
Saturday Lunch: Kale salad with creamy lemon dressing, savory muffins with feta
Sunday: Lickety-split chicken with arugula for serving (from my new cookbook), grilled eggplant with pomegranate molasses (from my new cookbook)
Here's what you can do ahead of time if you need to:
Sunday
Prep the zucchini pasta
Make marinara if not using jarred sauce
Make lemon-basil dressing
Make spice mix for lickety-split chicken
Monday
Form corn cakes and refrigerate
Wednesday
Make herb oil for fish in parchment
Make quinoa for tabbouleh
Squeeze lemon juice for tabbouleh
Dice cucumbers for tabbouleh
Cut sweet potatoes into wedges
Wash, dry, and chop kale
Make creamy lemon dressing
Here's a link to all my previous dinner planners.