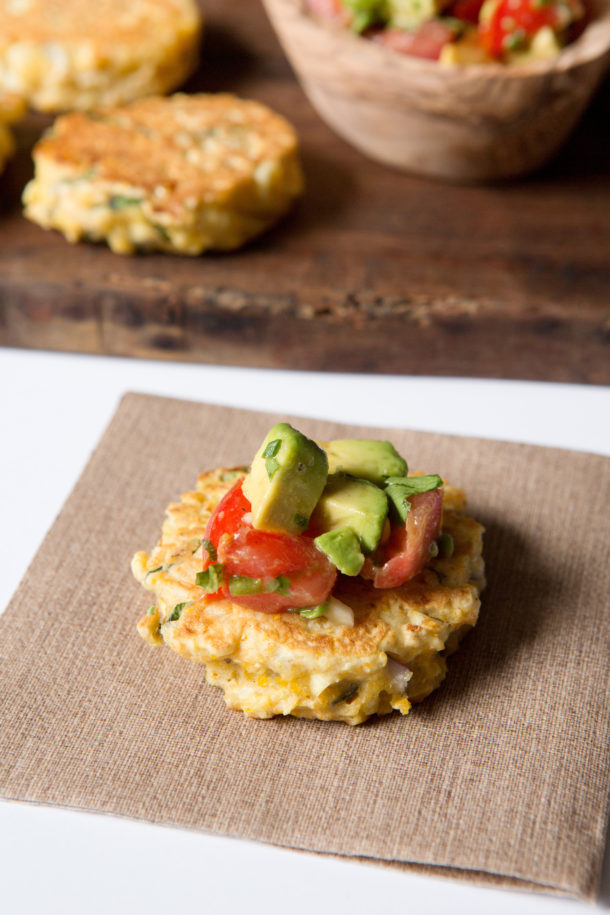 Well, my friends, I have some super amazing news that I have been wanting to share with you and I just don't think I can contain myself any longer.  It is with great excitement that I announce that my first cookbook will be published in March 2017!  Yippee!!   I so am grateful to the folks at Perseus Books for sharing my desire to help people become healthier by learning how to cook from scratch with whole foods.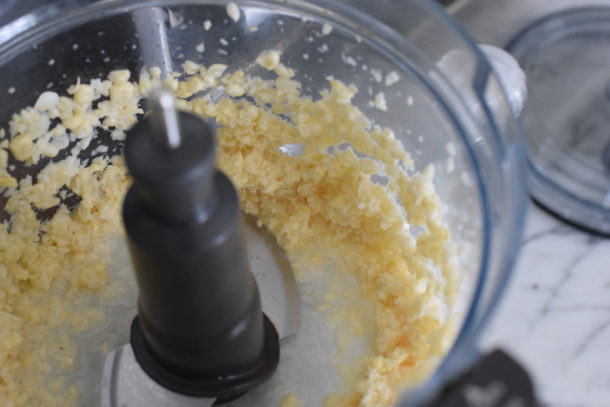 The book is currently titled "Fresh Start:  Everything You Need to Know to Start Eating Healthfully Once and for All."  Since most of  you can't attend my cooking classes, I am including in this book all the tips and tricks I share with my students, how to prep in advance, the most nutritious foods you should be focusing on, and over 100 incredible, never before published recipes that will make you glow from the inside out.  Details will be forthcoming, but just know I am working hard to create a book that will inspire you to get in the kitchen and get healthy.
In between now and March though, I still have a blog to publish and recipes to share.  I have some looming deadlines, but we all still have to eat this summer!  Today I am posting these fun little corn cakes with avocado salsa.  I make these all the time when I have friends over in the summer.  They're the perfect hors d'oeuvres to have with drinks, although I also make them as a starchy side for family dinners as well.  My son calls these "corn pancakes" and he can power-eat a dozen with or without salsa.  Speaking of Mr. Picky, he has been at a Spanish-immersion sleep away camp for the last 11 days and I am missing him something awful.  He returns this weekend and I can't wait to squeeze his finicky face and feed him something better than the Cocopuffs I am sure he has been eating everyday for breakfast.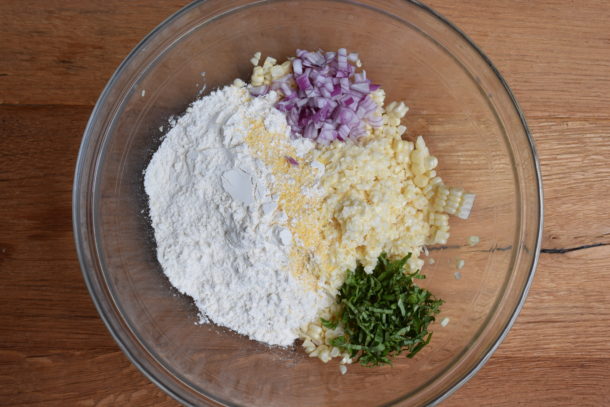 Whatever I make him will for sure revolve around tomatoes, corn, peaches, basil and fish, and possible all at once.  The season for summer produce is really short, so my goal everyday is to consume at least one of the above.  I am very keen on corn right now.  Have you ever had corn right off the cob?  It's amazing.  So juicy, sweet, you don't even need to cook it.  But I'll take summer corn raw, grilled, boiled, sautéed, on the cob, off the cob, and in a little pancake.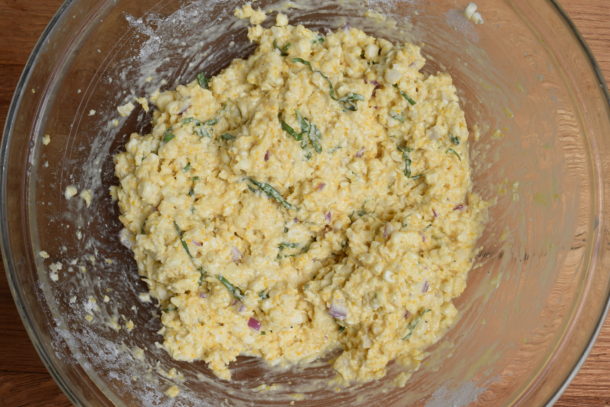 Look how light and fluffy these are.  You'll feel like you're eating a pillow of sweet corn.  The avocado and tomato salsa are incredible on top, but I have also eaten these for dinner with a quick cherry tomato-basil compote (just check out my Pasta with 5-Minute Cherry Tomato Sauce Recipe.)  I would eat that for breakfast instead of pancakes with syrup.  Add in a little feta and those babies will disappear!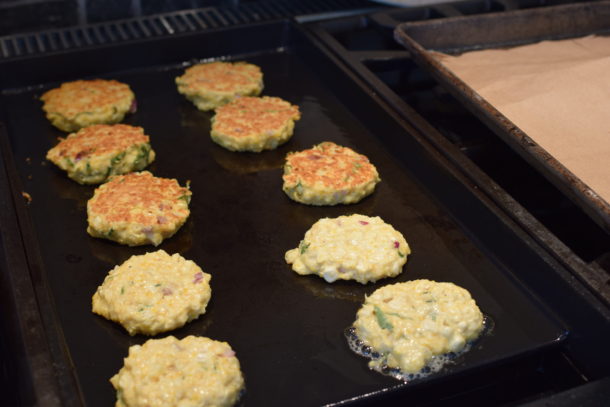 You can make the batter ahead of time and keep it refrigerated all day.  Then start cooking up the cakes just before you want to eat them.  Cooked cakes also keep well in a 200 degree oven for up to an hour.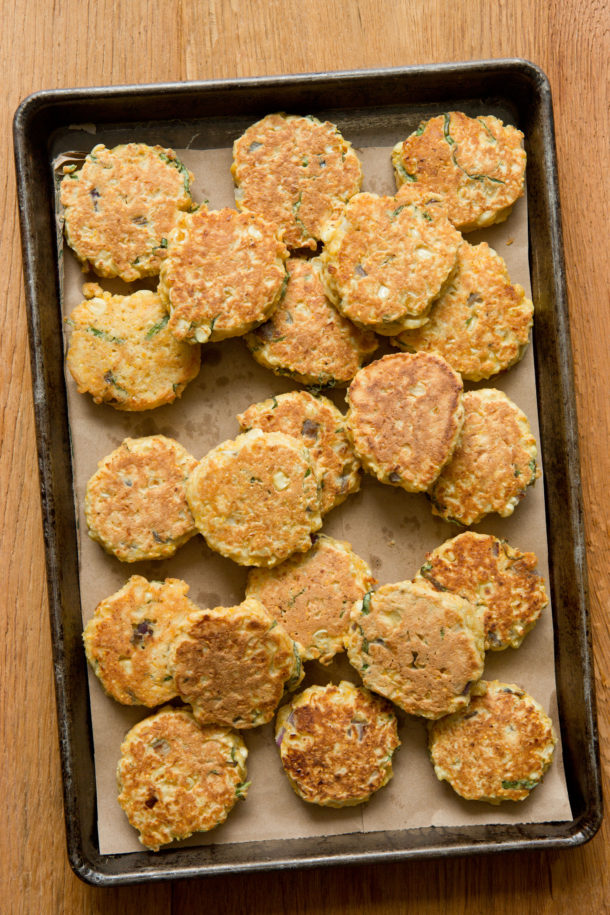 The avocado-tomato salsa adds beautiful freshness, acidity and a touch of heat to contrast the sweetness of the corn.  The pancakes with the salsa remind me a little of my charred corn salad.  Like I said, I'll find lots of ways to combine my favorite summer foods.  You can serve these with any kind of salsa you want or just a simple dollop of guacamole.  I love these with barbecued chicken, cedar plank grilled salmon or chopped grilled vegetable salad.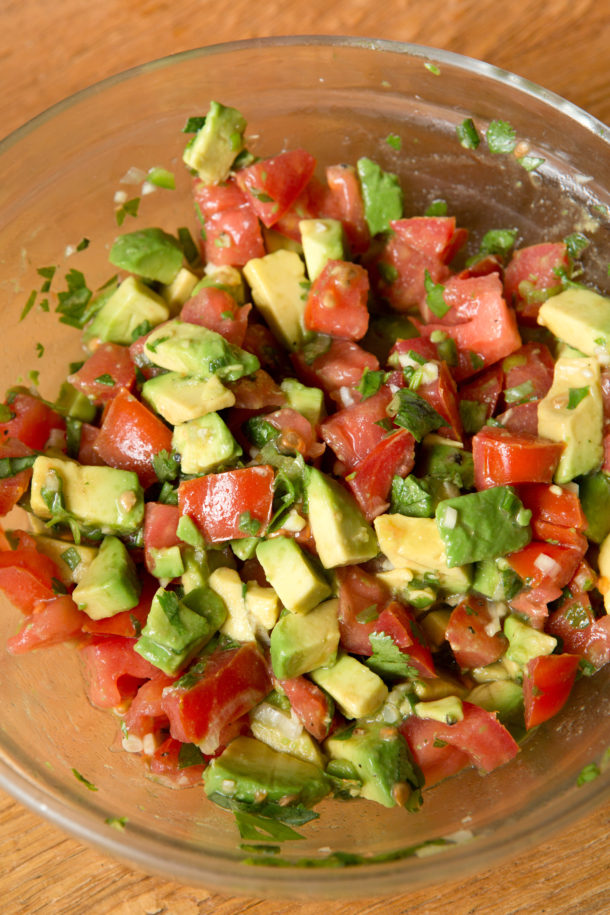 I will be busy shooting the cookbook over the next week, so bear with me if my posts are a little shorter.  You can follow along on Instagram or Facebook to see what is happening behind the scenes.  You can check out my Snapchats, but I still have no idea what I am doing there besides trying to act like I know what I'm doing there!  Thank you for joining me here as much as you do.  I am always so encouraged by your questions, comments and the connections I have made with so many.  I can't wait to share this new cookbook with all of you!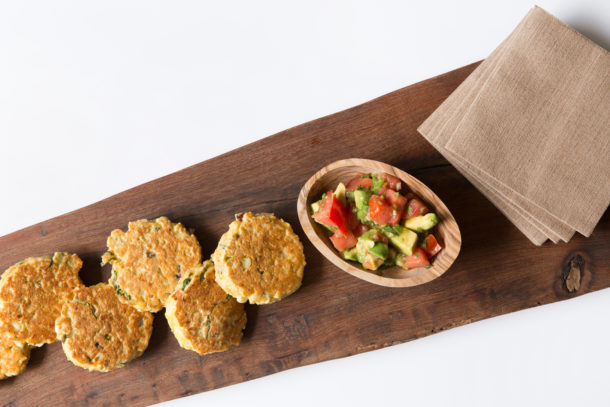 View this post on Instagram

 

 
Fresh Corn Cakes With Avocado Salsa Recipe
Ingredients
Tomato and Avocado Salsa:
1 large tomato, cored and chopped
1 scallion, trimmed and minced
½ jalapeno pepper, cored, seded and diced
1 Tablespoon chopped fresh cilantro
garlic clove, minced
Juice of ½ lime
½ teaspoons extra-virgin olive oil
½ teaspoons white wine vinegar
Sea salt and freshly ground black pepper to taste
1 avocado, peeled, pitted and diced
For the Corn Cakes:
3 large or 4 medium ears of corn, shucked
¾ cup whole wheat pastry flour, spelt flour or gluten-free flour
½ cup cornmeal, preferably organic
¼ cup diced red onion
¼ cup chopped fresh parsley
1 teaspoon aluminum-free baking powder
½ teaspoon baking soda
1 teaspoon sea salt
pinch of cayenne pepper
freshly ground black pepper, to taste
2 large eggs, lightly beaten
2 Tablespoons well-shaken buttermilk or kefir (or 1 Tbs. yogurt + 1 Tbs. milk)
2 Tablespoons unsalted butter or coconut oil, melted
Unrefined olive oil and unsalted butter or ghee for frying
Instructions
Preheat oven to 200 degrees. Line a baking sheet with a brown paper bag.
Make the salsa:
Place all of the ingredients (except the avocado) in a bowl, and stir to mix. Refrigerate in an airtight container until ready to serve, for up to 2 days.
Just before serving, add the avocado, and mix gently.
Cut the corn from the cobs into a large bowl and scrape the stripped cobs with the back of a knife (or a spoon) to release the juices into the bowl.
Place 2 cups of corn kernels into a food processor, and pulse several times, until the corn is slightly pureed but chunky. Transfer back into the bowl with the reserved corn kernels.
Mix the flour, cornmeal, onion, parsley, baking powder, baking soda, salt, cayenne and pepper with the corn.
Add the eggs, buttermilk and butter, and stir just to combine. (Do not overmix.)
Place a large skillet over medium heat until warm Add just enough olive oil and butter to cover the bottom, and heat until sizzling hot.
One heaping Tablespoon at a time, scoop the batter into the skillet. Flatten if necessary. Cooking in batches of 4 to 5 to avoid overcrowding, fry the cakes 1 to 2 minutes per side, until golden brown.
Drain on the lined baking sheet, and place in the oven to keep warm while cooking the remaining corn cakes. Serve warm with fresh salsa.