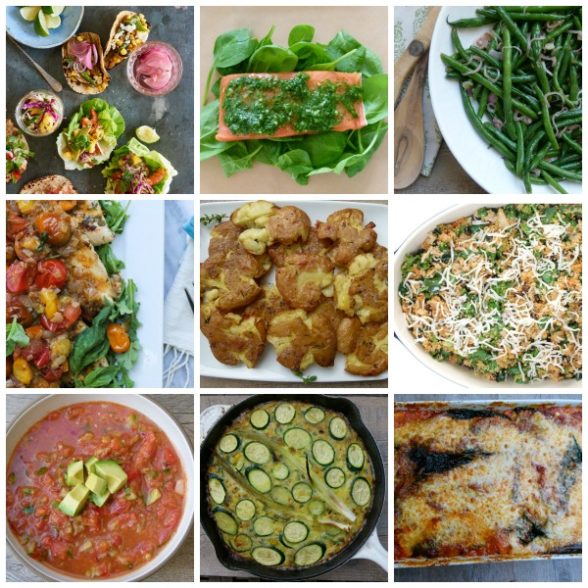 I had a much-needed 4-day weekend last weekend where I did absolutely nothing.  It was so great not to pressure myself to do work, clean a closet, get stuff done.  I have a tendency to not be able to relax.  I blame my father who is that way, too.  Anyway, I took a few days off and now I am shooting a video cooking course for Clean Eating Magazine on batch cooking and you guys are going to LOVE it!  I can't wait to share details soon!
In the meantime, I am really looking forward to the following events.  Please come if you are in the neighborhood!
Thursday, July 13th 11:00 am to 1:00 pm Jenni Kayne, Lido Marina Village in Newport. Snacks and books!  Let me know if you can make it or just show up to say hi.
Tuesday, July 18th 11:00 am to 1:00 pm Manhattan Beach Farmer's Market.  Cooking demo and bring your books for me to sign!
Wednesday, July 19th 8:00 am to 10:30 am FitOn Studios in Manhattan Beach.  Pages will be there selling books and I'll be signing them!
Here's your dinner planner for the week:
Monday: roasted poblano, corn and portabello tacos from my cookbook, "Kitchen Matters" and mexican sautéed greens
Tuesday: wild fish in parchment with summer herbs and spicy honey lemon green beans
Wednesday: Grilled chicken with cherry tomato vinaigrette, roasted smashed potatoes
Thursday: Loaded spinach quinoa and turkey casserole from lifeisbutadish.com
Friday: Gazpacho and corn and zucchini frittata
Saturday: Pesto quesadillas with cherry tomatoes (pesto + mozzarella or dairy-free cheese + sautéed or raw cherry tomatoes + whole grain tortillas
Sunday: Roasted Vegetable Lasagne
Here's what you can do ahead if you need to:
Sunday
Roast poblanos for tacos
Slice portobellos for tacos
Wash, de-stem, and chop kale for mexican greens
Make herb oil for fish in parchment
Trim green beans
Tuesday
Make chicken marinade and marinate chicken 4-6 hours before you are going to cook it
Wednesday
Make loaded spinach casserole up to the point of baking and refrigerate
Make gazpacho and refrigerate up to a few days in advance
Prep and/or saute veggies for frittata
Make pesto
Friday or Saturday
Make marinara sauce (or buy pre-made)
Roast zucchini and eggplant
Here's a link to all my previous dinner planners.