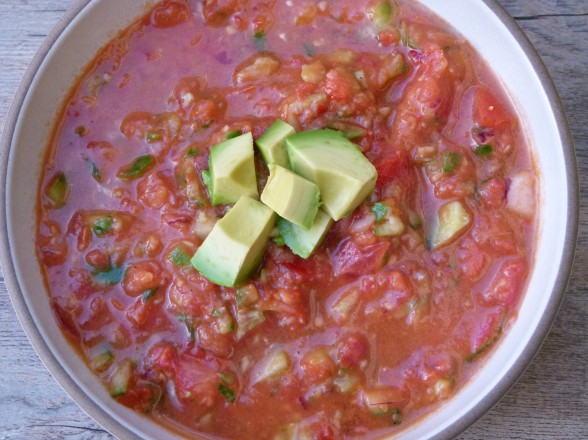 The kids are going back to school tomorrow, which means that my favorite season is UNofficially over.  No more lazy days and waking up late or reading for pleasure instead of for a test.  Back to making lunches at 6:30 am and soccer carpools.  Not so fast!  The good news is that summer isn't officially over until September 22nd and there are tomatoes to prove it.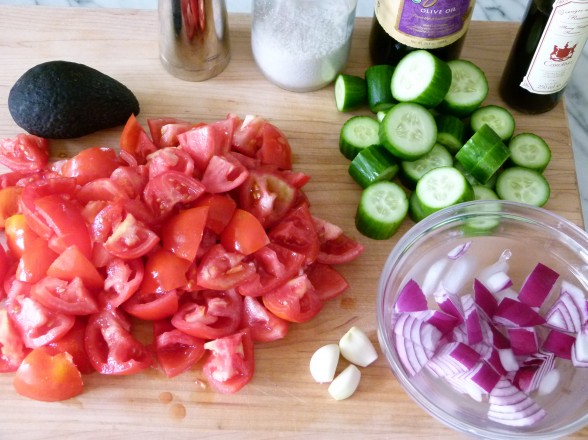 If you're new here, I am mildly obsessed with summer tomatoes, i.e. tomatoes grown in soil and hot July and August sun until they're sweet and juicy and drippy with intense tomato flavor.  My garden doesn't produce that many so I supplement with tomatoes from my local farmers markets or GROW, my favorite local market which always seems to find great produce from local farms.  I'm a lucky girl for sure!  I try to take advantage of the fleeting tomato season, so I buy a ton and seem to use tomatoes almost every day in some way, even for breakfast or in between meals.  Just now I took a handful of yellow grape tomatoes and ate them as a little snack like candy, which is what they tasted like.  Yum!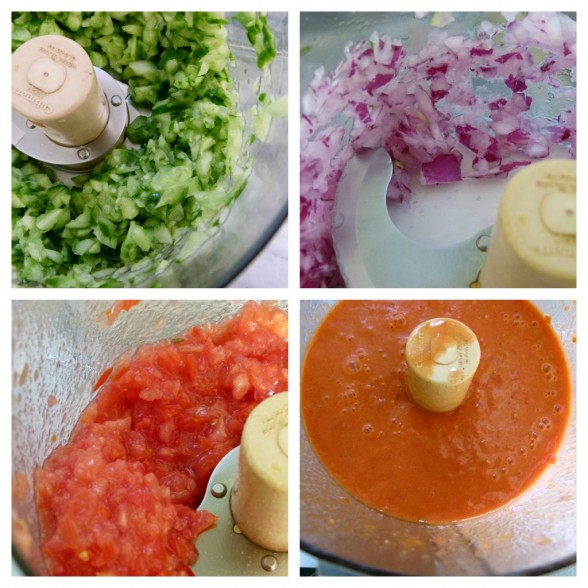 It's always my preference to keep things simple when the ingredients are perfect, like sliced tomatoes and avocado on grilled bread with sea salt, but gazpacho is a recipe that is worth the extra 5 minutes to make.  We've been enjoying some hot weather here in Southern California so it's the perfect time to enjoy this cooling, no-cook soup.  My version of gazpacho is not exactly traditional, but just as delicious and possibly a tad more healthful.  In Spain, it is very typical to add day-old bread, which I omit.  I don't notice the lack of bread one bit, and I think if you're going to indulge in bread, you might as well actually know you're eating it.  I also don't use canned tomato juice, which normally contains BPA or aluminum or both.  Yikes!  Not only that, I think you can get a cleaner, more tomato-y flavor from using awesome fresh tomatoes, not to mention more vitamins, minerals and antioxidants like lycopene.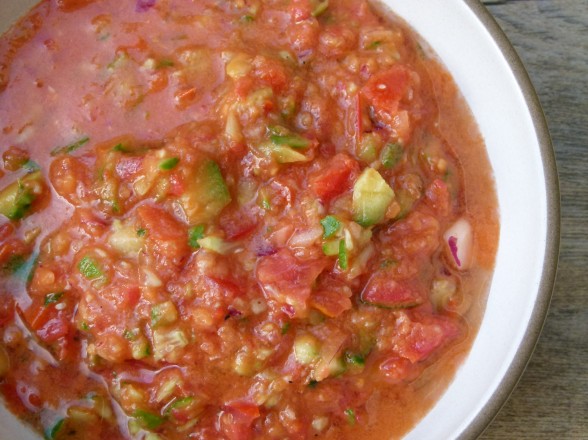 My kids like gazpacho because they think it tastes like a blended salad and they can add an assortment of toppings.  As I've mentioned, I'm big into topping bars, especially for soups and salads, because I think it gives the kids more control over what they're eating and I notice they tend to eat more of a food when they can make it their own, so to speak.  Our favorite topping with gazpacho is creamy cubes of avocado with give the perfect balance to the acidity of the tomatoes and vinegar.  But don't let me stop you there.  Croutons, grilled corn kernels, chopped shrimp or crab are all fantastic additions to the top of this bowl of summery goodness.  I'll come clean and confess I've even put out popcorn for Mr. Picky to add.  Whatever works, people.  I love pairing cool gazpacho with chicken kebabs and chimichurri sauce or a summer frittata for a light dinner.  But one of my favorite ways to serve it is in little shot glasses as an hors d'oeuvre.  With Labor Day weekend around the corner, here's one way you can keep that summer feeling going strong.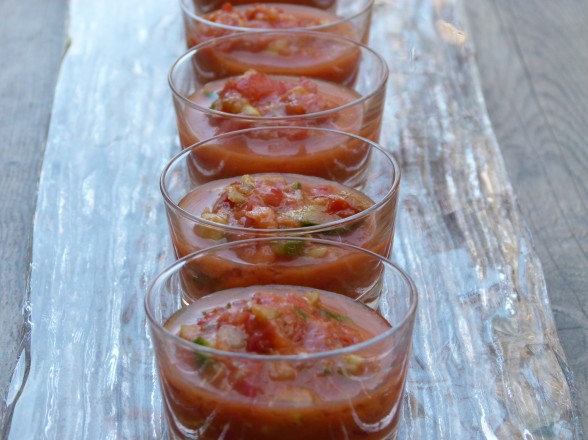 Gazpacho with Avocado
Ingredients
2 cups large chopped unpeeled Persian cucumbers, about 3-4
½ small red onion, cut into chunks*
4 large (about 2 ½ - 2 ¾ pounds) ripe tomatoes, cored and cut in half crosswise to remove the seeds, cut into chunks
3 medium garlic cloves, peeled
2 teaspoons sea salt
freshly ground black pepper to taste
2 Tablespoons Sherry vinegar
¼ cup unrefined, cold pressed extra-virgin olive oil
1 avocado, cubed
Instructions
Place the cucumber in a food processor fitted with the metal blade and pulse until coarsely chopped. Transfer the cucumber to a large bowl. Repeat the process with the red onion and transfer to the bowl with the cucumber.
Take half of the tomato and pulse in the food processor until chunky and add to the bowl.
Smash the garlic cloves and place in the food processor with the remaining tomato pieces, salt and pepper, vinegar and oil. Process until smooth.
Transfer mixture to the bowl with the cucumber and onion and stir to combine. Cover and refrigerate until cold.
Before serving, garnish with avocado. Can be made several days ahead.
Notes
You can add finely diced radish for pepperiness; hot sauce or jalapeño for heat, croutons for crunch, or a dollop of sour cream. You can also use yellow heirloom tomatoes for a yellow gazpacho.

*Onion can be soaked in ice water for 15 minutes to take the edge off the raw flavor.