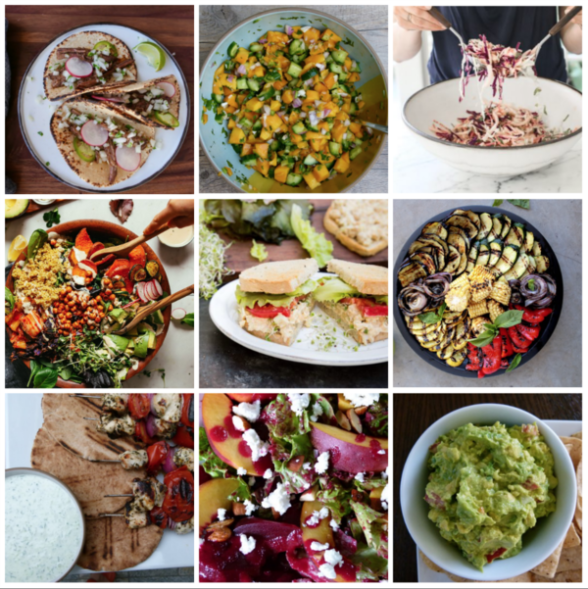 I hope you all had a lovely holiday week!  I had a successful week filming my three vegan online cooking courses with Plant Lab.  Those will be available through Plant Lab's platform this September.  On July 23rd, Clean Eating Magazine is relaunching the Batch Cooking 101 course I filmed for them.  You can get more information for that here. They are offering my blog subscribers a discount of $50 off the course with this code: PSALZMAN50
In the meantime, here is a great summer dinner planner for the coming week!
Meatless Monday: Abundance kale salad with savory tahini dressing from The Minimalist Baker
Tuesday: Tuna sandwich with nectarine goat cheese salad
Wednesday: Chicken souvlaki tzatziki with mango cucumber salsa
Thursday: Garden veggie patties with herb yogurt dipping sauce from my cookbook
Friday: Steak, from Thai steak salad recipe, with grilled vegetables of your choice – use this method
Saturday Lunch: tacos using leftovers from Friday, use this method, and can top with this guacamole
Sunday: Miso Glazed Black Cod with jicama slaw or asian slaw
Here's what you can do ahead if you need to:
Sunday
make quinoa or crispy baked chickpeas for kale salad
slice and cut the roasted vegetables for kale salad
make all dressings
wash salad greens
dice celery and shallot for tuna salad
Tuesday
make tzatziki
make herb yogurt dipping sauce
make veggie patty mixture
make mango cucumber salsa
Saturday
make miso marinade for cod
Here's a link to my previous dinner planners.
I have LOVED seeing all your creations of my recipes on Instagram.  If you make any of my recipes, please tag me @pamelasalzman #pamelasalzman so I can check them out!
Click here to learn more about my online cooking classes!
If you like my recipes, you'll LOVE my cookbook!