How are those resolutions coming along?  This year my resolution is…no resolutions!  Actually, my intention in 2017 is to be more compassionate to myself and more forgiving.  As always, I am here to help you continue cooking healthful meals from scratch.  Nothing is better!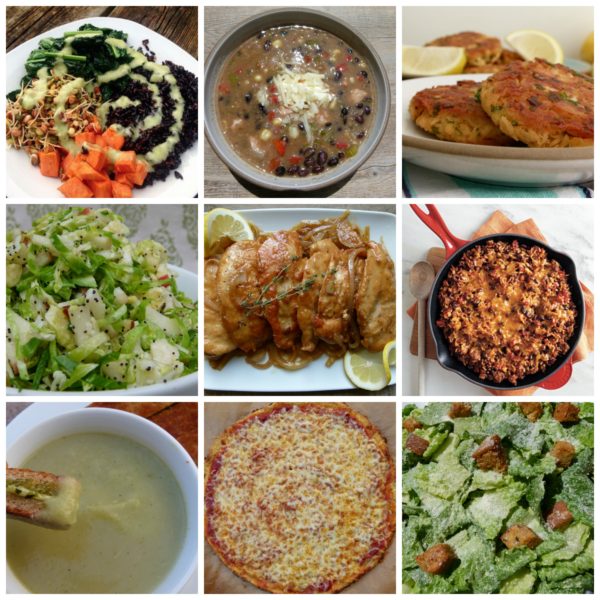 Here's your dinner planner for the week:
Meatless Monday: forbidden rice and roasted veggie bowls with ginger-miso dressing, add seared tofu or blanched shelled edamame for protein (make forbidden rice according to package directions; roast mixed vegetables – I'm going to use broccoli and save the stems for soup on Sunday)
Tuesday: deer valley turkey and black bean chili, cornbread
Wednesday: tuna patties, shredded brussels sprout salad with apples and manchego
Thursday: lemon-thyme chicken cutlets, roasted carrots, roasted potato wedges
Friday: Mexican skillet casserole (I'm going to use grass-fed beef and skip the cheese), green salad with everyday salad dressing #2
Saturday lunch: broccoli soup, pesto and ricotta toast (Kite Hill makes an amazing dairy-free almond milk-based ricotta)
Sunday: cauliflower crust pizza, avocado Caesar salad
Here's what you can do ahead if you need to:
Sunday
Prep (wash, dry, cut) vegetables for Monday's bowl
Make miso-ginger dressing and all salad dressings
Make black beans
Make stock for chili and soup
Make pesto
Tuesday
Prep brussels sprouts and carrots
Shred manchego
Wash greens for salads
Saturday
Make cauliflower pizza crust
Make marinara sauce (or just buy prepared sauce)
Here's a link to all my previous dinner planners.