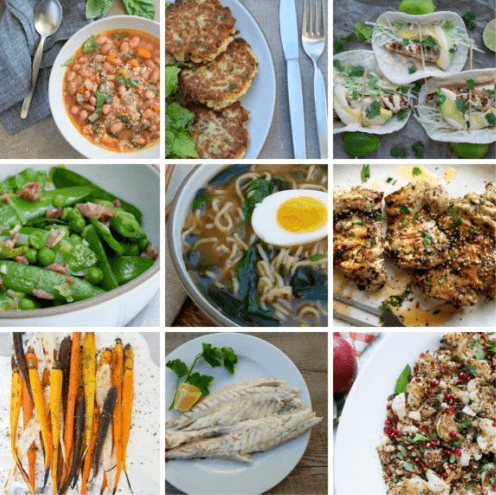 Aloha!  I'm on a little getaway with my husband and the three kiddos in Hawaii for most of this week.  This means I won't be cooking a thing until I arrive at my parents' house next weekend, but you might be.  So I am posting a meal plan for you to help keep you organized in the kitchen this week.  Truth be told, I forgot to email myself the master dinner planner document, so I winging it right now.  Forgive me for any repeats from the last couple of months!
Here's your dinner planner for this week:
Meatless Monday: Borlotti bean soup, cauliflower fritters
Tuesday: fish tacos (because I just ate some in Lahaina and they were delicious!), shredded lettuce or red cabbage (whatever you have in the fridge), avocado, white sauce (recipe in the fish tacos post), chipotle sweet potato fries
Wednesday:  peas with turkey bacon (omit the bacon if you want and make with just frozen baby peas), herbed farro (cook according to the package directions but add a little olive oil and stir in fresh minced herbs after finished cooking), roasted cabbage wedges
Thursday:  ramen noodle soup with hard boiled egg and veggies, purchased potstickers (my kids like the ones from Trader Joe's)
Friday: Middle Eastern herb and garlic chicken from NY Times Food, steamed basmati rice, roasted carrots with garlic yogurt
Christmas Eve: we always have dozens of fish dishes, including linguine with clam sauce, baccala, stuffed clams, eel, octopus and more.  Here's a recipe for whole roasted branzino if you're in the mood for an easy and elegant fish dish.
Christmas Day: My mom hosts Christmas dinner and she always makes chicken soup with tortellini and roast tenderloin of beef.  This year we'll also make cauliflower with pomegranate molasses, a puree of broccoli, and roasted potatoes with gremolata. I'm also going to make gingerbread cookies, and  a gingerbread trifle with poached pears  MERRY CHRISTMAS!
Here's what you can do ahead if you need to:
Sunday
Soak beans for soup
Make mixture for fritters
Make spice mixtures for fish and sweet potato fries
Make white sauce for tacos
Wednesday
Make hard boiled eggs
Make marinade for chicken
Thursday
Marinate chicken
Make garlic yogurt
Here's a link to all my previous dinner planners.