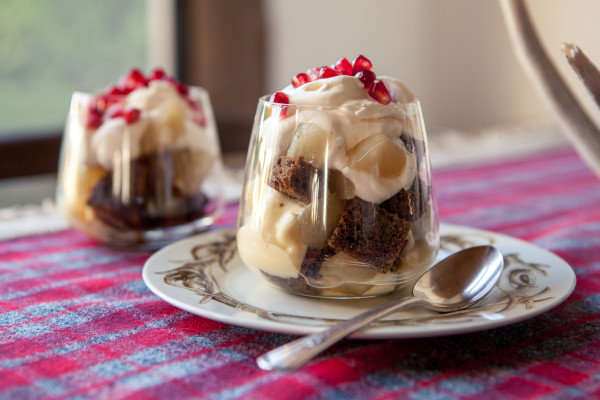 One of my favorite smells is gingerbread baking in the oven.  That warm, spicy fragrance which reminds me of decorating cookies for Christmas as a child and cozying up in front of the fire with some tea and a moist chunk of gingerbread. My kids love it, too.  Over the last few years, I've taught four gingerbread-ish recipes in my classes from Molasses Ginger Cookies and Gingerbread Biscotti to Vegan Gingerbread and Gingerbread Cut-out Cookies.  Last year, I pulled out all the stops with this Gingerbread Trifle.  I have to say, this is my favorite one.  This trifle is a bit of a show-off dessert, but it's just about the prettiest presentation and the flavors are WOW!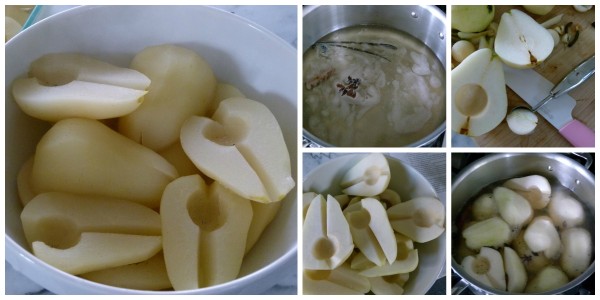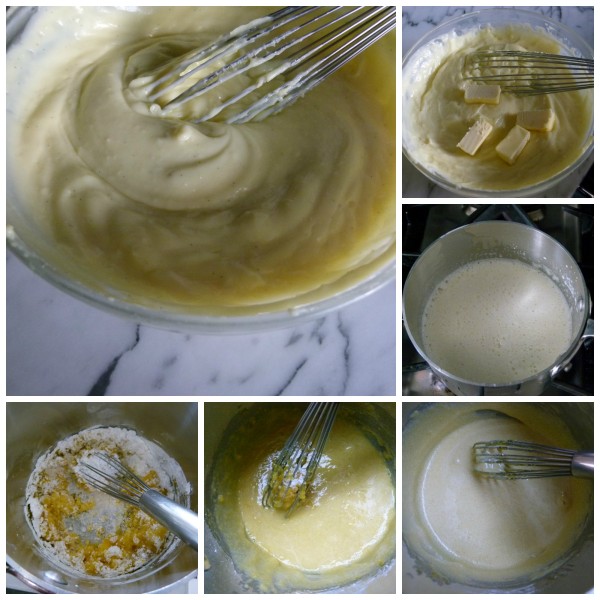 A trifle is a dessert made of layers of cake, custard, fruit and sometimes liqueur.  It is usually assembled in a glass trifle dish which has high sides so you see all the beautiful layers.  Very dramatic!  But you can make infinite combinations of the ingredients.  The cake can be yellow cake, sponge cake, angel food cake, pumpkin bread and so forth.  The cream can be whipped cream, curd, pudding or custard.  The fruit can be peaches, berries, pears, cranberry sauce and so on.  It's best to keep the fruit seasonal, though.  I bought my trifle dish a few years ago at Crate and Barrel, but I don't think they sell it anymore.  A similar one can be found at Williams-Sonoma or amazon.  Amazon also has this other one, which is slightly different, but very pretty too.  Truth be told, any glass bowl would be fine, as would individual glass cups, mason jars or stemless wine glasses like I did at Jenni Kayne's house last year for her Christmas class with vogue.com.  How darling are these??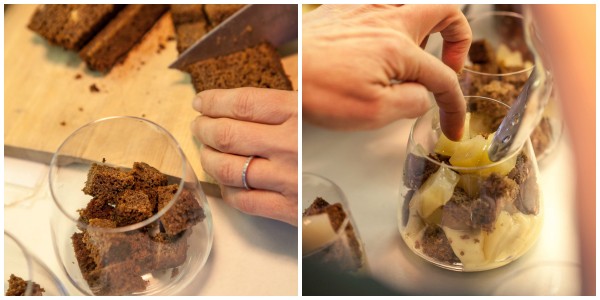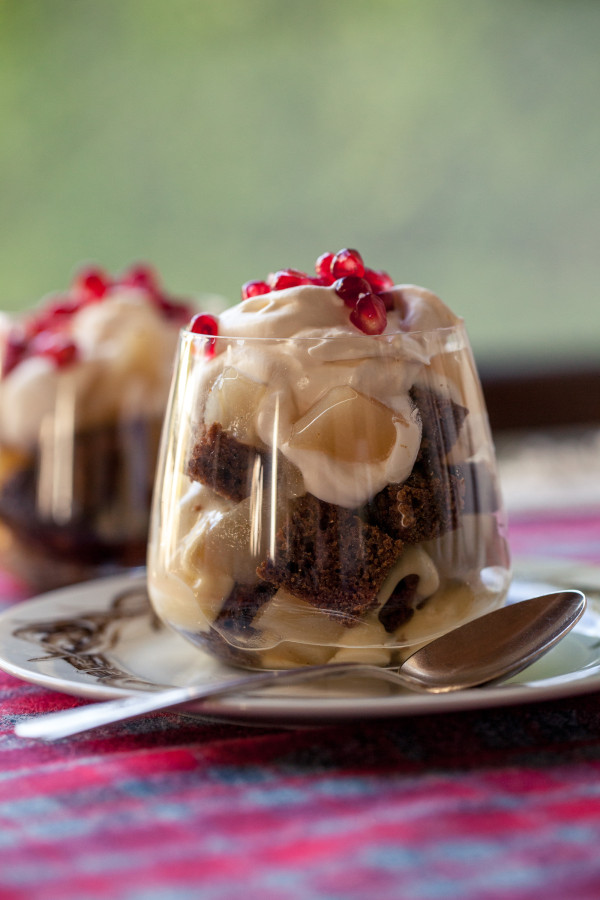 Don't look at the recipe just yet because it's like 3 pages long.  BUT — that's if you want to make every single component from scratch.  I did teach my students how to do it all homemade, of course.  But seriously you could buy it all and not even need a recipe to make the most gorgeous, delicious trifle.  You can obviously buy gingerbread cake or make it from a mix.  Click here for my vegan gingerbread recipe with step-by-step photos.  You can buy vanilla pudding or make a fast whipped cream.  And you can buy canned pears.  I know, I know.  Canned pears?!!  I personally wouldn't buy canned fruit (lots of lost nutrition there and not into cans lined with BPA,) but I also know how stressful the holidays are and if that's what you have to do, then by all means do it.  But if I can encourage you to try one or more of these components from scratch, I will tell you they can all be made 1-2 days in advance and then you're just assembling the dessert without a care in the world.  And this recipe for poached pears is BEYOND delicious!  You will not get anything as good canned.  Just saying.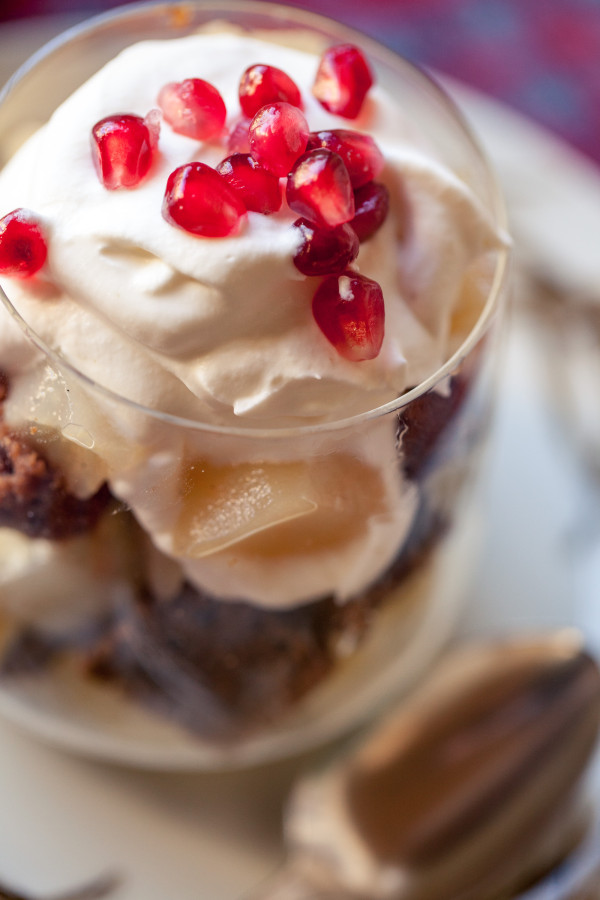 I think this is the perfect dessert for Christmas and/or New Years and everything in between.  I actually made it last year for Thanksgiving and not a morsel was left.  You can get your kids to help you assemble this because it's the easiest thing in the world to layer and kids love patterns, as in A-B-C-A-B-C.  Once you fall in love with this dessert, I know you will start dreaming about the next holiday for which can make a trifle!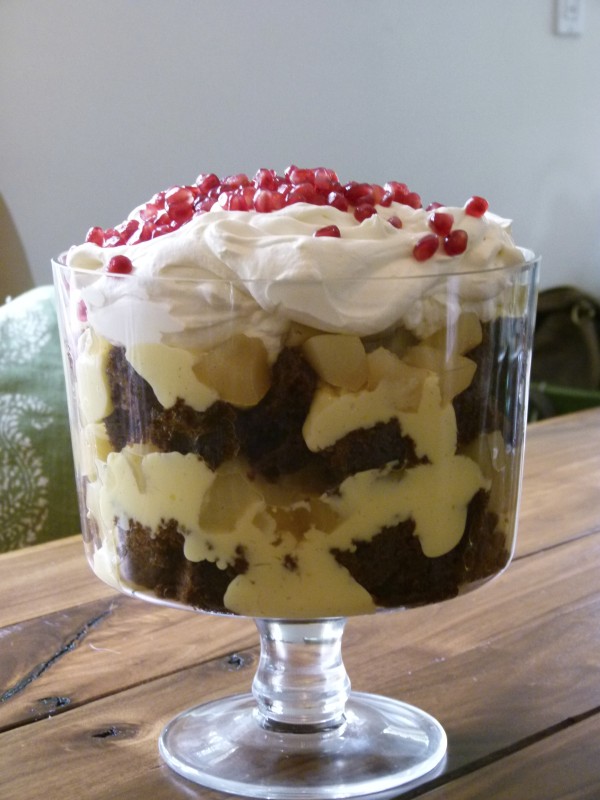 Gingerbread Trifle with Poached Pears
Ingredients
For an 8 x 8 pan of gingerbread:
¾ cup unsulphured molasses (not blackstrap)
¾ cup 100% pure maple syrup (Grade B is fine)
½ cup unsweetened applesauce
½ cup melted unrefined coconut oil or unsalted butter
2 ½ cups whole wheat pastry flour or white whole wheat flour*
1 ½ teaspoons aluminum-free baking soda
½ teaspoon fine grain sea salt
3 teaspoons (1 Tablespoon) ground ginger
3 teaspoons (1 Tablespoon) ground cinnamon
¾ teaspoon ground cloves
1 cup hot water
For the Pastry Cream (or you can make or buy pudding):
½ cup cane sugar
6 large egg yolks
6 Tablespoons non-gmo corn starch
2 ½ cups whole milk
1 vanilla bean, split lengthwise or 1 teaspoon pure vanilla extract or vanilla bean paste
2 Tablespoon unsalted butter, at room temperature
For the Poached Pears:
1 (750-ml) bottle white wine, such as Riesling or Viognier
1 cup water
¾ cup cane sugar
1 whole vanilla bean, split and scraped
1 whole clove
1 cinnamon stick
1 star anise
6 firm Bartlett, Anjou or Bosc pears, peeled, halved and cored
For the Whipped Cream:
1 ½ cups heavy cream
2 Tablespoons cane sugar or powdered sugar
½ teaspoon pure vanilla extract
1 cup pomegranate seeds (click here for my favorite method of de-seeding a pomegranate)
Instructions
To make the gingerbread:  preheat the oven to 350 degrees and grease and flour an 8-inch square baking dish.
In a blender, combine the molasses, maple syrup, applesauce and coconut oil.  Blend until smooth.
In a large bowl, whisk together the flour, baking soda, sea salt and spices.
Pour the wet ingredients into the dry and mix until just combined.  Stir in the hot water.  Pour into the prepared pan.
Bake 45-55 minutes (ovens vary wildly) until a cake tester inserted in the center comes out clean.  Cool for 15 minutes, remove from pan and place on wire rack and allow to cool completely. You can freeze this or make this several days ahead.  Cut into ½ –inch cubes and set aside.
To make the pastry cream:  in a medium saucepan whisk the sugar, egg yolks and cornstarch together until thick and pale.
Meanwhile, in a small saucepan over medium heat bring the milk and vanilla bean (if using) just to a boil (just until milk starts to foam up). Remove from heat and add about ½ cup slowly to egg mixture, whisking constantly to prevent curdling (if you get a few pieces of egg (curdling) in the mixture, pour through a strainer).                                                                               –continued-
If using vanilla bean, remove from mixture and scrape out seeds and add the seeds to the egg mixture.
Pour the remaining milk into the egg mixture, whisking constantly.  Bring the egg-milk mixture to a boil over medium heat whisking constantly. When it boils, whisk mixture constantly for another 30-60 seconds until it becomes thick. Remove from heat and whisk in vanilla extract if you are using that instead of the bean.  Immediately transfer the pastry cream to a clean bowl, whisk in the butter and allow to cool on the countertop for a few minutes.
Press a piece of plastic wrap directly on the cream to prevent a skin from forming.  Refrigerate.  You can make this up to 2 days in advance.
To poach the pears: place the white wine, water, sugar, scraped vanilla beans, vanilla pod, clove, cinnamon and star anise into a saucepan large enough to hold all the pears. Bring to a boil, stirring to dissolve the sugar.
Decrease the heat to medium low and place the pears into the liquid.  Cover and cook for 20-25 minutes or until tender and easily pierced with a knife. Remove the pears from the liquid and chop into ½-inch pieces.
Remove the vanilla bean from the saucepan, increase the heat to high and reduce the syrup to approximately 1 cup of liquid, approximately 20 to 25 minutes. Do not allow the syrup to turn brown. Pour the syrup over the diced pears and refrigerate until cool, at least 1 hour.  You can do this up to 2 days in advance.
About 30 minutes before assembling the trifle, make the whipped cream: If you can think about it ahead of time, place your mixing bowl and whisk in the freezer. In a deep bowl or electric mixer, whisk the cream, sugar and vanilla together until soft peaks from. Refrigerate until ready to use.
To assemble the trifle: place half the gingerbread on the bottom of a 7 ½ or 8 inch trifle bowl or other deep bowl.  (You can also do individual trifles in glass jars.)  Spread half the pastry cream on top, then half the pears (remove with a slotted spoon,) then half the whipped cream, then half the pomegranates.  Repeat layers, ending with the whipped cream and then the pomegranate seeds.  Or don't add the whipped cream until the top.