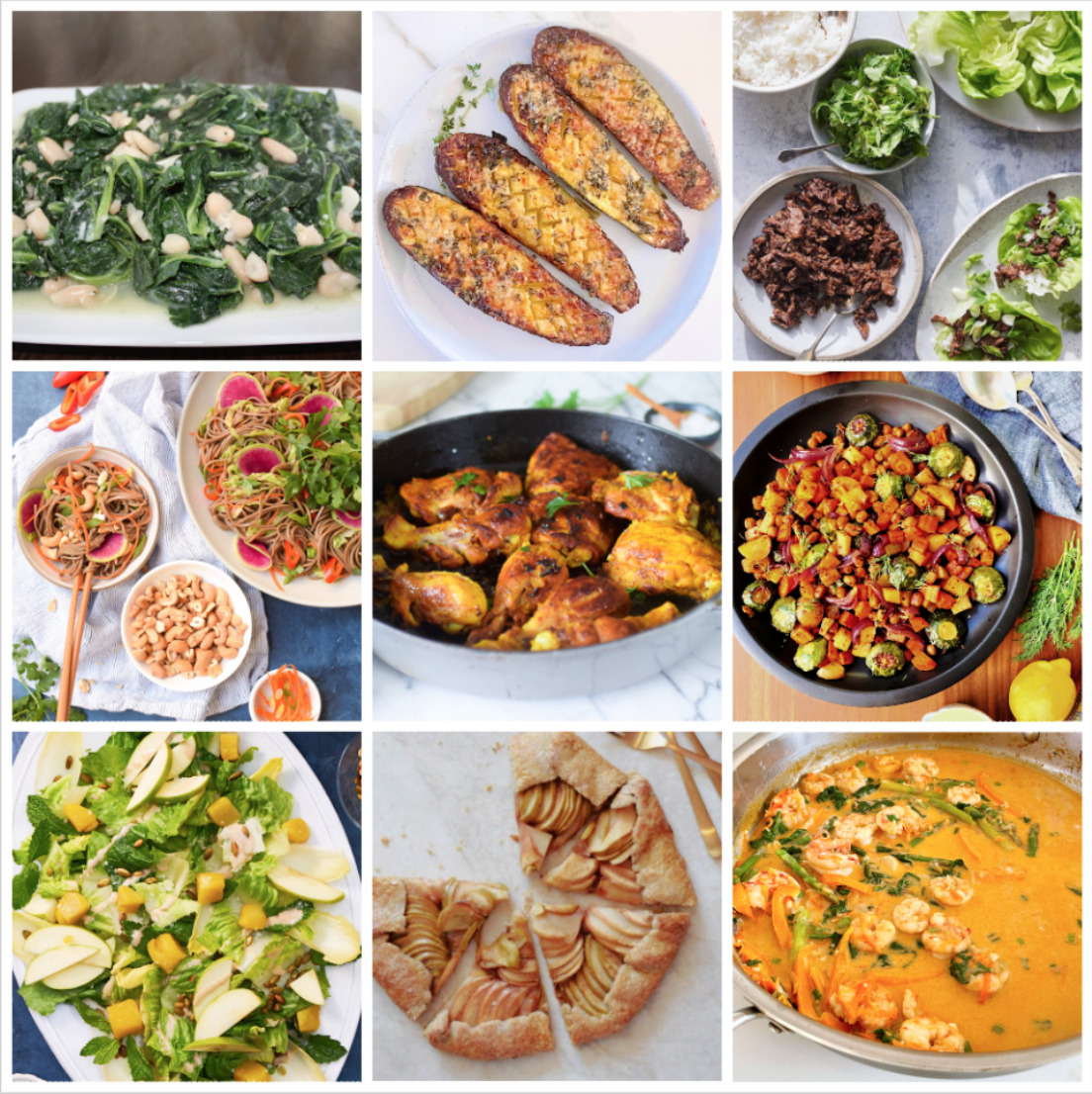 The Jewish new year is coming up at the end of this week, so I've provided some ideas if you're looking to change up your menu. Whenever I host any Jewish holiday, I like to honor some of the traditional foods, but mix in some modern dishes just to keep things interesting and fresh! As I always say, commit to your menu as soon as possible so you can start prepping and taking action. Don't overthink it!
Here's your dinner planner for the week:
Meatless Monday: Braised greens and beans and cheesy zucchini planks
Tuesday: beef bulgogi lettuce wraps from whatsgabycooking, serve with asian noodle salad (I'm going to use kelp noodles to keep this lighter)
Wednesday: Everyday turmeric chicken with a side of cauliflower rice, method here, and your favorite roasted veggies.
Thursday: harissa chickpeas and vegetables with dill sauce
Rosh Hashanah: My friend Lydia graciously invited us again for the first night of Rosh Hashana, but check out this Rosh Hashana round-up post for some ideas. My husband's family goes pretty traditional with matzoh ball soup, brisket and salmon (the one from Quicker Than Quick is perfect for the holdiay), a green salad with apples, roasted vegetables, a potato kugel or a sweet noodle kugel. She serves a fruit platter and I usually bring two round challahs, an apple cake (I have a few in the post) and possibly one more dessert like cookies.
Saturday: I used to host a lunch on this day with a few roast chickens with onions, potatoes, fennel and carrots and salads like the farro salad with roasted tomato vinaigrette, the Marrakesh salad from Quicker Than Quick, and quinoa tabbouleh. I served fruit and some simple desserts like cookies and grain-free apple cake!
Sunday: Red Thai Curry Shrimp, black rice, steamed broccoli
Here's what you can do if it helps you:
Sunday:
Blanch collard greens
Wash lettuce
Make dressing for noodle salad
Monday:
Marinate beef for bulgogi
Tuesday:
Season turmeric chicken. You can also cook it now and reheat tomorrow.
Wednesday:
Make dill sauce
Cut vegetables for harissa chickpeas and vegetables. If you cut potatoes ahead of time, store them submerged in water so they don't oxidize.
Thursday:
Make dessert for Rosh Hashanah
I have LOVED seeing all your creations of my recipes on Instagram. If you make any of my recipes, please tag me @pamelasalzman #pamelasalzman so I can check them out! I have a free Monday newsletter with my thoughts, new recipes, and things I'm loving lately. Subscribe here!
Order my cookbook, Quicker Than Quick! If you have 1 minute, would you mind leaving a review on amazon? I would be so grateful, thank you! Take a peek at my first cookbook "Kitchen Matters"!