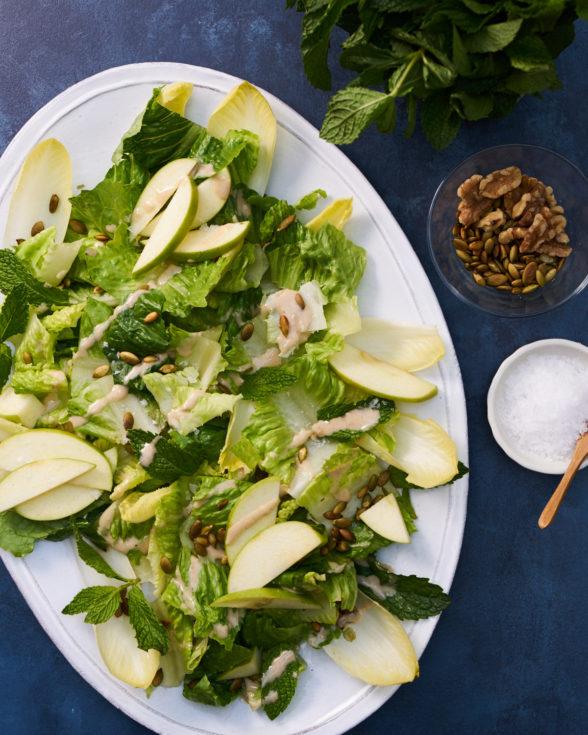 I was hoping to squeeze this beautiful salad recipe in before the Jewish holidays, but it just didn't happen.  The good news is that Fall is just getting started which means we'll have fresh apples for a bit more!  Yes, apples have a season.  Yes, I know we see them all year.  But they are freshly picked August through October.  The rest of the year the apples have been picked in the fall and kept in cold storage.  In my opinion, apples are tastiest right now!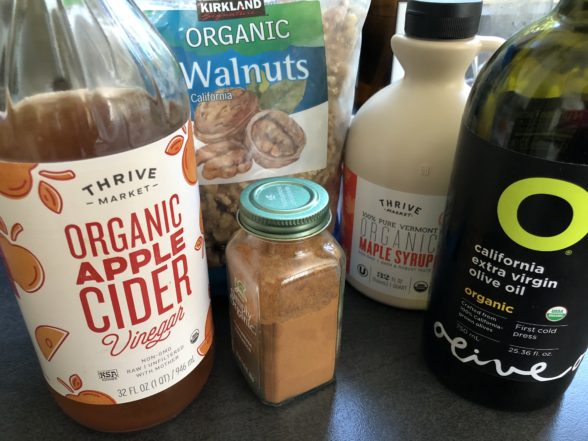 I always like to have a take-away tip with every recipe I teach.  For this one, it is about the dressing.  When I come up with a salad recipe, the dressing is what requires tinkering to get it right.  The salad components can really be flexible and fluid.  So essentially you can take this dressing and make up your own salad based on what you have in your fridge and pantry, and what's in season.  One thing that I feel strongly about is that salads should represent what is in season!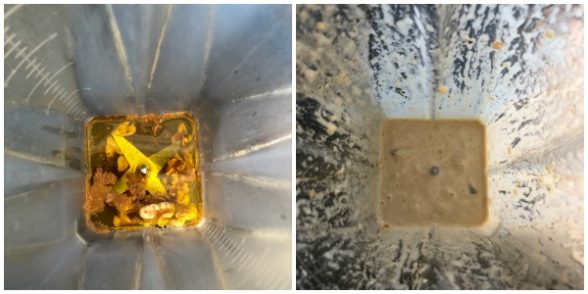 So this dressing came about because I remembered a vinaigrette I had made years ago with walnut olive and I just loved it.  "Why don't I have walnut oil in my kitchen?" I asked myself.  Because it's expensive, I never finish the bottle before it goes bad, and I hate throwing away food.  Walnuts and walnut oil are rich in Omega-3 fats which can go rancid easily when exposed to light, heat, and air.  I store walnuts in the freezer (fridge is fine, too) so they stay fresher for longer.  But we just don't eat as much walnut oil in our house as we do walnuts.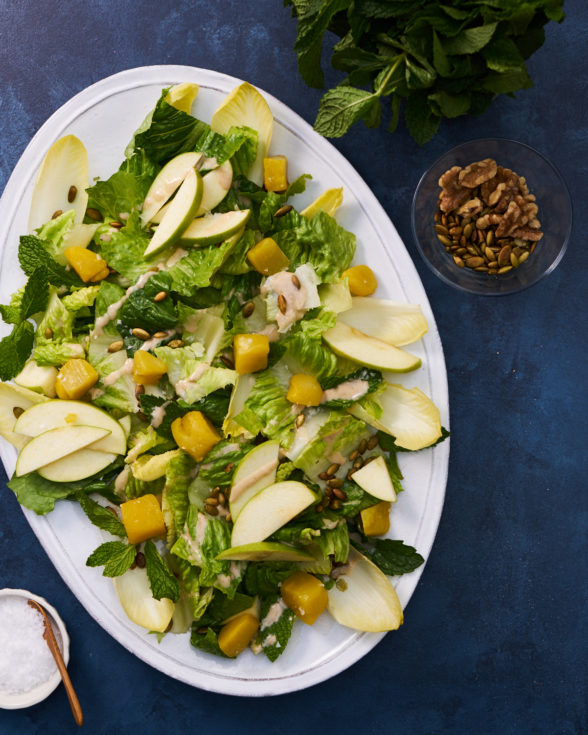 I wanted to make a dressing with walnut oil but I didn't want to buy a bottle.  So I just used whole walnuts blended in the dressing and ta-da!  I got the flavor of walnuts AND all the nutrients, fiber and protein in the walnuts to boot.  Plus, walnuts add a nice creaminess to the dressing which you can see from the image above.  This dressing stays good in the fridge for at least 5 days, but it will solidify so make sure you plan for time for it to sit at room temp to become liquid again.  Check the notes at the bottom of the recipe for other suggestions, but really, so many wonderful options here.  You can try this recipe out now and use it on your Thanksgiving menu!  Don't worry – we still have 8 weeks to go!
 

 

 

View this post on Instagram

 

 
If you make any of my recipes, please tag me @pamelasalzman #pamelasalzman so I can see your beautiful creations!

Fall Salad with Apples and Walnut Vinaigrette
Ingredients
Vinaigrette:
3 Tablespoons raw apple cider vinegar (or half apple cider vinegar and half rice vinegar)
2 heaping Tablespoons walnuts*
2 teaspoons pure maple syrup or honey
½ teaspoon sea salt
a few grinds of black pepper
Pinch of ground cinnamon
5 Tablespoons unrefined, cold-pressed extra-virgin olive oil
1 head of green leaf or red leaf lettuce
1 tart apple, such as Granny Smith
¼ cup toasted and salted pumpkin seeds
a handful of fresh mint leaves (optional)
a big pinch of flaky sea salt
Instructions
Blend vinaigrette ingredients in a blender until creamy. Taste for seasoning. Set aside.
Arrange the salad greens and mint (if using) in a serving bowl. Core and thinly slice the apple. Toss the greens lightly with the dressing. Arrange the apple slices and pumpkin seeds on top and drizzle with a little extra dressing and flaky sea salt. Serve immediately.
Notes
*If you have a nut allergy, you can try blending sunflower or pumpkin seeds in the dressing, but they don't get as creamy as walnuts. It would be better to try a little sunflower butter.

Other delicious additions could include cheese such as Manchego, Goat or Cheddar; cooked quinoa; avocado; cooked beets; roasted butternut squash or Delicata squash; cooked lentils