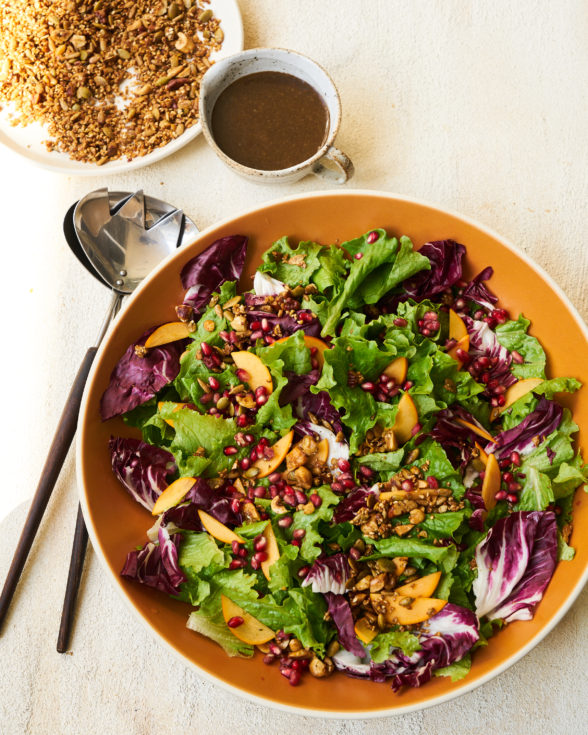 I think you guys know that I am doing Thanksgiving BIG even if it's just a few of us.  My family and I decided we would all cook together and that we needed something to look forward to.    We are so excited!  If you are planning to host Thanksgiving big or small, I have the perfect thing to help you out – my new Thanksgiving 2022 Ebook!  All the recipes you could possibly need with color images + timelines and prep-ahead tips + turkey troubleshooting + more.  And it's only $15!  Click here to pick up your copy.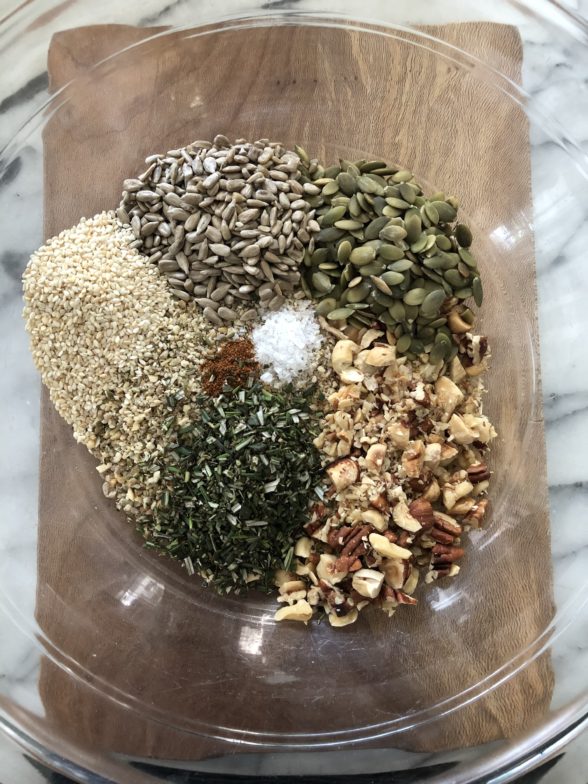 Let me cut to the chase with this recipe.  You know I love a good salad on Thanksgiving.  They can be prepped entirely ahead, are colorful and light, showcase seasonal produce, and don't require your oven or stove on Thanksgiving.  The highlight of this salad recipe though is ALL ABOUT THE SAVORY GRANOLA!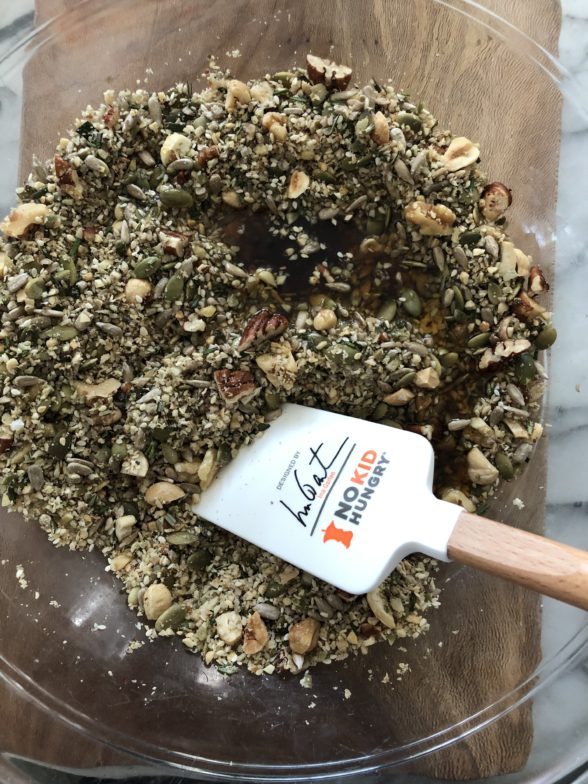 Savory granola is just what it sounds like – a sprinkle of crunchy, nutty goodness that is not entirely sweet, but salty, herby with a hint of heat.  You could eat it by the handful, but it makes any roasted vegetable, salad, puree, or warm bowl of grains even better.  If you have leftovers, you can put it on yogurt the next morning for a savory yogurt bowl.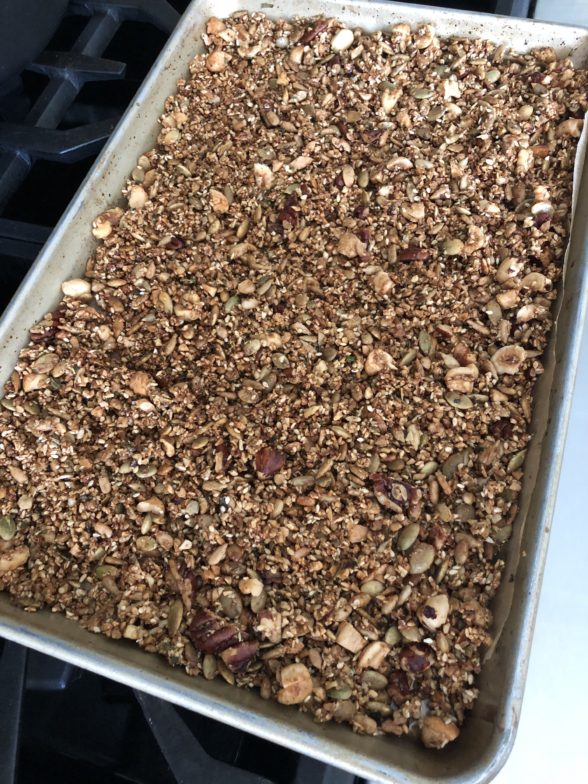 This salad was probably the hit of my Thanksgiving classes last year because of the savory granola.  Here's the best part:  you can make it now and freeze it for Thanksgiving!  You can make it and bring it to someone's house as a thank you gift for inviting you to Thanksgiving.   Just remember the cardinal rule of granola-making: you are looking for the granola to change color in the oven from this pale green-beige to a beautiful golden brown.  It will crisp up OUT of the oven as it cools.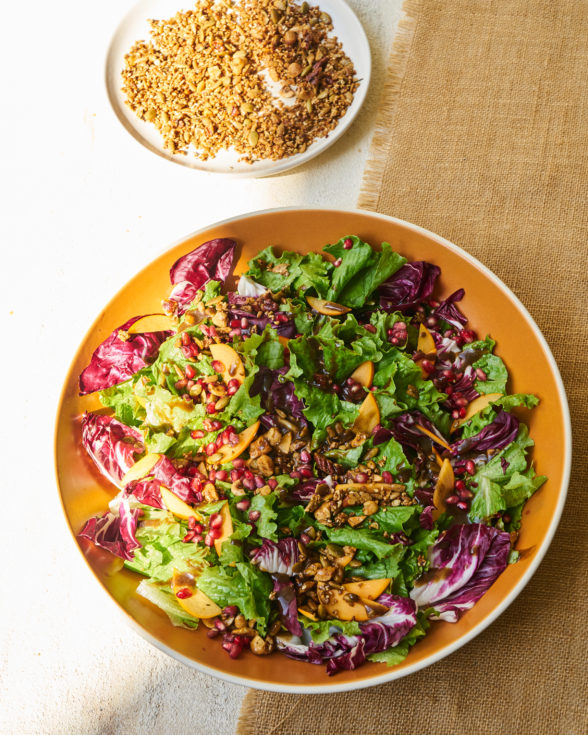 You don't have to use it on this salad, although the dressing on this salad is incredibly delicious, and very unique.  Salad ingredients are always interchangeable.  If you don't want to use persimmon, use roasted butternut squash cubes or dried cranberries.  If you don't like the bitterness of radicchio, swap in red cabbage or another lettuce.  Keep it simple.  Keep it seasonal.  And prep it all ahead of time.  Dress just before serving.
Thanksgiving is a little over 3 weeks away.  Time to commit to those menus!!

Fall Market Salad with Pomegranate Vinaigrette and Savory Granola
Ingredients
Vinaigrette:
¼ cup pomegranate molasses*
1 small shallot, coarsely chopped
Zest and juice of 1 lemon
½ cup unrefined, cold-pressed extra-virgin olive oil
2 Tablespoons fresh mint leaves
2 Tablespoons fresh parsley leaves
a pinch of sea salt
a few grinds of black pepper
10 cups salad greens of choice (nice to add some peppery greens in the mix such as arugula)
1 Fuyu (crunchy) persimmon, diced into quarter-inch cubes or thinly sliced
½ cup pomegranate seeds
1 cup savory granola (recipe follows) or ½ cup, finely chopped Marcona almonds
Instructions
Process all vinaigrette ingredients in a blender until well blended. Taste for seasoning.
Arrange the salad greens in a serving bowl. Toss the greens lightly with the dressing. Arrange the persimmon, pomegranate seeds, and granola on top and drizzle with a little extra dressing and flaky sea salt. Serve immediately.
Notes
*Or pour 2 cups of pure pomegranate juice into a small pot over medium-low heat and boil until the juice has reduced to ¼ cup and is thick and syrupy, about 20 minutes. Let cool.
When looking for pomegranate molasses, you may find something called pomegranate paste, which works here. The difference is noticeable only in the color of the dressing. Pomegranate molasses will keep the salad dressing a green color, whereas pomegranate paste will make it a brown color.

Savory Granola: (Recipe makes more than needed. Feel free to cut in half or save for another use)
1 cup mixed unsalted pecans, walnuts, hazelnuts, Brazil nuts, cashews, roughly chopped
½ cup raw pumpkin seeds
½ cup raw sunflower seeds
¼ cup sesame seeds
2 Tablespoons coarsely chopped fresh rosemary leaves
1/8 teaspoon cayenne pepper
½ teaspoon flaky sea salt
2 Tablespoons unrefined, cold-pressed extra-virgin olive oil
¼ cup pure maple syrup

1. To make granola: Preheat oven to 350 degrees. Line a rimmed baking sheet with unbleached parchment paper.
2. Pulse half of the mixed nuts, ¼ cup pumpkin seeds, ¼ cup sunflower seeds and 2 Tablespoons sesame seeds in a blender or food processor until very finely chopped.
3. Transfer to a large bowl with the remaining roughly chopped mixed nuts, pumpkin seeds, sunflower seeds, sesame seeds, rosemary, cayenne and salt and stir to combine.
4. In a small bowl, whisk together the oil and maple syrup, until well blended. It is really important to mix the oil and syrup so that everything is emulsified, otherwise the syrup may burn. Add the syrup mixture to the nut mixture and stir to coat well.
5. Transfer to the prepared baking sheet and spread out evenly. Bake for 20 to 30 minutes, stirring occasionally until golden brown. The mixture will not be crunchy at this point, but will become so out of the oven. Allow to cool before serving.

Granola can be stored in an airtight container at room temperature for up to 1 week or freeze for up to 3 months.