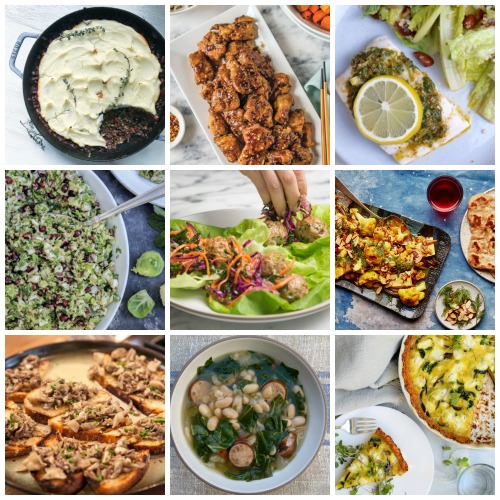 The Thanksgiving countdown has begun!  And mean countdown in a good way.  My family and I are so excited for Thanksgiving.  Funny, my husband suggested that we all go out to eat this year to give me a break, and my younger daughter actually started crying!  It's everyone's favorite holiday and it has really become a family affair with everyone cooking and being together.  And yes, it's about eating delicious food, but for me it's not about doing everything perfectly.  But it helps to be organized so the execution goes smoothly and without stress.  I am pushing my Thanksgiving ebook this year because the feedback was so good and anyone I spoke with said it was a game changer.  Check it out here.
Also check out this past Thursday's post on what you can start to do ahead of time to prepare for Thanksgiving.
Here is your dinner planner for the week (and it's a good one!):
Meatless Monday: Vegan lentil shepherd's pie, fresh side salad
Tuesday: Easy Chinese chicken, steamed rice, steamed or roasted broccoli
Wednesday: Roasted fish with chermoula, fall/winter tabbouleh
Thursday: Baked Asian turkey meatballs, mixed greens with creamy miso ginger dressing
Friday: Easy flatbread with cauliflower and tofu from bon appetit
Saturday Brunch: Hen of the woods mushroom toast
Sunday: Slow cooker white bean soup with sausage and collard greens, mushroom and leek quiche with sweet potato crust
Here's what you can do ahead if you need to:
Sunday
Cook lentils
Wash greens
Make all dressings and sauces
Prep veggies for the next three days
Wednesday
Make turkey meatball mixture
Saturday
Make quiche crust
Saute mushrooms and leeks
I have LOVED seeing all your creations of my recipes on Instagram. If you make any of my recipes, please tag me @pamelasalzman #pamelasalzman so I can check them out!
Click here to learn more about my online cooking classes! If you like my recipes, you'll LOVE my cookbook!  If you have 1 minute, would you mind leaving a review on amazon?  I would be so grateful, thank you!