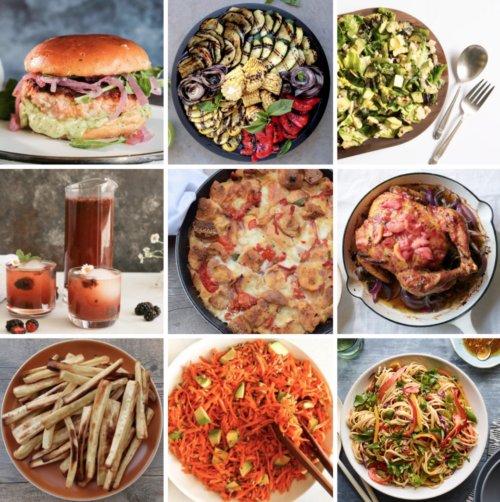 It's Memorial Day weekend and I always feel very pensive and grateful during this holiday.  And I always feel a bit sad, too.  I know a lot of us are excited to have an extra day off, but I am taking some time to reflect on the ultimate sacrifice many of our servicemen and women made to allow us the freedoms that we enjoy and take for granted, quite frankly.  Freedom and safety are often part of my gratitude practice and more so this weekend.
I also would like to practice some mindfulness this weekend when I am socializing.  So often during holidays I eat things that deviate from what make me feel good and then I am annoyed with myself afterwards.  I'm going to try to make choices this weekend that won't make me annoyed afterwards!
Here's your dinner planner for the week:
Monday (Memorial Day): Tasty Turkey Burgers, Wild Salmon Burgers, Grilled Vegetables with Lemon-Basil Dressing or Chopped Grilled Veg Salad, Sparkling Blackberry Shrub, Apricot-Cherry Almond Crisp
Tuesday: (use those leftovers!) Tomato, Roasted pepper and Basil Strata (use leftover burger or hot dog buns, if you have them from the weekend), arugula salad with simple lemon/olive oil dressing (or leftover dressing from the salads yesterday, if you have any leftover grilled vegetables, mix those in as well)
Wednesday: Roasted Chicken with Lemon-Glazed Rhubarb from the NYTimes, oven baked parsnip fries, grated carrot salad
Thursday: Veggie and bean burrito bowls with cilantro-lime rice and Mexican Sautéed Greens recipe (roast whatever you have!), avocado or guacamole and/or salsa
Friday: Sesame Noodle Salad from WhatsGabyCooking, for protein add blanched shelled edamame, hard boiled egg, rotisserie or poached chicken, or sautéed shrimp
Saturday Brunch: Spinach Pizza Quesadilla with a fresh side salad using your favorite organic greens from the farmers market
Sunday: Thai steak salad
Here's what you can do ahead of time:
Sunday:
Make all dressings, sauces and sides
Make burger patties
Make shrub syrup
Wash and prep all veggies for the week
Make Cherry Almond Crisp
Tuesday:
Marinate chicken
Make cilantro lime rice
Saturday:
Marinate steak
Here's a link to my previous dinner planners.
I have LOVED seeing all your creations of my recipes on Instagram. If you make any of my recipes, please tag me @pamelasalzman #pamelasalzman so I can check them out!
Click here to learn more about my online cooking classes! If you like my recipes, you'll LOVE my cookbook!  If you have 1 minute, would you mind leaving a review on amazon?  I would be so grateful, thank you!