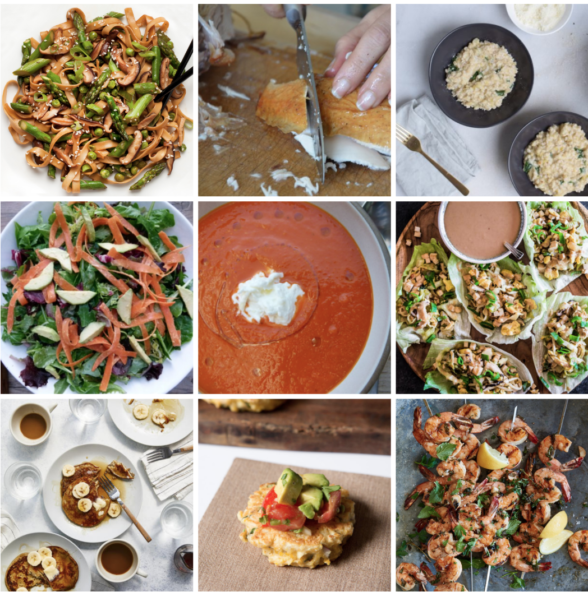 Memorial Day weekend is next weekend and I am stunned.  Stunned.  Oh this year is slipping between my fingers.  But the thought of summer being so close is beyond exciting to me!  
Someone asked me in my class the other day what is the first step I take when I sit down to make my dinner planner for the week.  My first step is looking at my calendar for the coming week, and I write down all the days I need to make dinner and I jot down who is eating or not eating at home that night and any other pertinent info (e.g. I am driving all over town until dinnertime.)  Then I look inside the fridge and pull things to the front that I need to use up and I think of ways to incorporate those ingredients into the meals.  I may or may not ask my family for suggestions for the remaining meals.  Sometimes I have to recipe test, like next week I will be recipe testing for the Thanksgiving issue of Clean Eating Magazine.  Anyone know where I can get a whole, fresh turkey???!!
Here's your dinner planner for the week:
Meatless Monday: Udon Noodle Stir-Fry with Asparagus Peas and Mushrooms from Last Ingredient
Tuesday:  South American Roast Chicken with Green Sauce from my book, (my favorite chicken recipe ever and the best sauce ever) Solterito (peruvian chopped salad)
Wednesday:  Artichoke and Spinach Barley Risotto , green salad using your favorite dressing, salmon patties
Thursday: Fresh Tomato Soup, burrata with finishing salt, olive oil and lightly toasted crusty bread, clean out the fridge frittata
Friday: Moo Shu Vegetable Lettuce Wraps with Peanut Sauce
Saturday Brunch: These delicious Grainless Banana Pancakes!  Serve with fresh fruit and some veggie juice 🙂
Sunday:  Fresh Corn Cakes with avocado salsa , grilled shrimp (I do a quick spice rub on these with my fish taco seasoning)
Here's what you can do ahead of time:
Sunday:  
Wash and prep all veggies
Make all sauces, marinades and dressings
Monday:
Marinate chicken
Wednesday: 
Make tomato soup 
Here's a link to my previous dinner planners.
I have LOVED seeing all your creations of my recipes on Instagram.
If you make any of my recipes, please tag me @pamelasalzman #pamelasalzman so I can check them out!
Click here to learn more about my online cooking classes! If you like my recipes, you'll LOVE my cookbook!