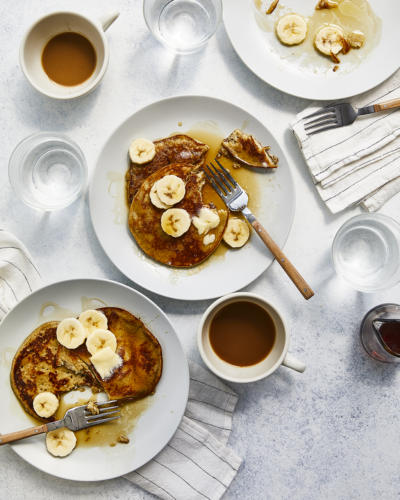 I am a bit of a cynic when it comes to certain holidays, because I think they are commercialized and focused on buying gifts for people.  I now understand why my mother always asked for "no fighting" or "help around the house" in lieu of gifts for holidays like Mother's Day.  Every mother I know has a lot on her plate, of course some have more than others.  But it is by far the toughest job and most fulfilling job I've ever had.
What do I want for Mother's Day?  No fighting and help around the house, would be nice!  And if it's not too much to ask, I would love for someone to make me a healthful breakfast.  And then do the dishes afterwards.  A few years ago, my husband, my two brothers-in-law and my father-in-law made Mother's Day lunch for the ladies and the disaster that resulted in the kitchen after making three salads was, um, bananas.
So, a simple breakfast, like these delicious grain-free banana pancakes would be a dream come true.  I love grain-free baked goods and pancakes.  My blood sugar remains stable from the better balance of protein, fats and carbs and I stay nice and full until lunchtime.  The recipe hails from my friend Nealy Fischer's new book, "Food You Want for the Life You Crave."  The whole book is gluten-free and highly adaptable since that's her name, The Flexible Chef!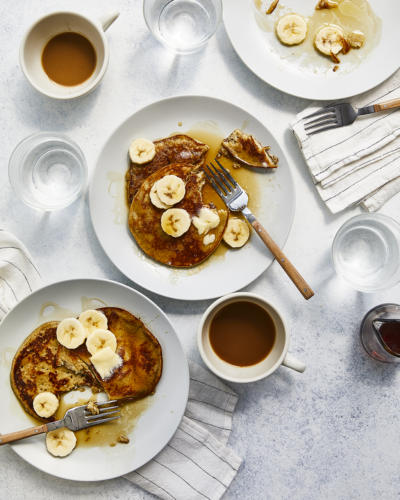 I didn't have time to reshoot the recipe this week, so I'm using Nealy's images, but the pancakes turned out looking just as good!  The key I find with grain-free pancakes is to make them small. Nealy recommends 3 inches and I agree.  You can also add different ingredients to the batter or on top of the surface of the pancakes while they're cooking like hemp seeds, cooked quinoa or blueberries. I'm sure my kids would love some mini chocolate chips, but these are for me, right?  Hoping you all have a restful and lovely Mother's Day, doing whatever brings you joy.

Grainless Banana Pancakes
Author:
adapted from Food You Want For The Life You Crave by Nealy Fischer
Serves:
18 3-inch pancakes
Ingredients
2 medium, ripe bananas
3 large eggs
1 cup almond flour (I use blanched almond flour)
1 Tablespoon flaxseeds, ground
2 teaspoons pure vanilla extract
1 teaspoon raw honey or pure maple syrup
½ teaspoon ground cinnamon
Pinch of sea salt
Unrefined virgin coconut oil for cooking pancakes
Pure maple syrup or butter, for serving
Instructions
In a medium bowl, mash the bananas with a fork until smooth.
Add the eggs, almond flour, flaxseeds, vanilla, honey, cinnamon, and salt, and blend thoroughly. Allow the mixture to sit for 5 minutes to thicken slightly.
Heat a griddle or nonstick pan over low heat (to avoid burning) with a touch of coconut oil, or light spray to the pan.
Spoon the desired amount of batter onto the pan. (Because the batter is delicate. smaller pancakes tend to flip more easily without breaking.) Cook until the edges are firm, about 4 to 5 minutes, then flip the pancakes and cook on the other side until cooked through, 2 or 3 more minutes.
Serve with maple syrup or butter, if desired.